Susie Wolff: Williams driver setting Formula 1 pace for women

By Andrew Benson
Chief F1 writer
Last updated on .From the section Formula 1149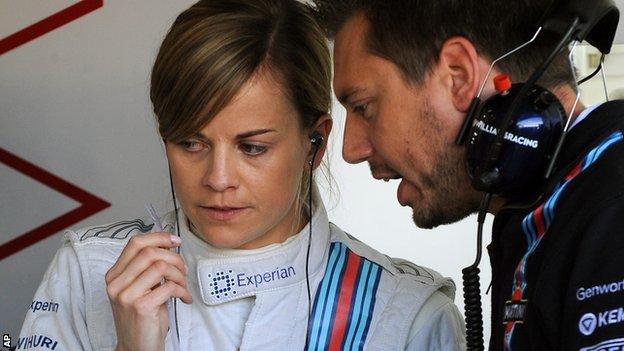 Susie Wolff tells a powerful story about the potential impact of her driving a Williams in practice sessions at two grands prix this season.
The Williams team's head of aerodynamics, the Scot says, was watching a recent BBC documentary about Wolff's racing career with his son and daughter.
"The son was interested in watching F1 with him and the daughter not," Wolff says. "His daughter was playing with her iPad and suddenly saw me get into the F1 car and said: 'That's Susie getting into the F1 car.'
"He said: 'Yeah, sure, Susie tested the car.' And she said: 'There is no girl F1 driver. I thought girls were not allowed to do F1.' And now she watches every F1 race with him because in her head it's not just for boys."
Wolff's anecdote taps into the core of any debate about whether women will ever race successfully at the highest level of motorsport.
While so few women are trying racing out, the chances of finding one who can compete with the best are low, because the talent pool is so small.
As Wolff herself puts it: "If the girls who come to race circuits with their dads and brothers, or watch on TV, don't see a girl on the race track, then they're not inspired to maybe want to do it themselves.
"And if there's not enough young girls starting at a young age, then the best will never rise to the top."
For some, the 31-year-old's participation in Friday's first practice at the German Grand Prix this weekend - which follows an appearance at Silverstone earlier this month that ended in an engine failure after just four laps - is a major breakthrough for women in F1.
For others, it is a symbol of a general shift towards equality that is reflected in the presence of two women in senior management roles in teams - Monisha Kaltenborn as team principal at Sauber and Claire Williams as deputy team principal, and de facto boss, of Wolff's team - and an increasing number working as engineers behind the scenes.
As an example, Wolff cites the team of engineers who work with her on the simulator at Williams, saying that a third of them are women.
Women in Formula 1
One of the central aspects of the debate about whether women will ever successfully race against men in Formula 1 is to do with physical strength. In short, are women, with their significantly smaller muscle mass, inherently restricted in their ability to function in a sport that requires extreme levels of fitness?
Susie Wolff says: "I can only judge that I drove last year's car and this year's car and I managed it. Women do have 30% less muscle, but the way the sport is developing technologically, that's not a disadvantage."
But there are those for whom Wolff's appearance is a distraction from what they see as the reality that women should not, and will not ever be able to, compete on an equal basis with men in F1.
Former grand prix driver Mark Webber says: "There are not many sports where women compete with men, so I don't know why we always have to answer this question in F1. Serena Williams doesn't play Roger Federer, so I don't think it should happen in F1."
Wolff responds: "Everyone's entitled to their opinion. There are people in this paddock who say: 'No way should a woman be racing at this level'. And there are those who say: 'Why not? It's the last thing to happen in F1.'
"There is no women-only racing and never has been. I had success in my career racing against men, and women have raced in the past against men.
"Sometimes it's a very male-dominated egotistical world and men just don't see a place for women here, and I do."
Wolff's doubters - and there are plenty - focus on her lack of success before getting her chance in F1 and dismiss her outings in practice as a token gesture, and a transparent marketing ploy on behalf of Williams.
Certainly, her record in other categories is not exactly stellar. A handful of podium finishes in the UK Formula Renault series led to a seven-year stint in the DTM German touring championship, where she scored none at all.
But, as ever in motorsport, appearances are not always quite what they seem; Wolff is far from a no-hoper.
She did a thoroughly competent job in her two full F1 test outings, posting very respectable lap times.
Susie Wolff factfile

Born:

6 December 1982, Oban, Scotland

Role:

Williams development driver

Previous racing experience:

2006-12: DTM German touring cars. Always driving at least a year-old car; best result ninth. 2005: Formula Three in UK; 2001-4: Formula Renault in UK

Personal life:

Married to Toto Wolff, Mercedes director of motorsport, co-team principal at Mercedes F1 and a 10% shareholder in Williams
She has stood on a Formula Renault podium with Lewis Hamilton and in the DTM she never drove anything like competitive machinery.
She did, though, race against 13-time F1 winner and now BBC F1 co-commentator David Coulthard, who had his own experience of struggling in below-par cars in a season in the DTM that coincided with Wolff's spell.
"Susie is not a Jennifer come lately," Coulthard says. "She has been around motorsport for years. She served her apprenticeship in karting and the lower formulae.
"Do I think Susie is a talented racing driver? Yeah, I do. Is she a Fernando Alonso, Sebastian Vettel or Daniel Ricciardo? Well, that remains to be seen, but usually those guys have been winning championships or something on the way up.
"I don't think we can pretend her results are any more deserving than a lot of other people, but that's just how life works. Just because you really work hard at school doesn't mean you get the best job. Having talent is one thing, but it is the application of that talent that matters."
Wolff admits she has benefited from her marriage to Toto Wolff, now the boss of Mercedes motorsport, who was a senior figure at the Williams team when her first test was arranged back in October 2012 and remains a 10% shareholder.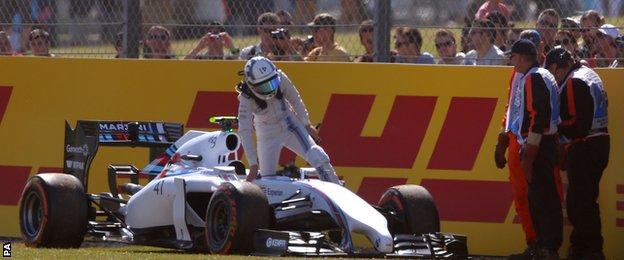 "I'm the first to admit I'm very lucky with the husband I have," she says. "For sure that is a big part of me being in F1 but it is not everything. It wouldn't be enough to get me into F1 if the performance wasn't there.
"There was never a plan that I was going to do more in this team than one test in an F1 car. If that test had ended in the gravel or I had been five seconds off the pace, I wouldn't be sitting here now.
"It's not enough any more just to be talented, put your helmet on, go out on the track and do well. But it's also not enough to have big bucks behind you and expect to buy yourself into a team.
"It's about putting a package around you. Yes, you bring a sponsor with. Yes, you're fast. Yes, the sponsors in the team love you already and want you. The market you're representing is important for them. And all those things are enough to put you in a cockpit.
"If it was enough just being a female and being a marketing ploy, why the hell am I not on that grid? I'm not. And I'm nowhere near getting on there yet."
Wolff's goal is "to do a Formula 1 race - I'm not even saying a season, because I'm realistic. I know how tough it is to get myself into a race seat."
When the average age of the grid is 24, and people are already wondering how much longer even the great Alonso can go on as he approaches his 33rd birthday, it's clear time is not on Wolff's side.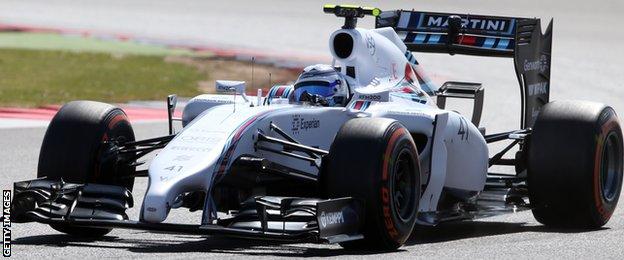 And yet, if a woman did demonstrate that she was capable of holding her own in F1, the marketing opportunities for her and any team that took her on would be huge.
Danica Patrick has proved that in the United States, building a lucrative career in racing, backed by millions of dollars of sponsorship and endorsements, and doing some high-profile modelling, on the back of a single Indycar victory.
On Friday, Wolff has the opportunity to prove whether that woman could be her. At Sauber, they are investing time and money in 25-year-old Swiss Simona De Silvestro, who has a podium finish in Indycar racing behind her.
Will Wolff's appearance at Hockenheim bring forward the day when another woman follows in the footsteps of 1970s racer Lella Lombardi, the only female to score a point in a grand prix?
"It will serve as a catalyst to excite the debate," says Coulthard. "It will make some girls who were maybe interested in racing and did not think there was an outlet realise there is.
"It will help create positive exposure for F1 as well as promoting Susie, which is all part of the reason to do these things."
German Grand Prix coverage details