Lewis Hamilton will not play mind games with Nico Rosberg
Last updated on .From the section Formula 1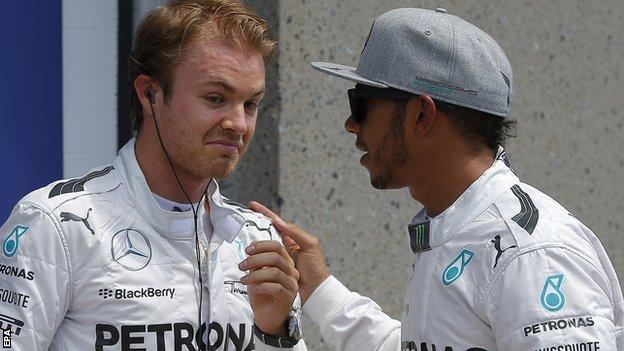 Mercedes driver Lewis Hamilton says he is not trying to employ mind games against team-mate Nico Rosberg in their championship fight.
The Briton said: "I don't play mind games with Nico. He is a very intelligent driver."
Rosberg said: "I don't get into such things. It's a great battle between us and I'm sure it will be very close."
Both men have since dismissed Hamilton's remark - based on Rosberg's upbringing in Monaco and the fact his father is Finnish and his mother German - as a "joke".
Rosberg, who leads Hamilton by four points heading into this weekend's race, said: "I don't read the media, so most of the time I don't know what's going on, but this I did know about it.
"I was there - it was more or less a joke discussion."
Hamilton added: "We're not really playing mind games but every time we go faster it naturally has an effect on the mind.
"Inevitably, you might say something and people might interpret that as playing mind games but this year it is obviously fiercely competitive.
"We are going to be head-to-head hopefully for the rest of the year, and who can keep their head more will probably come out on top."
Ferrari's Fernando Alonso, a two-time champion and runner-up for three of the last four years to Red Bull's Sebastian Vettel, said winning the psychological battle was "very important".
"It is a very tight fight," Alonso said. "They will fight until the end probably, so it will be very interesting. They will enjoy it but at the same time there will be some ups and downs and they have to be strong as well mentally."
Rosberg married long-time girlfriend Vivian Sibold last weekend and is racing at Hockenheim with a special helmet design celebrating Germany's victory in the World Cup.
He said: "It's been a very exciting week. I just see it as the next race. It's our home race. I'm here to win and try to extend the championship lead. That's where it ends for me."
There is uncertainty ahead of this weekend following a decision by the FIA to question the legality of the high-tech self-levelling suspension systems used by most teams for several years.
Race director Charlie Whiting told the teams that the governing body is "firmly of the view that the legality of all such systems could be called into question".
That raised the prospect of teams being protested against by rivals if they chose to continue with the systems, known as front-to-rear interconnected suspension (Fric).
All the teams have said they will not use the system, but it remains to be seen whether removing it will affect some teams more than others.
However, leading drivers said they did not expect much difference.
Hamilton echoed the thoughts of many when he said: "Undoubtedly we may lose time this weekend but if everyone's taken it off then everyone will lose the same pretty much. I don't think the order will be changing."
German Grand Prix coverage details