Lewis Hamilton column: British Grand Prix win created momentum
Last updated on .From the section Formula 1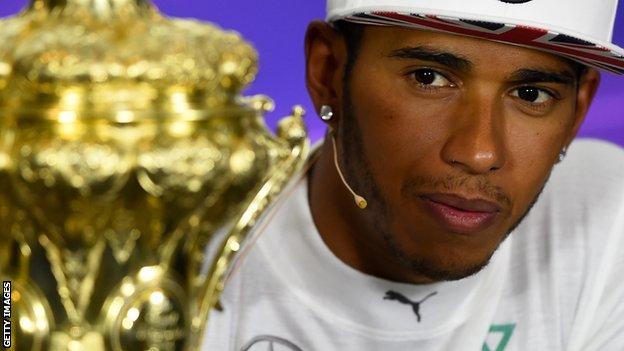 I've had some time now to reflect on winning the British Grand Prix.
It was an important result for me because the combination of my victory and my Mercedes team-mate Nico Rosberg failing to finish meant that I made up a lot of the ground I lost through my two retirements earlier this season.
It has brought me much closer into the fight than before - I'm only four points behind Nico now - so we're almost on a level playing field and can move forward from here.
The effect of winning a race like the British Grand Prix is like riding a wave.
It carries you forward into the next few days and energises you in a different way.
I appreciate this sense of momentum because it leaves me with a sense of positivity, and I've had a really good run up to this weekend because of the way Silverstone went.
But Germany's Nico will have the same support here at Hockenheim this weekend as I had in Silverstone, perhaps even more following his country's win in the World Cup, and that will be an extra boost for him so I will have to bring out even more time in myself.
This is going to be a hard weekend for both of us in front of all our bosses at Mercedes at our home race and there is a lot of pressure on the whole team.
There's an added complication in that we are removing a hydraulically controlled suspension system that we and most of the other teams have been using for several years following a ruling by the FIA, the governing body.
We tested without it at Silverstone last week and it didn't make a huge difference, so we should be OK.
Why being honest is important
The British Grand Prix obviously ended on a very high note for me. It was fantastic to be able to deliver the win and get a result for the fans, because ultimately I feel like the result was for them.
The support was just unreal during that weekend, as it has been during the whole season. It has been very, very cool.
Standing on the podium, with all the fans cheering, I wasn't really thinking too much about the fact I had made up most of the points deficit.
Of course, when you go into the race weekends it is a constant thing in the back of your mind but for me that weekend it was more about performing in front of the home crowd.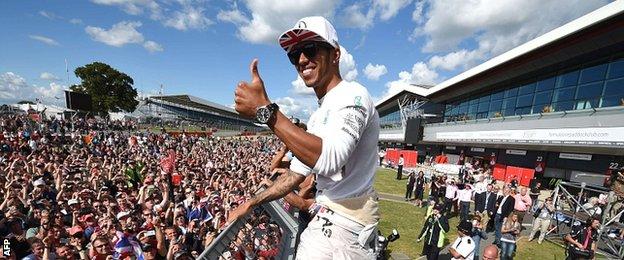 It felt all the better as I'd been criticised earlier in the weekend for the way I came across on television after I'd lost pole position in those crazy last few seconds when I chose not to complete my final lap and slipped back to sixth.
But people sometimes judge things without fully understanding the situation.
I always wear my heart on my sleeve and it can get me into trouble sometimes but I know it's always better to be honest.
I really can't explain the pain I was in when I came into the pit lane and saw I'd lost pole position. It hurt so much. I could barely get out of the car, hardly lift my arms. I felt drained of all energy.
I sat at the back of the garage and tried to pull myself together.
It wasn't a case of being a sore loser, or being unhappy with any of the other drivers. It was just disappointment in myself and my decision. Sometimes we pay heavily for the wrong decisions we make in life and it was a day like that.
There was no way I could sugar-coat it and I very much struggled to do the rest of the day, speaking to media and doing appearances and so on, because I couldn't gather my thoughts together.
For me, what's important is to be who I am, not who people want me to be, because I'm so passionate about my racing. I need to be honest when I speak to people, but also I need to be honest with myself.
I went home to my dad's house and sat in my room for ages and was silent for a long time. My dad came and spoke to me for a while and I just needed a bit of time to think. I went and had some dinner and then went back upstairs and just chilled in my room.
Then my sister came round and surprised me. She was looking after my dogs and brought them round to see me. That put the biggest smile on my face - and my little nephew was there as well.
Just being around my family made the world of difference to me, having them all there and supportive.
Whatever I feel, my family feels. My dad, my step-mum Linda, they feel the disappointment and the pain when I do.
They have been with me through it all throughout my career so when they see me down, they know how I am feeling. When I'm speechless, they know why.
My girlfriend Nicole Scherzinger was great. I wasn't on my phone, so we couldn't speak about it, but she wrote me a long email. She was in tears; she knew exactly what I was going through.
That all helped. I went to bed early, woke up, looked out of the window at the fantastic view the house has, said a prayer and said to myself that I was going to go to the track with all the positive energy I could harness and attack.
That's how I am, and always have been since I was a kid and I don't see any reason to change.
Lewis Hamilton was talking to BBC Sport's Andrew Benson.