Susie Wolff impresses in German GP practice

By Andrew Benson
Chief F1 writer at Hockenheim
Last updated on .From the section Formula 1
Susie Wolff impressed on her run for Williams in first practice at the German Grand Prix.
The Briton was 15th, just 0.227 seconds slower than team-mate Felipe Massa, an 11-time grand prix winner.
Wolff, 31, hit trouble on her first lap, struggling back to the pits with the car stuck in gear, but the team managed to get her out to complete a consistent programme.
Mercedes' Nico Rosberg set the pace, ahead of team-mate Lewis Hamilton.
Ferrari's Fernando Alonso was third fastest.
Rosberg was just 0.065secs ahead of Hamilton, who was told by his engineer he just needed to put his fastest possible lap together to head the field.
Hamilton was in turn 0.227secs clear of Alonso, who was 0.274secs ahead of Ricciardo.
McLaren's Jenson Button was fifth, ahead of world champion Sebastian Vettel, 0.4secs down on Ricciardo.
McLaren's Kevin Magnussen was seventh from Ferrari's Kimi Raikkonen, who despite losing a few minutes when the team needed to change his water pump, managed just two laps fewer than Alonso but was 0.8secs adrift of the Spaniard.
Massa was 11th and Wolff just four places behind, as she went a long way to showing she could do a good job if she was to fulfil her ambition to race in a grand prix.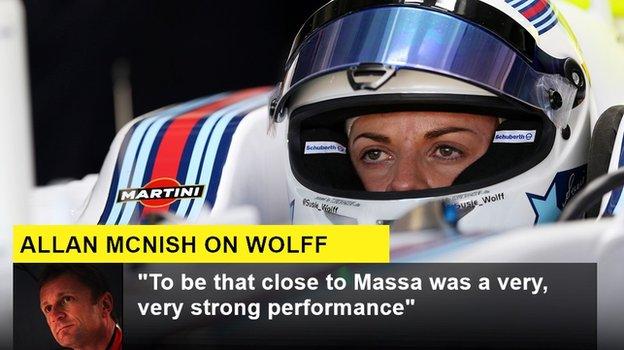 "It was tough at the beginning," said Wolff. "But it was so nice to be out on track every lap, going quicker and getting more feel in the car. I'm just really happy to have completed a successful FP1 session."
Wolff hopes one day to become the first woman to race in a grand prix since Lella Lombardi in 1976 but needed to prove that she deserves to be given that chance.
In trading lap times with Massa, she appeared to do that - out on the track at the same time, the Brazilian was initially 0.1secs quicker, before Wolff beat him by 0.2secs and then the Brazilian edged back ahead.
Massa had clearly been pushing hard - he ran wide at Turn One shortly after setting his fastest time.
The two cars were not in exactly the same specification so it would be unwise to draw too many conclusions from the basic times.
Asked about the comparative fuel loads of the two cars, Wolff said she and Massa had "different set-ups to compare, but, yeah, the same programmes".
Considering Wolff's lack of mileage in a car Massa has raced all season her performance appeared to make a strong statement.
BBC F1 analyst Allan McNish said: "To be that close to Massa was a very, very strong performance."
The session went far better for Wolff than her last outing at Silverstone two weeks ago, when she managed only four laps before her engine failed as she became the first woman to take part in a grand prix weekend for 22 years.
Initial indications were that there had been little change to the pecking order following the decision of all the teams not to run their high-tech hydraulically controlled front-rear interconnected suspension systems following a communication from governing body the FIA that it believed them to be illegal.
The drivers appeared to be finding life more difficult out on the track, however.
Removing the systems, the teams have to run the cars higher at the front, reducing downforce, and several cars ran wide on the entry to the many slow corners at Hockenheim.
Hamilton, in particular, seemed to have trouble putting together a lap, although traffic on the relatively short track was also a problem for him.
German Grand Prix coverage details