Lewis Hamilton fastest in sweltering German GP practice

By Andrew Benson
Chief F1 writer at Hockenheim
Last updated on .From the section Formula 1
Lewis Hamilton beat Nico Rosberg in second practice at the German Grand Prix, but Red Bull appear to have edged closer to Mercedes.
Red Bull's Daniel Ricciardo was third fastest and only 0.102 seconds slower than Hamilton, with Rosberg 0.024secs adrift of his Mercedes team-mate.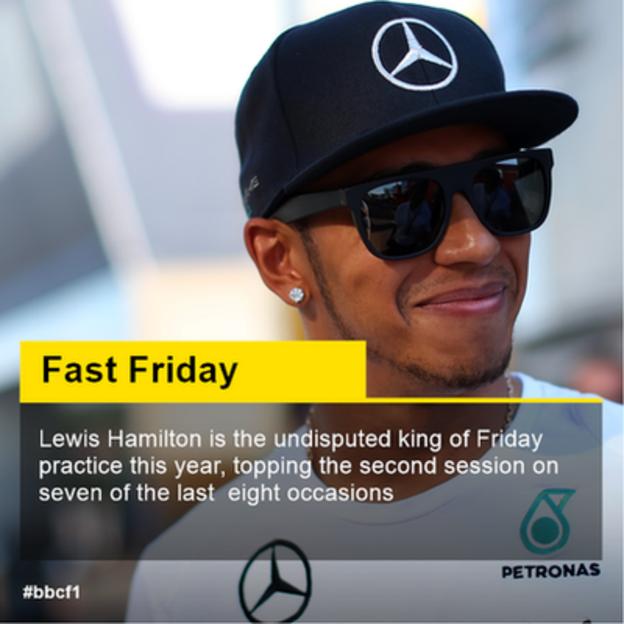 Ferrari's Kimi Raikkonen was fourth fastest and unusually ahead of team-mate Fernando Alonso down in ninth.
McLaren's Kevin Magnussen was fifth ahead of Williams' Felipe Massa.
Magnussen's team-mate Jenson Button took seventh ahead of Red Bull's Sebastian Vettel, Alonso and the second Williams of Valtteri Bottas.
Both Vettel and Alonso ran wide at the last corner on their qualifying simulation runs on the faster super-soft tyres.
Rosberg also made a mistake on his first run, running off track at Turn Two. The fact he was able to all but match Hamilton on his second try on the fragile tyres in scorching 58C track temperatures suggests the German may have the edge on Hamilton on pace.
Rosberg was the quicker of the two Mercedes drivers by 0.065secs in the first session.
And in the race-simulation runs on heavier fuel later in the session, Rosberg had an advantage of 0.1secs on average lap time, with the Red Bull drivers about 0.3secs further behind.
As the drivers finished their race runs on the super-soft tyre and switched to the softs, there was a mix-up in the pits, when Rosberg's tyres were fitted to Hamilton's car.
That meant they had to be changed and the German was delayed briefly when he stopped, causing his brakes to smoke as they overheated for a short time.
Rosberg said: "My dear team-mate decided to box [pit] without any warning so that put us all into a bit of a mess.
"It's not for me to discuss that, and anyways it didn't hamper my programme. It was just a bit of a longer wait and that's it."
Williams were next fastest behind Mercedes, about 0.1secs off the Red Bulls and a similar margin ahead of the Ferrari of Raikkonen. Alonso did not do a long run on the super-soft tyres from which these figures are taken.
Assuming the race is dry, the leading teams will start it on the fast but fragile super-soft before almost certainly switching to the softs for the balance of the race.
BBC F1 analyst Allan McNish said: "Right now, its quite clear Red Bull are a little bit closer to Mercedes and they are back to being the second best team, which Williams have been in the last two races in Austria and Silverstone."
It is possible that the decision of all the teams to remove from the cars high-tech suspension systems that help create a stable aerodynamic platform has affected Mercedes more than most.
The world championship leaders were widely considered to have the best such pitch-control system, known as front-rear interconnected suspension (Fric).
Rosberg said: "For sure it will shuffle things around a little bit without this Fric system.
"There are some new challenges to re-balance the car and figure my way out to get happy in the car.
"It looked a bit closer out there but Friday you never know what people are doing with fuel so let's just wait and see tomorrow and Sunday."
But Vettel said: "In dry conditions I think it will be difficult to match the Mercedes."
German Grand Prix coverage details