Susie Wolff: Finding F1 race seat will be difficult

By Andrew Benson
Chief F1 writer at Hockenheim
Last updated on .From the section Formula 1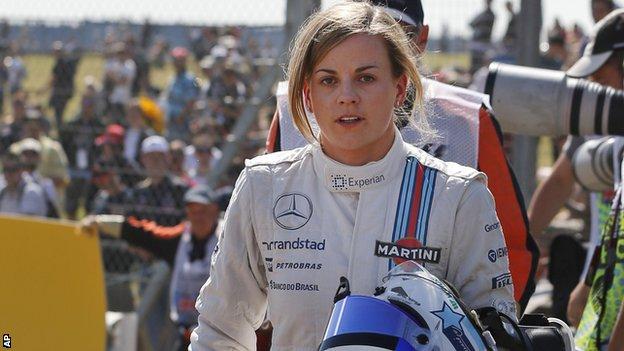 Susie Wolff admits it will be difficult for her to achieve her ambition of racing in Formula 1.
Scot Wolff, 31, said: "I feel ready but it is a tough environment and getting the chance is not going to be easy.
"But for me this was a massive step forward on my journey."
Williams deputy team principal Claire Williams said she "really hoped" Wolff stayed on with the team in 2015 but said there was no option for her to race as Massa and team-mate Valtteri Bottas were already under contract.
"There's always a place for Susie in our team," Williams told the BBC. "We have a great relationship with her and would like her to stay in 2015.
"In what role that would be, I wouldn't be able to say yet. We have race drivers for next year in Felipe and Valtteri, so we'll have to wait and see."
Wolff's run at Hockenheim was her second this season, which has reached the halfway point this weekend, with Mercedes drivers Nico Rosberg and Lewis Hamilton separated by just four points at the head of the championship after winning eight of the nine races between them.
At the British Grand Prix two weeks ago she became the first woman to take part in an F1 race weekend for 22 years but the car lasted just four laps before its engine failed.
Despite a brief scare when her Williams became stuck in gear on her first 'installation' lap, Wolff was able to do a full programme this time.
"For me, there was so much hype around Silverstone because it was historic but actions speak louder than a thousand words," she said.
"I'm asked so often am I good enough, are women good enough, are they strong enough? And I just wanted to show that for me when the helmet's on and I'm out there I'm no different from anyone out there."
She added: "I'm happy with my performance. My main target was always going to be Felipe. It was important to do a good job.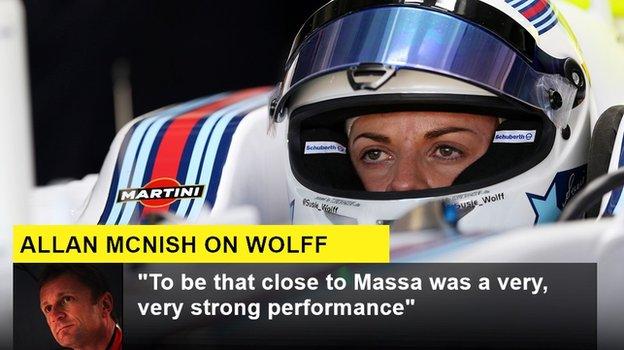 "I knew exactly what I had to do and I knew it was my only chance to show what I was capable of.
"But I had a really good feeling. I know the track really well from my times in the DTM (German touring car championship) and I was just looking forward to driving the car because it's so much fun."
Wolff, who is Williams's development driver, admitted she was unlikely to get a chance to race at her current team in place of Massa and Bottas this year or next.
"I'm very realistic and Valtteri and Felipe are doing a fantastic job, let's be honest," she said.
"I rate both very highly. So am I going to get a seat here? No.
"But all I can do is stay here, take every opportunity that comes my way, keep doing a good job and you never know.
"Sometimes a chance comes and the most important thing is I'm ready but a full race seat here next year is something that's not realistic."
Hamilton was fastest in Friday's second practice ahead of a crucial qualifying on Saturday, across 5 live and online, with TV highlights on BBC One at 17:25 BST.
Women at the Wheel, presented by Jennie Gow, broadcasts on BBC World Service on Saturday at 17:00 BST.
German Grand Prix coverage details