Lewis Hamilton rules out beating Nico Rosberg in German GP

By Andrew Benson
Chief F1 writer at Hockenheim
Last updated on .From the section Formula 1
Lewis Hamilton says he would have to be "smoking something" to believe he can win the German Grand Prix after his 130mph crash left him 15th on the grid.
Mercedes team-mate Nico Rosberg - four points clear of the Briton in the championship - starts on pole.
Rosberg has twice built up large leads over his rival this year after car failures for Hamilton.
"I've got to now do damage limitation again, which I seem to be doing quite often," Hamilton said.
"I'd have to be smoking something to think I could really get to first. Nico's on pole. He's got no-one in front of him."
Hamilton went into the weekend on a high after reducing what had been a 29-point deficit with victory in the British Grand Prix, where the German suffered his first retirement of the season. But he said he now had low expectations for Sunday's race after brake failure saw him crash out of the first knock-out qualifying session.
"When you miss the whole session you know that's almost your whole weekend out the window - or the win, 25 points," he said. "It's very difficult initially but you just have to suck it in."
Hamilton added he had no serious ill-effects from the crash.
"I was very sore afterwards," he added. "I've had a lot of crashes in my life, some worse than others. I went in sideways, didn't hurt my head or anything, but knees, ankles, lower back - yeah, I felt it.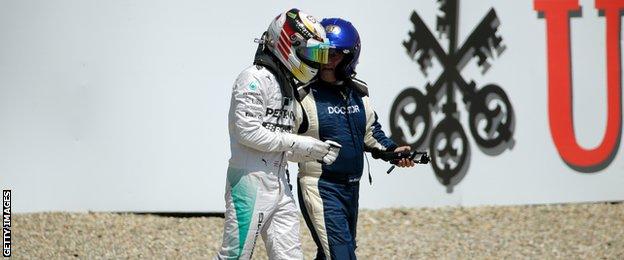 "Initially your adrenalin's pumping and all you can think of is, 'Damn, that's me out of qualifying'. And second, 'Damn, I'm in pain.' And you're trying to figure out what that is and just hoping you're OK.
"Fortunately I got out. I'll be a bit bruised tomorrow probably but I'm glad I can continue."
Mercedes boss Toto Wolff said the reliability problems affecting the British driver were down to bad luck.
"Lewis was unlucky this season," he said. "We hope we can break that pattern soon and he can have a proper run.
"This is something Nico would like to have because Lewis is his main competitor and I think they want to fight it out fair and square on the track."
While Hamilton qualified 15th, he may end up starting in the pit lane if Mercedes put a new type of brake on the car.
Wolff said they were likely to make the change "because there is no way you can analyse what happened and how to prevent that in the future within 12 hours".
He added that the team did not yet know whether they would incur the pit lane penalty for modifying the car between qualifying and race, something permitted only on safety grounds.
German Grand Prix coverage details