Lewis Hamilton: Briton says he 'never liked to win easily'

By Andrew Benson
Chief F1 writer in Hockenheim
Last updated on .From the section Formula 1
Lewis Hamilton said he "never liked to win easily" as he fell 14 points behind Mercedes team-mate Nico Rosberg in the title race at the German Grand Prix.
"It's not been a smooth-sailing season for me, as it has been mostly for the guy I'm racing against," said Hamilton.
"But I don't want it easy. Some don't mind that. But I do like a challenge."
A brake failure in qualifying left Hamilton 15th on the grid, before he was also given a five-place penalty for changing his gearbox, which was damaged in the accident.
It is the third time this season the Briton has had to make up a significant deficit to Rosberg caused by a mechanical failure on his car.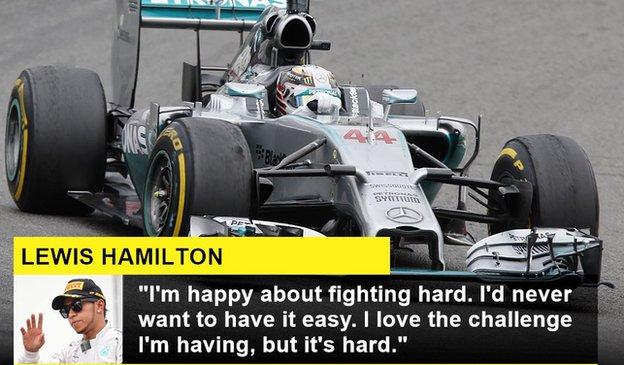 And he believes it is "important" he closes the gap to Rosberg at Sunday's Hungarian Grand Prix, the 11th of 19 races this season and the last before F1's summer break.
Hamilton felt he might have beaten Williams's Valtteri Bottas to second place at Hockenheim if he had not damaged his front wing passing Jenson Button's McLaren at the Turn Five hairpin at about half-distance.
Hamilton added he thought race officials should have sent out the safety car when Adrian Sutil's Sauber was stranded in the middle of the pit straight after a spin at the final corner on lap 50.
"I was really concerned for the marshals," said Hamilton. "You come around that corner at serious speed and there are marshals standing not far away.
"For me that's the closest it's been for a long, long time. I couldn't believe the safety car hadn't come out.
"Fortunately no-one got hurt."
The incident meant Mercedes were forced to bring forward Hamilton's stop in case there was a safety car, which in turn meant his tyres ran out of grip before the end of the race when he was trying to pass Bottas.
Mercedes team boss Toto Wolff said he believed the decision not to deploy the safety car was as a result of a new approach in F1 by race officials to intervene less than in the past, following criticisms that the racing is over-regulated.
German Grand Prix coverage details