German GP: Felipe Massa blames Kevin Magnussen for 'scary' crash

By Andrew Benson
Chief F1 writer in Hockenheim
Last updated on .From the section Formula 1
Felipe Massa blamed Kevin Magnussen for the accident that led to the Brazilian's car somersaulting at the start of the German Grand Prix.
Magnussen's McLaren and Massa's Williams collided at the first corner, resulting in Massa skating upside down through the run-off area.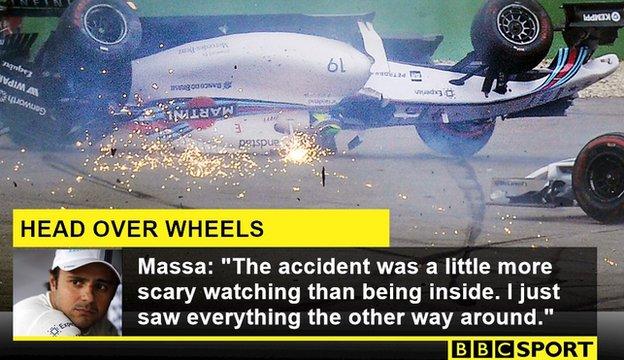 An unhurt Massa said: "The accident was more scary watching than being inside. I saw everything the other way around.
"I was in front. If someone needs to watch, it's the car behind."
Magnussen was on the inside and his front wheel hit the side of Massa's car, but he claimed he had no way of avoiding the Williams.
"I need to see a replay of the accident, but if I'd had somewhere to go, then there wouldn't have been contact with Felipe," said Magnussen.
"I am sorry about the situation. I did my best to try and avoid the accident, but there wasn't much else I could do."
Race officials investigated the incident and decided to take no further action, on the basis that neither driver could be completely at fault.
Massa has been involved in a series of heavy first-lap crashes in recent races.
He suffered a huge accident after being hit by Force India's Sergio Perez on the final lap of last month's Canadian Grand Prix, for which the Mexican was given a five-place grid penalty at the next race.
Massa than had to spin to avoid Kimi Raikkonen's crashing Ferrari on the first lap of the British Grand Prix two weeks ago. He clipped the Finn's car and needed to stop for repairs.
Massa, who had qualified third in Germany and was hopeful of a podium finish, said: "I am so disappointed at what happened. It's another race and another car that pushed me out and finished my race. With a car that is very competitive and fast that's so disappointing.
"Normally the car behind has to brake.
"At that the corner you cannot have three cars side-by-side, and I backed off a bit to not be side-by-side with my team-mate."
Magnussen had qualified an impressive fourth in the McLaren and was dropped to the back of the field by the accident.
He recovered to finish ninth, one place behind team-mate Jenson Button.
German Grand Prix coverage details
Other memorable first-corner 'flips'