David Coulthard column: Lewis Hamilton must accept racing gods

By David Coulthard
BBC F1 co-commentator and former F1 driver
Last updated on .From the section Formula 1
Lewis Hamilton seemed disappointed with the result of the German Grand Prix, but he really should not be.
Yes, the points gap to his Mercedes team-mate Nico Rosberg has opened up again after the German won and Hamilton finished third.
But Hamilton drove well to come through from 20th on the grid and he limited the damage caused by an incident out of his control - brake failure in qualifying - as much as possible.
It was a drive of controlled aggression from Hamilton, which had two on-the-edge incidents.
The first was when he was trying to pass Kimi Raikkonen's Ferrari and Daniel Ricciardo's Red Bull at Turn Six and he locked his brakes. But it was understandable that he locked up because Sergio Perez's Force India was coming across his bows. Had that not been the case, he would not have locked up.
It was high risk, but he executed it brilliantly.
The other was with Jenson Button, in which the door was open, and it then closed.
Jenson did not realise that Lewis was going to be there; initially Hamilton did not either.
But Jenson took such a wide line that it almost looked as if he had a problem and was letting Lewis by.
The Button incident probably cost Hamilton second place because of the front wing damage he sustained, which cost about 0.3 seconds a lap and made his tyres wear out quickly, but he is pretty much blameless for both those incidents.
There was no malice in it from Button's side, and it wasn't an over-aggressive move from Hamilton. It was just a misunderstanding of two cars doing quite different lines.
Hamilton was unlucky in qualifying. It's the first time I've ever heard of mixing two different manufacturers of brakes front to rear. We certainly never did that when I was racing.
It's obviously a legacy of the hybrid systems on these modern cars doing a significant amount of the braking on the rear axle in order to recover energy.
So the front and rear axles are not connected in the way they used to be - the rear is controlled by electronics on a brake-by-wire system.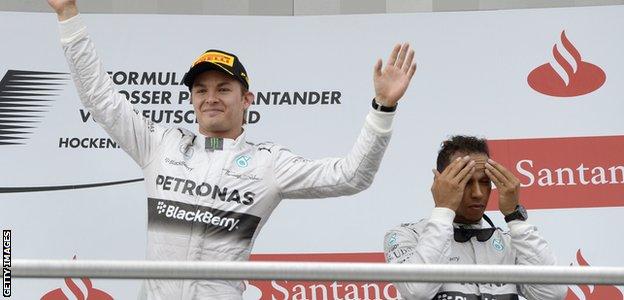 The system has to be set to give the driver the same braking feel as there would be if there was a direct link between his pedal and rear brake pressure.
It was a strong recovery drive by Hamilton, but at the same time you can't help but be super-impressed with how relaxed Rosberg is.
After qualifying on pole, he said he expected to see Hamilton at some point in the race, which demonstrates how much respect he has for Hamilton's speed and that of the Mercedes car.
Even though Hamilton was starting at the back, Rosberg knew that the car's pace and Hamilton's skills would bring him somewhere into contention.
It did not trouble Rosberg this weekend, but had there been a late safety car following Adrian Sutil's spin, it would suddenly have been game on for the win for Hamilton.
You could see around the time of their fantastic scrap for victory in the Bahrain Grand Prix back in April a realisation from both Mercedes drivers that this was not just about the team winning, it was about the two drivers competing with each other for the championship, with no other rivals.
That has clearly increased the level of intensity at Mercedes, and at that point, following Hamilton's victory, it looked as if Rosberg might take some time to embrace that.
In fact, nothing could be further from the truth.
Some drivers crack under pressure; others flourish. And at the moment Rosberg is growing into the new position in which he finds himself.
Rosberg never looked stressed all weekend and I am super-impressed by the inner calm that is allowing him to keep doing his job. He is simply thinking that if the car keeps running, he knows he will be first or second, and 10 races in he is leading the championship.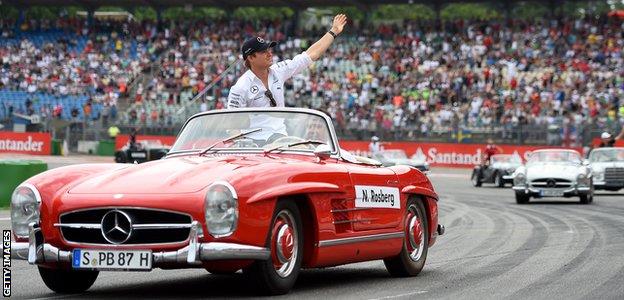 It should be said, however, that Hamilton is only behind because of bad luck. He has had more race retirements and other car problems than Rosberg has, and had they had the same, Hamilton would be leading by more than Rosberg is now.
But life isn't fair. The days of a driver influencing the mechanical reliability of the car are virtually gone. The racing gods decide on reliability, and the drivers just have to deal with that.
A GREAT RACE - BUT SOME CONCERNS
In general, the German Grand Prix gave us the perfect mix of what grand prix racing should be.
There was the big crash from which the guy walks away, and some great wheel-to-wheel action throughout the field, especially the late fight between Ferrari's Fernando Alonso and Red Bull's Daniel Ricciardo.
Ricciardo continues to impress in his first year as a leading contender.
He has already proved his speed and ability to work with a team this year but his racing is clearly out of the top drawer as well, and Hockenheim was a perfect example.
The Australian showed good judgement against one of the hardest racers you'll ever see. You really sensed Alonso was respecting Ricciardo in what he was doing - and the Ferrari driver was very complimentary about him afterwards.
It was great to watch. They both knew their car and their own limits. In the end Fernando won through, but it was another massive tick in the box for Daniel as one of the stars of the next generation of drivers.
On the first corner shunt, I'm sticking with my view that it was just one of those racing incidents in which no-one is really at fault.
On the one hand, Kevin Magnussen may not have understood the angles correctly.
I would always be uncomfortable about being on the inside on such a sharp, fast corner, and I'm sure he'll know next time that it's better to hang back rather than risk contact.
It's always a question of risk versus return in these situations.
In lots of ways it was two unrelated cars coming together - one was trying to avoid his team-mate, the other was trying to pass without the first realising, and they found themselves on the same piece of track.
So it was good that the stewards took the view they did and did not hand out any penalty.
There were some low points to the race, though.
I still don't like to hear drivers being told not to race each other because doing so will wear out their tyres too much and affect their overall race result.
And I don't like to hear drivers being told to manage fuel.
Both of those things sit slightly uncomfortably with me in a sport that is supposed to be about man and machine battling on the absolute limit.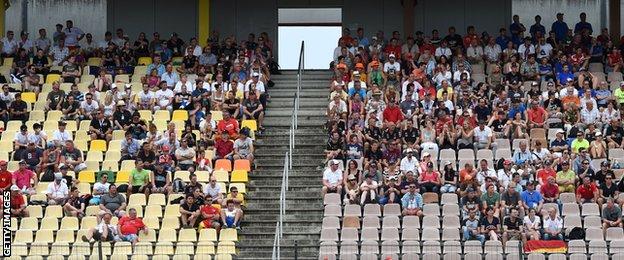 At the same time, it's concerning for everyone in F1 why at the German Grand Prix, with a German team dominating the season, a German driver leading the world championship and a German reigning world champion, the crowd was disappointing.
It's especially perplexing in that it comes on the back of three races that were absolutely packed.
And I know that, in the context of declining television audiences in some countries, the sport's bosses are taking that very seriously indeed.
David Coulthard was talking to BBC Sport's Andrew Benson.