McLaren and Ferrari: Rule change spells trouble for F1 teams

By Allan McNish
BBC F1 analyst
Last updated on .From the section Formula 1
The German Grand Prix revealed some interesting changes in the Formula 1 formbook, even if they were not immediately obvious from the results.
On the face of it, not much changed. Mercedes still dominated, and Williams, Red Bull, Ferrari and McLaren were the next teams in line.
But I've been crunching some numbers and while the competitive order might not have changed, the gaps between the teams in it have, at least on the evidence of Germany. I suspect this will continue and perhaps be exacerbated into Hungary this weekend, but more of that later.
One of the key themes heading into the German race was whether a technical directive from governing body the FIA that led to the teams removing their high-tech front-to-rear interconnected suspensions (Fric) would affect the pecking order.
What is Fric?
Front-to-Rear Interconnected suspensions: Controls the platform of the car to make it as stable and constant as possible, which allows a better aerodynamic flow, which in turn allows a more aggressive aerodynamic set-up and more total downforce and grip.
The theory was that Mercedes had probably the best Fric system, so they may be pegged back a bit.
I have been comparing the lap times from Germany to those from the race in Austria last month, when all the top teams ran Fric.
They are similar sorts of circuits - point and squirt, with predominantly slow corners and lots of accelerations, but a couple of fast curves in the mix as well.
I have looked at time per kilometre - which takes out the length of the track - and compared each team's best lap with that of the fastest Mercedes:
Team

Austria

Germany

Williams
0.046

secs/km behind fastest Mercedes

0.048

secs/km behind fastest Mercedes

Red Bull

0.121

0.160

Ferrari
0.079
0.242

McLaren

0.132

0.147
It's clear from those numbers that Williams and Red Bull were in more or less the same place in both races, but that both Ferrari and McLaren had lost out.
Of course, you don't get points for qualifying, you get points for races, so I have compared total race times as well:
| Team | Austria Full race | Germany Full race |
| --- | --- | --- |
| Williams | 8 secs/km behind fastest Mercedes | 20 secs/km behind fastest Mercedes |
| Red Bull | 47 | 48 |
| Ferrari | 18 | 52 |
| McLaren | 32 | 84 |
Williams's Valtteri Bottas was eight seconds off the winner in Austria and 20 seconds behind in Germany.
For Red Bull, Daniel Ricciardo was the highest finisher in Austria and was 47 seconds behind the winner, and the best Red Bull in Germany was Sebastian Vettel, 48 seconds behind Mercedes driver Nico Rosberg.
At Ferrari, in Austria Alonso finished 18 seconds behind the winner and he was 52 seconds off the lead in Germany. On time per kilometre, that equates to 0.06 seconds in Austria and 0.17 in Germany - a deficit three times as large.
And then there's McLaren. They were 32 seconds behind Rosberg in Austria, which is 0.104secs/km, and in Germany they were 84 seconds behind and that is 0.276secs/km - more than a quarter of a second per kilometre off the pace.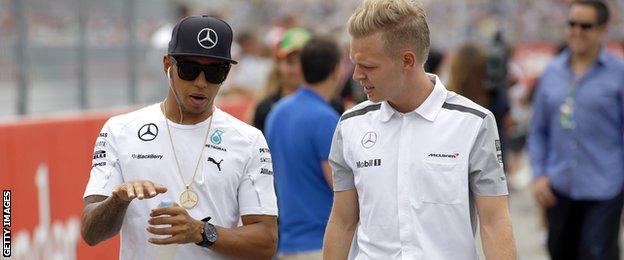 Now, Rosberg led all the way in Germany and did not get into the lead until lap 14 out of 71 in Austria, which reduces the amount of time he has to build a lead, but it's a relatively small proportion of the race so it is not that significant in the overall picture.
So the conclusion from that is obvious. The removal of Frics may not have changed the overall competitive order, but two teams have lost out significantly in terms of relative pace - Ferrari and McLaren.
That is ironic given that many people in the paddock at Hockenheim believed that both those teams were prime movers behind the scenes, in one way or another, in ensuring everyone had to race without Fric in Germany. McLaren denied this, incidentally.
Even worse for McLaren, 84 seconds is a serious deficit to the winner when you have brought some upgrades to the car that they thought were positive - some new rear wing endplates with little shark fins on and serrated edges on the rear wing flap and main plane.
The paradox in that is that Kevin Magnussen qualified a highly impressive fourth. The speed numbers are what they are, so the only conclusion is that that was a pretty stunning qualifying lap, but that McLaren are still struggling to keep their pace in the race.
The Woking-based team are working hard to develop their car and move forward, but all the other teams are moving forward at the same rate.
LESSONS FOR HUNGARY THIS WEEKEND
Without the stability of Fric, teams have to either raise or stiffen the car or both, because they no longer have that control of the platform from the hydraulically operated system.
In either case, the car loses mechanical - low-speed - grip and its change of direction is blunted.
At the same time, they have to reduce the aggressiveness of some of the aerodynamic surfaces they can use on the underside of the car because without the ride-height control of Fric they are more prone to the airflow stalling - which gives inconsistent downforce levels and affects driver confidence.
Hungary this coming weekend is the sort of track where Fric is very effective - more so than in Hockenheim. There are a lot of quite long corners and quick changes of direction, and it's bumpy. A car needs a good change of direction and a very precise aero set-up.
Taking Fric off and running a stiffer chassis and higher ride heights reduces mechanical grip, and that in turn puts greater strain on the tyres. That might not affect things too much over one lap, but over a race stint it will be harder for the tyres to hang on, because they are being asked to do more of the cornering effort.
What's interesting about this is that traction and mechanical grip were a weakness of both the Ferrari and the McLaren even before Fric was removed, and it seems likely that without it those weaknesses have been exacerbated.
The race most like Hungary in these demands is Monaco, where McLaren were lapped, and I suspect McLaren may find life difficult at the Hungaroring.
And in Hungary I think there will be a change in order. Simply because of the Red Bull's greater overall downforce, I would expect them to be Mercedes' closest challenger.
Williams have become very strong. Their car is clearly very good. And it is qualifying well, which it was not always the case early in the season. But it lacks the overall downforce of the Red Bull.
Having said that, if Williams can maintain their form in Hungary, they will be very strong for the rest of the season.
WHY WAS THE RACING SO GOOD?
There was some terrific wheel-to-wheel racing, a lot of overtaking and some great race-craft in Germany.
Yet these are the same cars and drivers about which some were complaining not so long ago that the racing was rubbish.
So what has happened?
Well, first of all, despite the moaning from certain senior figures, I think the racing has actually been pretty good all season. But the circuit configuration in Germany also played a part. Turn Two is a slow corner leading onto a long straight down to the Turn Six hairpin.
That straight was also a zone where the drag reduction system - introduced in 2011 to increase overtaking and make F1 more exciting for spectators - could be used, and there were times when three or even four cars were in line, making a bigger total DRS effect for those at the back of the train.
The hairpin is also extremely wide right through to the exit - and that allows two or three cars to go in side by side, and for drivers to go in on different lines and attack.
That was definitely one part of it.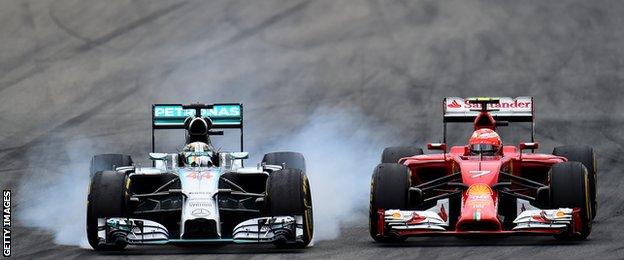 Another may be a different approach that is now being taken in the policing of racing in F1.
There were concerns that it was becoming too much of a 'nanny state', that too many penalties were being handed out to drivers in what were effectively racing incidents.
In the last month or so, the FIA has decided to take a different approach - to row back on the penalties, and to be a bit more lenient about collisions, in that they would not penalise anyone unless one driver could be deemed to be wholly or predominantly to blame for an incident.
I suspect that may have played a part in allowing the drivers to feel freer to race.
Whatever it was, it was fantastic to watch and, from the commentary box, fantastic to talk about.
Allan McNish is a former F1 driver and a three-time winner of the Le Mans 24 Hours. He was talking to BBC Sport's Andrew Benson.