Lewis Hamilton column: I've made mistakes and had some bad luck
Last updated on .From the section Formula 1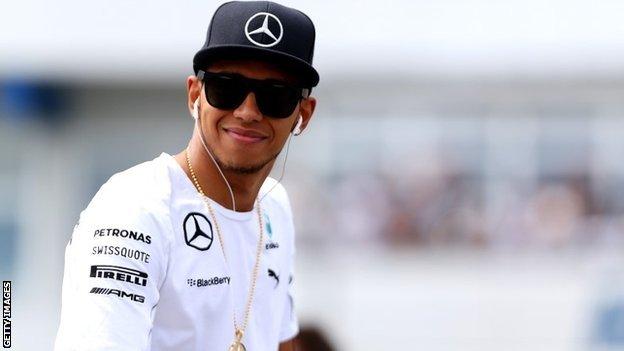 This weekend's Hungarian Grand Prix is the first anniversary of my first win for Mercedes and it really feels like the last 18 months with the team have been the most enjoyable of my life.
This time last year I was not that happy with my ultimate performance, just because I was not that comfortable with the car.
But a year on, we're at the halfway point of this season, I'm more comfortable with the car and we are having the most incredible season as a team.
From a personal point of view, I feel my racing performances have been very good this year.
Last year I lost a lot of places in races for various reasons, and coming into this season I was very aware of that. I wanted to be making places, or at least holding position.
I've done that - even if I could have done without a couple of the times I've had to fight back through the field!
Qualifying has not gone quite as well, and I realise that into the second half of the season I need to get back to my old form there. Then I feel like I'll be the full package.
Problems in qualifying
I've had a difficult run of races for me in qualifying - I've not been on pole now for five races, and that has not made things easy for me in the championship.
I feel like I've had the pace to be on pole at all those grands prix but it just hasn't worked out. Some of that has been down to me, and some of it has not. I've made some mistakes and had some bad luck.
I have no doubt I have the pace; I've just got to start delivering. I don't really know why it hasn't come together.
Generally, through my career, I have delivered in qualifying more often than not. We're now heading into a very important period of the year and that part of my game needs to be back to its best.
I thought the last race in Germany was my chance to turn it around. I felt really strong in the car, but then I had the brake failure in the first part of qualifying.
I'm hoping this weekend I'm going to be able to get that back again, because one thing I do know is that my race pace has just got stronger and stronger.
At peak form
In races, I feel I am driving at my best. I'm really happy with my pace, the way I'm driving and the decisions I'm making, whether it be defending against my team-mate Nico Rosberg in Bahrain and Spain, or coming through the field in Austria, Silverstone and Germany.
My misunderstanding with Jenson Button last Sunday probably cost me second place in that race because of the front wing damage I sustained but you can't always come through the field squeaky clean.
I feel like I may have used up most of those chances and I need to get back to starting from the front where I feel I belong.
| Hamilton's F1 record | McLaren | Mercedes |
| --- | --- | --- |
| Years at the team | 6 | 2 |
| Races | 110 | 29 |
| Wins | 21 | 6 |
| Podiums | 49 | 13 |
| Poles | 26 | 9 |
Reliability problems are tough
My car has had more mechanical problems than Nico's this year. It's never easy when you break down, but this year it is tougher to cope with than ever. That's because I feel like I've always been on the back foot, playing catch up ever since the first race, when I had to retire with an engine problem and Nico won.
So when you're already in that situation and then something else happens, it's tough - and when it does, you just know it's not going to happen to the other guy. You feel like the guy upstairs is not making it easy for you. He doesn't want to give it to you on a plate. And I respect and appreciate that.
I'm going to keep working hard at it, and to be honest if I'm going to win this championship I wouldn't want to win it any other way. To not have any problems through the year and to win every race would not be the way I wanted it.
I want it to be hard work. I want to earn it.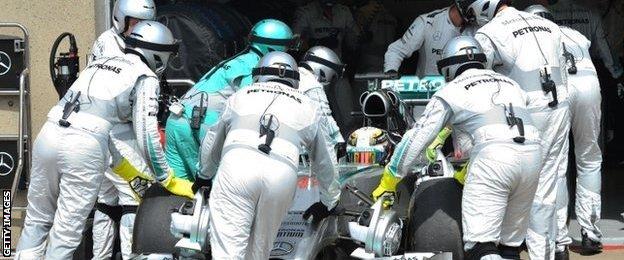 Battling with Nico
I'm really enjoying the battle with Nico.
As we've always said, we're never going to be best friends when we're battling for the World Championship.
There have been tense moments throughout our careers together, and we've hit a couple of kerbs and stumbled a couple of times this year too.
But right now we're in a good place with each other. We're respectful and the relationship is really working well. There is a good environment in the team.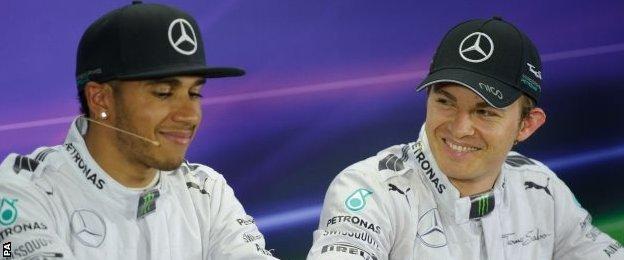 Nico is driving fantastically well and I'm looking forward to battling with him - not just over the season, but in a race as well, and I'm sure we're going to have many more over the next few grands prix.
One more race before a summer break
Hungary is the last race before we have just over three weeks off leading up to the Belgian Grand Prix on 22-24 August.
I haven't made any plans for the break, other than to be with family and friends. I didn't want to think about it; I just want to focus completely on my driving.
I feel completely level-headed about the challenge to come, this weekend in Hungary, and for the rest of the season.
I know there is stuff coming down the line at me; I know I have to make up a 14-point deficit on Nico and build a lead of my own.
But I also know I have the guns to face it. I have the pace, the car and the team to do it. I don't need luck; I just need no more bad luck, that's all.
Lewis Hamilton was talking to BBC Sport's Andrew Benson.