Nico Rosberg: My consistency crucial to beating Lewis Hamilton

By Andrew Benson
Chief F1 writer
Last updated on .From the section Formula 1
Nico Rosberg believes his greater consistency is crucial to his hopes of beating Mercedes team-mate Lewis Hamilton to the world championship.
The German leads by 14 points heading into Sunday's Hungarian Grand Prix after winning four races to Hamilton's five but suffering fewer car failures.
Rosberg said: "We each have strengths and weaknesses, which is normal.
"It is always going to be a tight battle and I just need to be a little more consistent than the other guy."
Mercedes 2014 Formula 1 season so far

Nico Rosberg

Lewis Hamilton

Australia - 1st

Australia - Retired

Malaysia - 2nd

Malaysia - 1st

Bahrain - 2nd

Bahrain - 1st

China - 2nd

China - 1st

Spain - 2nd

Spain - 1st

Monaco -1st

Monaco - 2nd

Canada - 2nd

Canada - Retired

Austria - 1st

Austria - 2nd

Britain - Retired

Britain - 1st

Germany - 1st

Germany - 3rd
Three times this year Hamilton has had to fight back after losing points as a result of a car failure and has led the championship only once - after the Spanish Grand Prix in early May.
He is keen to reduce Rosberg's lead at this weekend's Hungarian Grand Prix, the last before F1's four-week summer break.
Hamilton has always excelled at the Hungaroring, taking four wins in seven seasons there, and was fastest in both practice sessions on Friday.
But the Briton has failed to score a pole position at the previous five grands prix, following a series of costly errors and bad luck.
Rosberg, who was talking in an exclusive interview with BBC Sport, said: "It's a great battle we have fighting each other. It's very close, very intense. The team internally also; that makes it challenging because it brings a whole load of other difficulties along."
Rosberg said he regretted that the title could be decided on the controversial decision to award double points at the final race of the season.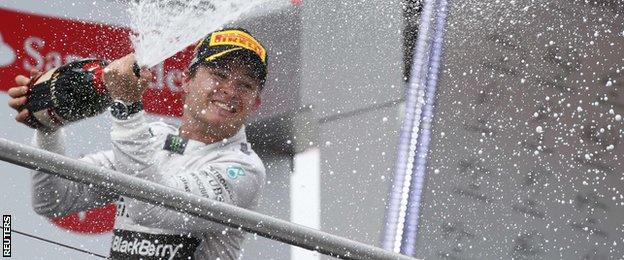 "It's not really a nice thing," he said. "When it's so close and there's so many points in one race it's obviously very artificial and I don't like it.
"But it's the way it is and I have accepted that. I am not really thinking that far ahead, I am just thinking race by race. If you focus on the goal, you lose focus on what you're doing in the moments."
Rosberg has been through a golden period in his life in the last few days.
He married his long-time girlfriend Vivian Sibold on the same weekend Germany won the World Cup, a few days later Mercedes announced he had signed a new contract at least until the end of 2016 and then he won his home race and extended his championship lead.
Some in F1 have questioned whether getting married mid-season could be a distraction, but Rosberg said that was not a concern.
"It's not something that's energy draining," he said. "It's just a very happy moment.
"Vivian did all the planning and did an amazing job. It was very emotional and felt right and that was nice."
Rosberg, who before this season had won only two F1 races in his career, said he had always known that this season would be a good chance to win the championship in this first year of turbo hybrid engines.
"I really believed I was going to have a great season," he said.
"I believed in the team and I knew this change of regulation was an opportunity and there was a lot of confidence internally that we had done a good job.
"It had an all-round positive feel to it and I always believed if I had the car to win races, I would win races."
Watch Nico Rosberg's interview with BBC F1 during the highlights of Hungarian Grand Prix qualifying at 1740 BST on BBC Two on Saturday