Lewis Hamilton: I'll struggle to get top five in Hungary GP

By Andrew Benson
Chief F1 writer
Last updated on .From the section Formula 1
Lewis Hamilton says he will struggle to finish in the top five in Sunday's Hungarian Grand Prix after a fire left him starting from the back.
"But there are races to go.
"This is a track you can't really overtake on. I'll struggle to get into the top 10, or at least the top five."
It was the sixth consecutive qualifying session in which Hamilton has had problems - some of his own making. And Hungary will be the fourth race in succession in which he has had to fight his way past slower cars to challenge Rosberg.
But there is a chance of thunderstorms at the Hungaroring track, 12 miles outside Budapest, on Sunday which would throw a random element into the race and make it easier for Hamilton to progress through the field.
"I can't believe it's happened again," said Hamilton. "I think it's getting to the point when it's kind of beyond bad luck. We need to do better."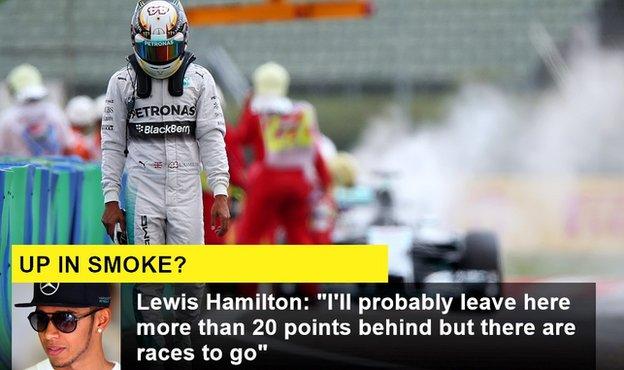 Hamilton explained the fire, which Mercedes say was caused by a fuel leak, could have ramifications later in the season, as a result of a rule limiting drivers to five engines a season.
Any driver who uses a sixth example of one of the major components that makes up the power-unit is given an immediate 10-place grid penalty.
Hamilton said: "Most likely I'm going to have to change my engine, which means some time later on in the season I'll have to take a 10-place penalty because of my engine.
"I don't know how it can happen. It seemed pretty bad for a while but I'll try to recover as much as I can for tomorrow and see where we can go from there."
His team need to build up a new car around a new chassis - and fit a new engine and gearbox - so Hamilton will have to start from the pit lane, where he will line up behind McLaren's Kevin Magnussen, who needed a new chassis and gearbox after crashing in qualifying.
"It's a good thing - I can't go any further back," he said.
"There's a lot going through my mind, but I just have to try somehow to turn it into positives."
Team boss Toto Wolff said he was "extremely upset" for Hamilton, but backed the "sensitive" 29-year-old to use his latest setback as motivation.
"From what I saw in Hockenheim, I have no doubts he will be in good spirits," said Wolff. "He has developed that strength within himself to recover."
Rosberg said he would "play it safe, avoid any unnecessary things happening and get as many points as possible".
But starting from pole in the fastest car means victory should be a formality for the German, even if the predicted rain arrives.
Rosberg's main opposition is likely to come from the Red Bulls of Sebastian Vettel and Daniel Ricciardo, second and fourth on the grid, and the Williams of Valtteri Bottas, which starts third.
Hungarian Grand Prix coverage details