Kimi Raikkonen: Ferrari have 'weaknesses in the system'
Last updated on .From the section Formula 1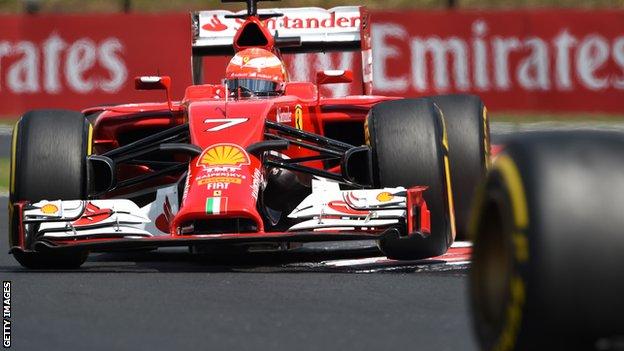 Kimi Raikkonen told his Ferrari team to address their "weaknesses" after a mistake ended his qualifying session for Sunday's Hungarian Grand Prix.
The Finn, 34, was told he was through to the second qualifying session after posting one of the 16 quickest times.
However, Marussia's Jules Bianchi pushed Raikkonen into 17th, meaning he will start Sunday's race at the Hungaroring near the back of the grid.
"The plan was to go out, but the team said, 'no, you are fine'," he said.
"I questioned it a few times, but they said, 'no need', and we can see the end result.
"Obviously we have to improve, to do things differently because we can see there are weaknesses in the system."
Mercedes' Nico Rosberg, leader of the drivers' championship, took pole, while team-mate Lewis Hamilton will start from the back of the grid after his car caught fire during qualifying.
Ferrari's Fernando Alonso qualified fifth fastest, but Raikkonen was 0.7 seconds slower than the Spaniard in the opening session.
Since returning to Ferrari - with whom he won the drivers' championship in 2007 - at the start of the season, Raikkonen has failed to beat Alonso in qualifying or in any of the 10 races.
Raikkonen said: "What happened is not good for me or the team and, although it has been a difficult year, I don't see the point to shout. The mistake is done.
"I cannot always go against advice. We are here as a team, make decisions as a team, and today the outcome was this."