Hungarian Grand Prix: The race that had it all and how it played out
Last updated on .From the section Formula 1
The 2014 season has treated us to some thrilling races so far, but the Hungarian Grand Prix has to be the one that had it all.
Heavy rain just before the start played its part in three crashes, resulting in the safety car coming out on two occasions - a combination helping to promote unpredictable results.
As if that was not enough, the intense rivalry between Lewis Hamilton and Nico Rosberg at Mercedes made a timely return, with a team orders fiasco before a three-way fight for victory.
In the end Hamilton stole the headlines after he started in the pit lane, hit the wall on his first lap and ignored team orders to finish third.
It was also a race to remember for Red Bull's Daniel Ricciardo who won his second grand prix, while Ferrari's Fernando Alonso secured his best result of the season so far in second.
Here is how the story of an epic Hungarian Grand Prix unfolded in the words of the BBC F1 pundits and tweets from the teams...
Weather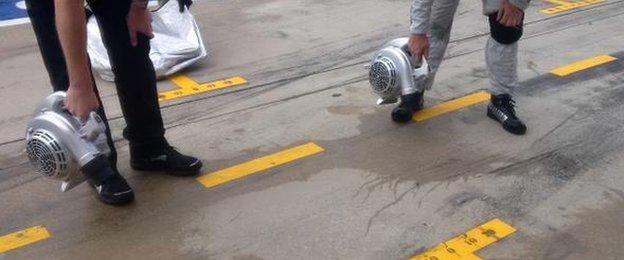 Marussia: We declare the Hungarian heavens open! #HungarianGP
Mercedes: Have we mistakenly stumbled into the local water park?! It's a right royal slip 'n slide out there! #HungarianGP #F1
David Coulthard: "There's a reasonable amount of wet patches on the back of the track which will make things interesting. I don't expect to see a problem with anyone getting away though."
Williams Racing: Someone up there just opened the floodgates. Anyone seen Noah?...
Allan McNish: "The drivers are driving on the wet parts of the straights to cool those [intermediate wet] tyres down."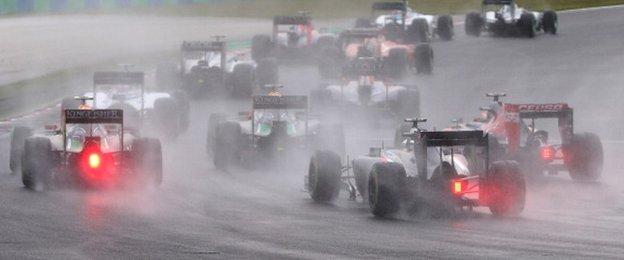 Hamilton's nightmare start
David Coulthard: "Those black lines seem to show contact there on Hamilton's car so we will have to wait and see what happened."
"As Hamilton went under the bridge he braked and just locked up, his front end plate hit the wall but didn't come off so he is very lucky there."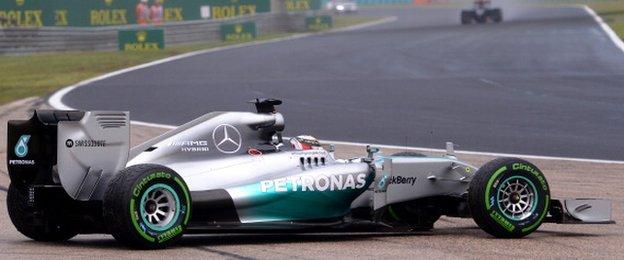 Mercedes on Twitter: No, no, no! Instant drama for @LewisHamilton! Seriously, where's the luck?! Reports of damage to the front wing end plate on the left side - he drove round the same at Hockenheim though... YOU CAN DO THIS LEWIS!! #F1
Crashes and safety cars
David Coulthard: "This is crucial. They are removing this car much quicker than many people would have been thinking. The guys who have gone to slicks far too early would have been hoping for the safety car for several laps."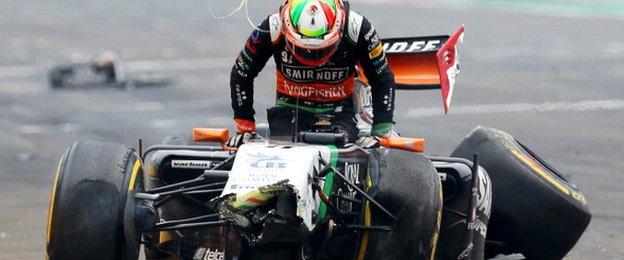 Lotus: A sub-optimal interaction between tyres, track, car and barrier cited as reason for @RGrosjean's retirement #F1
David Coulthard: "This is such difficult conditions for the drivers because they are running about seven seconds slower than they did in qualifying so they are having to work out the workings of these tyres in these conditions while also trying to race wheel to wheel."
'Tell him to get closer'
David Coulthard: "I think that's a tough call by the team there, in fact it's an unfair call. There is a long way to go in this race and a lot can happen and these two are still racing each other. We are told Hamilton has said tell him to get closer and I will let him through, I am not just going to let him through."
Allan McNish: "There's a frustration in Nico Rosberg's voice. He knows he has to make one more stop. His race is now being compromised."
Mercedes on twitter: For clarification, that extra stop for @nico_rosberg was the reason behind the earlier radio calls - the target being maximising the team...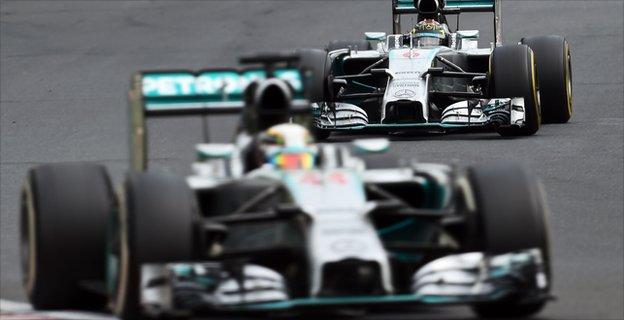 David Coulthard: "I think Hamilton is doing what he should do, His exact words were I am not slowing down for Nico, which is right, why should he slow down when he is racing. Nico is just not doing enough, he has just gone wide there too, there is a bit of frustration coming into his driving."
Allan McNish: "The problem for Rosberg is that when you are in that one-second range, you're in dirty air from the car in front and you can't get on the throttle, so you can't stay close enough to overtake, so you do need a little help from your team-mate."
'Mission critical? It could be hammertime!'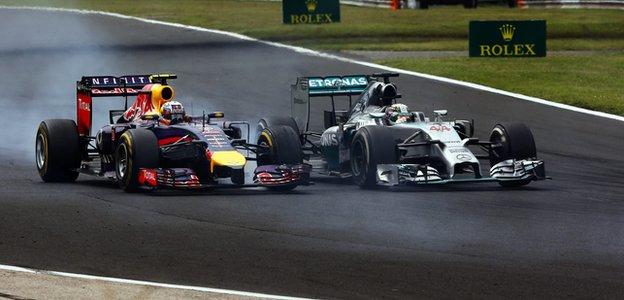 Allan McNish: "I'm a bit out of breath. There's been so much action in the first 39 laps. Lewis Hamilton is in a stunning situation."
David Coulthard: "There is a real British Bulldog attitude there Hamilton is right back in this race. He got past Vergne with supreme skill and bravery and that is the sign of a superb champion."
McNish: "Great wheel to wheel action between Rosberg and Raikkonen. Rosberg now has the grip to get Massa with his new tyres, there is a real battle going on now."
Coulthard: "That was a world champion of the future move undoubtedly."