Lewis Hamilton v Nico Rosberg: Time to let them race for the title

By Andrew Benson
Chief F1 writer
Last updated on .From the section Formula 1457
It is probably a good thing that the Formula 1 calendar dictates there is a four-week gap before the next race in Belgium.
The enforced summer break will give everyone a chance to catch their breath after a quite stupendous Hungarian Grand Prix.
It will allow title contenders Nico Rosberg and Lewis Hamilton time to calm down after the latest controversy between them, and give their Mercedes team a chance to have a long, hard think about how they approach the remaining eight races.
After a fire destroyed Hamilton's car in qualifying at the Hungaroring and he started from the pit lane, he expected to lose another chunk of points to Rosberg on Sunday.
As it was, a thrill-a-minute wet-dry race ended with Hamilton actually reducing his deficit by three points, as he narrowly beat Rosberg to third place. Daniel Ricciardo took a second brilliant victory for Red Bull this season, ahead of a stunning drive to second by Fernando Alonso in his Ferrari.
Hamilton was dismissive of the suggestion afterwards, but it has to be ranked among his best drives, although it will take something truly special to knock his Ayrton Senna-esque victory at Silverstone in 2008 off top spot.
But it was what happened over the Mercedes radio waves about two-thirds of the way through the race that has the potential to exacerbate the already simmering tension within the team.
Hamilton's paranoia antennae were already twitching as a result of his far greater rate of mechanical problems this year - he has had two retirements in races to Rosberg's one, while two failures in qualifying in the last two races have forced him to mount fight backs.
"I think it's getting to the point when it's kind of beyond bad luck," Hamilton said on Saturday afternoon, before leaving the track straight after his TV interviews, dodging his other media commitments and debrief. "We need to do better."
Those antennae will be in overdrive now, following Mercedes' decision with 25 laps of the Hungarian race remaining to order Hamilton to let Rosberg by.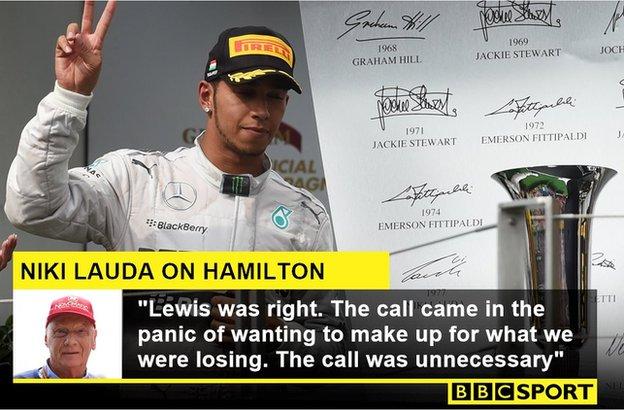 From a dispassionate team and engineering point of view, the call made sense.
Mercedes were trying to win the race and getting Rosberg past Hamilton as soon as he caught him in his penultimate stint would have given him the chance to then attack Alonso and Ricciardo in front of him and be as far forward in the closing stages after his final stop as possible.
The idea was that it would give both Hamilton and Rosberg the best chance to win the race.
But in the context of a title fight between two team-mates, in which Mercedes have said they will not interfere, the call is hard to understand.
Hamilton was at the time in third place, behind Ricciardo and Alonso, knowing at least one of them had to stop again and he didn't. In other words, an improbable win - no driver has ever won from starting in the pit lane in the history of the sport - was a real possibility.
Even if he did not win, from thinking he was inevitably going to lose ground in the championship to Rosberg, Hamilton now saw a very real possibility of reducing a deficit he feels is only there because of his car's poorer reliability.
Hamilton knew the potential consequences of letting Rosberg by. He said after the race that had he obeyed the order, his team-mate would have beaten him.
"I was thinking: 'I'm in this race, I don't understand why I have to let him past'," Hamilton said. "I'm sure the team did it for the right reasons.
"If I had let him past when they asked me, he would have got past in the end. He would have caught me with a couple of laps to go, for sure."
Rosberg, being the professional he is, refused to bite on the inevitable provocative questions afterwards, saying the team needed to "discuss it internally".
Afterwards it became clear that Mercedes bosses realised they had messed up.
Mercedes 2014 Formula 1 season so far

Nico Rosberg

Lewis Hamilton

Australia - 1st

Australia - Retired

Malaysia - 2nd

Malaysia - 1st

Bahrain - 2nd

Bahrain - 1st

China - 2nd

China - 1st

Spain - 2nd

Spain - 1st

Monaco - 1st

Monaco - 2nd

Canada - 2nd

Canada - Retired

Austria - 1st

Austria - 2nd

Britain - Retired

Britain - 1st

Germany - 1st

Germany - 3rd

Hungary - 4th

Hungary - 3rd
Non-executive chairman Niki Lauda, a three-time world champion, said: "Nico was never that close. So Lewis said: 'Why should I let him by, stop in the middle of the circuit?'
"And I understand. So Lewis was right.
"The call came in the panic of wanting to make up for what we are losing.
"Ricciardo, unbelievable drive; Red Bull, enormous car performance. Alonso did a perfect job to go with a right strategy for second place and Mercedes were fighting all that.
"So the call was unnecessary in hindsight, but it was made. Lewis ignored it and finished third, so looking backwards, when everything calms down, nothing is wrong."
Toto Wolff, the man in overall charge of the team and all Mercedes' sporting operation, said he, too, could understand Hamilton's refusal to obey the order.
"Emotionally as a racer, on the track, I can absolutely understand why he would do it," Wolff said.
"He wears his heart on his sleeve and this is how he is. It is clear that having that call is not what you expect when the car has broken down (in qualifying)."
Wolff expertly dodged questions about whether Hamilton had cost Rosberg a potential victory, and said the team might have to re-think the carefully prepared pre-season agreement they had made in an attempt to let the drivers fight fairly on the track without harming the team's interests.
And he admitted that it was probably unrealistic to ask a driver who was battling for the title with his team-mate, to let him by in a race, even if that was the way to maximise the team's result.
Wolff added: "Earlier in the season it was easy to say: 'These are the rules.' Maybe we have come to a point of saying that what we said at the beginning doesn't function any more because we cannot ask a driver to give up position and jeopardise their situation for the benefit of the team."
In the circumstances, Mercedes probably have no choice about what to do next.
Mathematically, the constructors' championship is far from over. Realistically, though, Mercedes sewed it up long ago.
Likewise the drivers' championship. Only Hamilton or Rosberg can realistically win it, as even Ricciardo, who is third, effectively admitted after the race.
Mercedes, then, will win both titles. So why bother with trying to impose clever orders to maximise strategies from an engineering point of view?
As far as Hamilton and Rosberg are concerned, it is a matter of every man for himself, and any attempt to control it by Mercedes can only backfire.
The irony is that this situation has arisen from the team trying to be scrupulously fair to both drivers. Now, though, the only realistic way to do that is to let them battle it out on the track without any form of interference from the team.
"We want to let the guys race," Wolff said. "We need to admit that we saw the limits of what we had decided at the beginning of the season and maybe that needs to be adapted."
For those of us tired in the Pirelli era of hearing drivers being told not to race someone because it might damage their strategy, that is a relief and a breath of fresh air. And it sets up a mouth-watering final eight races of the season.
Hamilton v Rosberg, gloves off, free just to get on with it. Whatever Mercedes decide to do next, what a climax this season has in store.
Hungarian Grand Prix coverage details