Mercedes rethink Lewis Hamilton & Nico Rosberg team orders

By Andrew Benson
Chief F1 writer
Last updated on .From the section Formula 1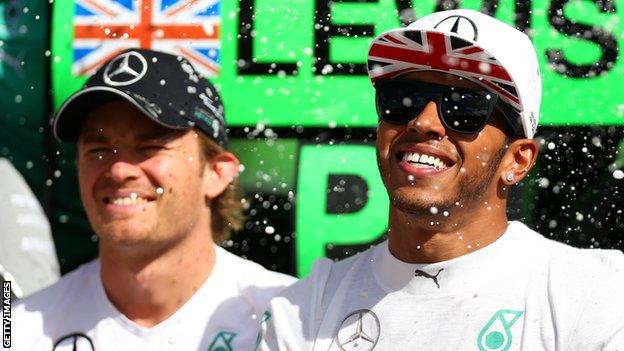 Mercedes will rethink their approach to races after a controversy over team orders at the Hungarian Grand Prix.
Lewis Hamilton refused a demand to move over for team-mate Nico Rosberg because he felt it would mean the German would end up beating him in the race.
Mercedes F1 boss Toto Wolff said: "We will not have that situation again because we will try to learn.
"We cannot expect the drivers in the second half of the season to move over for their main competitor."
Rosberg held a 14-point advantage going into the Hungarian race, but with the German finishing fourth behind Hamilton in third, the gap is now down to 11 points.
Hamilton felt Rosberg's advantage was down to the better reliability of the championship leader's car - a fire on the Briton's car in qualifying meant he started the race at the back, with Rosberg on pole.
But two-thirds of the way through a wet-dry race, punctuated by two safety car periods, Hamilton had worked his way up to third behind Red Bull's Daniel Ricciardo and Ferrari's Fernando Alonso and was in contention to win.
Hamilton was then told to let Rosberg past because they were on different tyre strategies, with Hamilton running to the end and Rosberg needing to make one more stop.
However, Hamilton stayed in front for another nine laps, until Rosberg's final pit stop, because he felt moving over would mean Rosberg catching and passing him before the end on fresher tyres.
"I was thinking: 'I'm in this race, I don't understand why I have to let him past,'" Hamilton said. "I'm sure the team did it for the right reasons.
"If I had let him past when they asked me, he would have caught me with a couple of laps to go, for sure."
Before the season, Mercedes team bosses Wolff and Paddy Lowe mapped out with their drivers a plan for how they would approach races.
They made it clear they wanted them to race freely, but that the team's priorities came first.
Details of the agreement were never revealed, but it seems part of it was that one driver would allow the other to pass if they were on divergent strategies to allow each to maximise their own chances.
Hamilton said: "Whatever the rule was didn't apply today, I don't think."
And Wolff acknowledged that approach might no longer be sustainable now it is clear they are the only two drivers in title contention.
"We need to analyse how we ended up there and we need to again discuss the racing between the two," Wolff said. "It is getting intense."
Referring to Hamilton's dilemma, Wolff said: "You let your team-mate by and he wins and you lose another eight or 10 points, you damage your own campaign.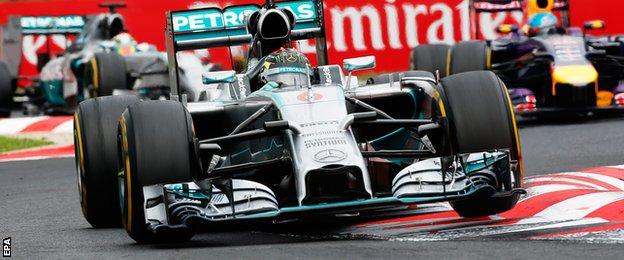 "We could have come over the radio in a harder way. It was very difficult to judge what was right or wrong at that stage of the race.
"Once it is properly analysed, the emotion will disappear. [Hamilton] wears his heart on his sleeve and this is how he is. It is clear that having had that call is not what you expect when the car has broken down [in qualifying]."
Wolff said the pressure of a title battle would force the team to reassess what to do in the remaining eight races.
"Maybe it is a moment of loosening it a bit in agreement with both of them," he said.
"We are all grown up and it is about developing from here and making it better the next time."