Nico Rosberg, Kimi Raikkonen and the winners and losers of F1 2014

By Allan McNish
BBC F1 analyst
Last updated on .From the section Formula 1
Formula 1 has begun its summer break, so it is a good time to reflect on the season so far.
I have picked some winners and losers from the first 11 races of what has so far been a great world championship season.
WINNERS
NICO ROSBERG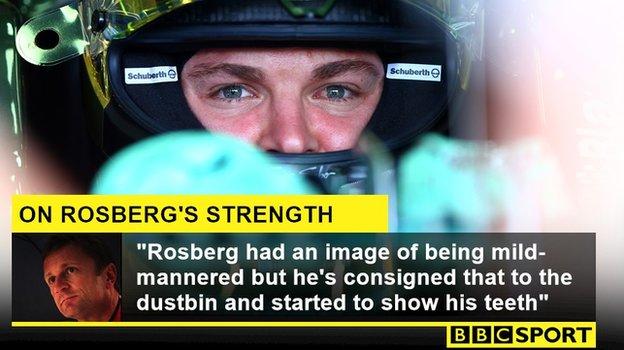 Nico Rosberg is one of my big winners.
He came into the season as the underdog at Mercedes. He was that bit slower than team-mate Lewis Hamilton and there was a sense that if Hamilton got a hold of the season, he would run away with it.
After Hamilton won that wonderful battle between them in Bahrain back in April, that was the way it appeared to be going. Hamilton was on a bit of a roll with four straight wins after his retirement from the first race of the season in Australia.
But the German has not wilted. His speed has improved - it is so close between them in qualifying; only 0.1 seconds per lap separates them on average pace - and any weakness that might have been there has been reduced.
Rosberg had an image of being slightly mild-mannered but he has consigned that to the dustbin and started to show his teeth.
That said, Hamilton would be leading the championship were it not for his reliability problems - he is 2-1 down in terms of race failures and 2-0 down in qualifying.
But Rosberg is delivering and it will be a tough fight between them until the end of the season.
WILLIAMS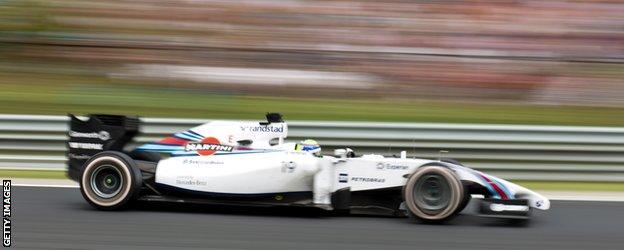 Williams had the worst season in their history in 2013, but they realised very early on that there were fundamental structural problems in the team and they set about fixing them.
The first step was bringing in the experienced Pat Symonds as chief technical officer followed by other key personnel in important areas, such as Rob Smedley from Ferrari as head of vehicle performance, in charge of race operations.
The result is a major step forward this season - both from the car itself and the team.
Their improved form is undoubtedly partly down to switching to Mercedes engines but the car is also quite clearly a huge improvement.
Williams are also now getting the best out of the car they have. They had some difficulties early in the season with excessive tyre wear in races but they went away and thought about it and sorted it out.
Unlike in the past, each time they have brought developments to the car, they have worked.
And as a company they have refocused on racing, their core business, and stepped out of some of their other activities, such as their technology centre in Qatar and their hybrid power business.
The result is that Williams are now back to being what they were in the past - a top team.
DANIIL KVYAT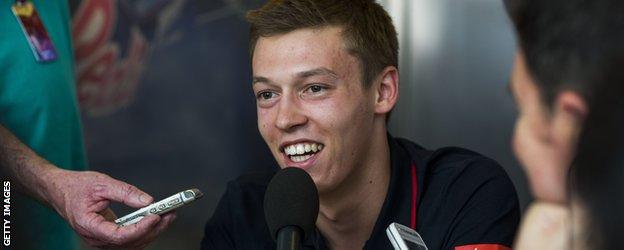 Daniil Kvyat came into F1 this season as an unfancied 19-year-old. It was a surprise that he even got the seat as the next in line in the Red Bull system was Antonio Felix Da Costa, who was passed over.
Kvyat's team-mate Jean-Eric Vergne is now in his third season, and he fared pretty well against Daniel Ricciardo for the past two years, especially in races. But Kvyat, now 20, has matched the Frenchman.
The average qualifying positions of the two Toro Rosso drivers are identical at 10.5.
Kvyat has made people sit up and take notice, not just with his qualifying speed but with his consistency and lack of mistakes.
The highest category he had raced in before F1 was GP3, yet the only error of any consequence I can remember was when he tried to go around the outside of Sergio Perez's Force India at the German Grand Prix and spun.
He is definitely one for the future.
The Russian's performance is not good news for Vergne, whose position in F1 must be vulnerable now with Spaniard Carlos Sainz in the wings as the next Red Bull protege in line.
MARUSSIA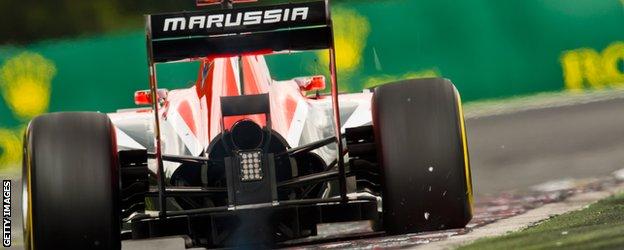 Marussia are sitting pretty in ninth place in the constructors' championship after scoring the first points in their history thanks to Jules Bianchi's ninth place in Monaco.
They made a big step forward with the car at the Spanish Grand Prix and that helped them be in the mix when they got to the next race at Monaco, where crashes took out some of the contenders in front of them.
Bianchi muscled his way past the Caterhams and got those crucial points even after getting two five-second penalties in the race.
Marussia entered F1 in 2010 as Virgin and struggled for some time but they always had a racing spirit and you can see that in the things they do.
An example would be getting two cars into second qualifying at the British Grand Prix after some of the big teams got caught out by the weather.
Marussia don't have all the data the top teams have - they basically forecast the weather by looking at how wet their equipment on the pit wall is getting. But as the likes of Ferrari prove from time to time, sometimes lots of data can be a bad thing.
THE FANS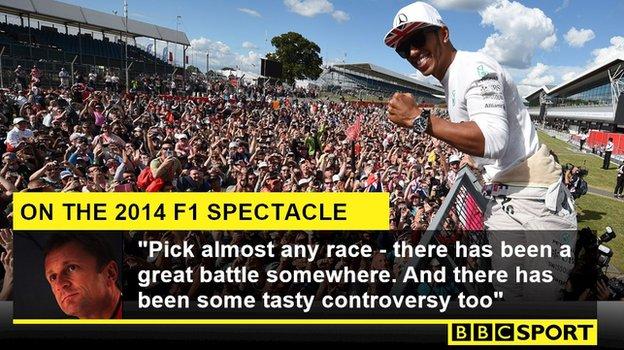 Although Mercedes have been dominant, it has been a terrific season so far.
The intra-team battle at Mercedes has been fascinating. The two drivers go about things in very different ways, on and off the track, and it has been fantastic to observe that.
Some of the racing and wheel-to-wheel action has been stunning, such as the battles between Hamilton and Rosberg in Bahrain, Fernando Alonso and Sebastian Vettel at Silverstone and Alonso and Daniel Ricciardo in Germany, and most recently in the thrill-in-a-minute Hungarian race.
Pick almost any grand prix and there has been a great battle somewhere in the field.
And there has been some tasty controversy to keep people interested off track as well.
The new format was criticised by some important people early in the season, but events have proved them wrong. The new F1 has produced some of the best racing I have seen in a long time.
LOSERS
KIMI RAIKKONEN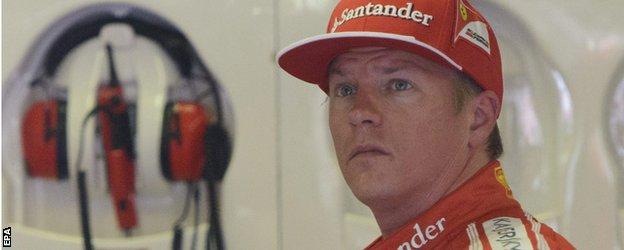 Kimi Raikkonen returned to F1 from rallying in 2012 and had two stunning seasons at Lotus in a team that was under-funded and over-performed.
Raikkonen's image had been boosted, including by his famous "Leave me alone, I know what I'm doing" comment on the radio while on his way to victory in Abu Dhabi in 2012. And the move to Ferrari seemed perfect.
The battle between him and Alonso had most people licking their lips. Who was going to win it? But it has been a damp squib.
We haven't seen the Raikkonen of the last two years. We have seen someone struggling with the car and not being able to get the job done.
The Ferrari is clearly not an easy car, both in terms of driveability and for a driver to work on.
Getting eliminated from qualifying in the first knock-out session in Hungary summed up his season in lots of ways.
Ferrari relied too much on simulation data in presuming Raikkonen had done enough to get through, but the reason he was knocked out was that he was so much slower than Alonso - 0.7secs behind.
Alonso's performances have proved that he is still the man, but so he should be because Ferrari is his home. He knows it, understands it and is very good at building a team around him.
Even so, he delivers time and time again in an under-performing car. That shows how good a job he has done, but it has only thrown Raikkonen's poor form into sharper focus.
SEBASTIAN VETTEL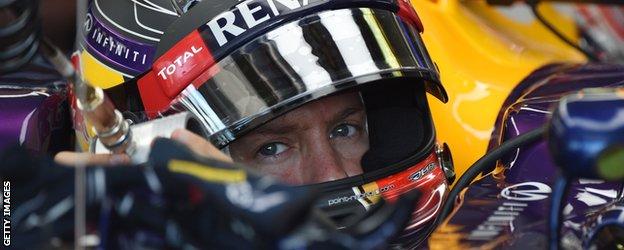 Sebastian Vettel had the world at his feet at the end of last season. He had won four world championships on the bounce, had been second the year before that, and won a race in his first full season in 2008.
It seemed he could do nothing wrong. But it has all turned on its head.
When Daniel Ricciardo moved to Red Bull everyone wondered how long that big, bright smile and happy-go-lucky nature would last now Vettel was his team-mate.
Everyone thought it would be a tough year for Ricciardo but how wrong can you be?
Ricciardo's average qualifying position is 4.2 and Vettel's is 6.2. Ricciardo comfortably leads Vettel in the championship and has scored two brilliant wins in Canada and Hungary.
Vettel was used to winning. He'd not really known anything else. He had always had a car that he could make work for him.
Suddenly that is not the case any more. He had to fight and scrap in the midfield and get used to a change in circumstances, and he did not do so quickly enough.
Ricciardo, though, had nothing to lose. The Red Bull was not performing in the way the team were used to, but for him it was still a step up from the Toro Rosso.
So it was a little easier in some ways for Ricciardo to come to terms with Red Bull's fall from dominance than it was for Vettel.
I'm sure it was very difficult for Vettel to cope with his change of circumstances and that seems to have affected his performances. He has also had a lot of reliability problems.
But he has not lost what he had. And finally there are signs that Vettel is getting back on top of things and it will be fascinating to see how he fares over the rest of the season.
PASTOR MALDONADO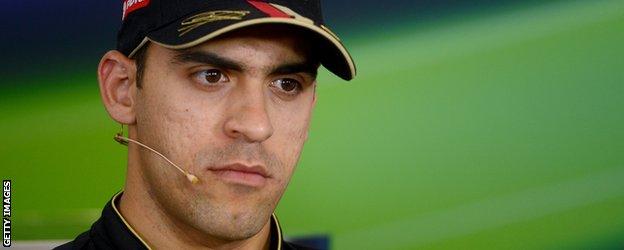 How bad does Pastor Maldonado's decision to leave Williams look in hindsight?
The Venezuelan had had enough after three years of struggle at Williams - even if he won a race in 2012 - but his move to Lotus has backfired terribly.
Williams have gone from the back to the front, and Lotus have gone in the opposite direction.
Lotus have suffered for a lack of investment by their owners through last year, Maldonado is up against a fast team-mate in Romain Grosjean and he has suffered the majority of the team's technical problems as well.
He has jumped from the frying pan into the fire.
Allan McNish was speaking to BBC Sport's chief F1 writer Andrew Benson.