Nico Rosberg: Safety car was used at wrong time in Hungary
Last updated on .From the section Formula 1
Mercedes driver Nico Rosberg believes the deployment of the first safety car at Sunday's wet Hungarian Grand Prix affected his chances of victory.
Rosberg led from pole before a crash on lap eight involving Caterham's Marcus Ericsson saw the introduction of the safety car.
The slower medical car was also deployed and Rosberg, who went on to finish fourth, got stuck behind both.
"It was just the safety car. They sent it out at the wrong time," he said.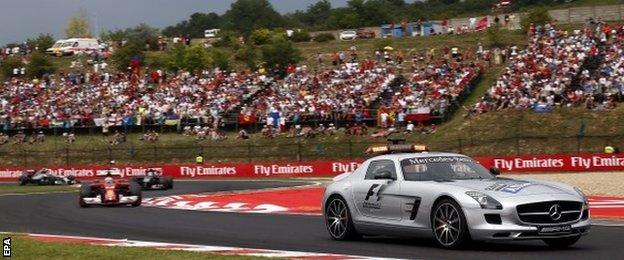 "I got stuck behind it and it was so slow that all those guys who managed to pit first got by me then - and that is not supposed to be the case."
The safety car had been introduced just after the leading quartet of Rosberg, Valtteri Bottas, Sebastian Vettel and Fernando Alonso had passed the pit entry, meaning they had to complete an extra lap while the drivers behind them were able to pit before them and switch to slicks.
By the time the quartet were able to pit, Daniel Ricciardo - who went on to win the race - led from Jenson Button and Felipe Massa.
Rosberg salvaged 12 points from the race but saw his championship lead over Mercedes team-mate Lewis Hamilton - who recovered from starting in the pit lane to finish third - reduced to 11 points.
Hamilton had ignored team orders to let Rosberg pass during the race, an action the German described as "not good".
He added: "Lewis did not let me by, although he was ordered to do so. That is obviously not good and we need to discuss that internally.
"But the thing I am most annoyed about is the last lap. I had a little opportunity [to overtake Hamilton] and was so close but did not manage to use it.
"The way he defended was OK. For the guy on the inside, it is his corner - so the guy on the outside needs to make it far enough in front so he can't be pushed out. I did not manage to do that."
Formula 1 has started a summer break, with the next race, the Belgian Grand Prix, taking place on 24 August.
"I am still in front in the championship," said Rosberg.
"There is a long summer break now and it is onwards and upwards until the next race."