Adrian Newey: Design guru critical of 'restrictive' F1 regulations
Last updated on .From the section Formula 1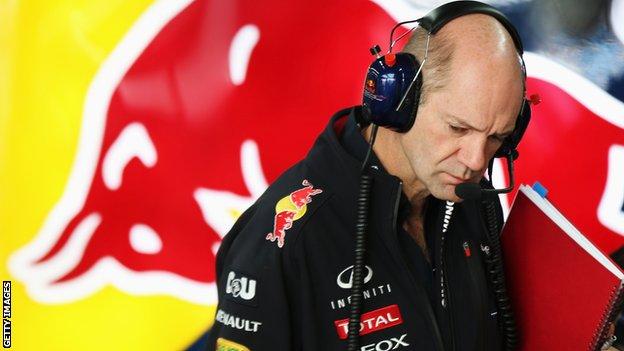 Red Bull design chief Adrian Newey has labelled Formula 1's technical regulations as "restrictive" and warned the sport risks becoming "GP1".
F1's GP2 and GP3 feeder series use identical chassis with emphasis more on driver skill than car design, and Newey is concerned F1 is going the same way.
"Everybody's converging on cars that look more and more similar," said Newey, who will take a step back from the frontline of F1 next season to work on other Red Bull projects.
Newey is the most successful F1 car designer in history and masterminded Red Bull's four consecutive world constructors' and drivers' titles with Sebastian Vettel.
But the rules regarding aerodynamic developments on the cars have become ever more limiting and teams are unable to be as creative as in previous seasons.
"I do think the regulations have become too restrictive," Newey added in the latest issue of Motor Sport magazine.
"We're in danger, chassis-wise, of becoming GP1.
"We're back to 'paint the cars white and it's difficult to spot the difference'. Especially next year when we even lose the different noses."
Newey feels the teams themselves must share some of the blame for the directions the technical regulations have taken.
"I must say, my fellow F1 technical directors have been like turkeys voting for Christmas."
Newey revealed to the BBC in June that he was to "step back" from F1 to work on new projects in addition to advising and mentoring the F1 team.
"There have been a whole host of factors playing their parts in my decision to leave F1, and a lot of mixed emotions," he added.
"I felt it was time to challenge myself in something different, and that's certainly a factor."
Before joining Red Bull, Newey won titles with Williams and McLaren. He is responsible for the overall design concept of the cars that won the drivers' world title six times between 1992 and 1999.
Newey's F1 cars