Lewis Hamilton: Mercedes driver 'wouldn't change difficult season'
Last updated on .From the section Formula 1
Lewis Hamilton would not change the "difficult weekends" which have marred the first half of his Formula 1 season.
"Sometimes it's nice to have things easy, but I love a challenge and I love a fight," Hamilton, 29, said.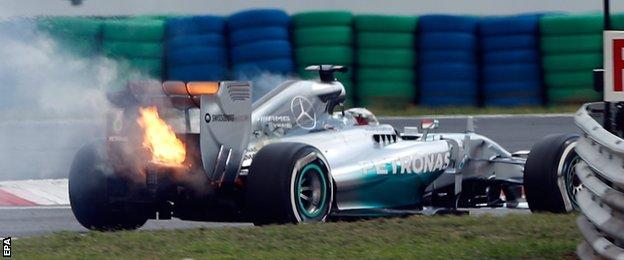 "It's not the times of ease that show who you are - it's the times of adversity."
Hamilton started in the pit lane in Hungary but rose through the field to finish third. The race before, in Germany, the Briton fought back from 20th for another podium after a brake failure in qualifying.
He told the Mercedes website: "We've had some difficult weekends throughout this season, but if I'm honest, looking back at it now, I wouldn't want it any other way.
"I definitely feel like the tough breaks I've had this year have made me stronger, and hopefully I've shown I've got heart.
"To have taken two podiums from two difficult weekends before the break has been really satisfying.
"More than that, it allows me to smile and enjoy this time off knowing I still have an opportunity to fight for this championship."