F1 boss Bernie Ecclestone: I was 'a bit of an idiot' for settling case
Last updated on .From the section Formula 1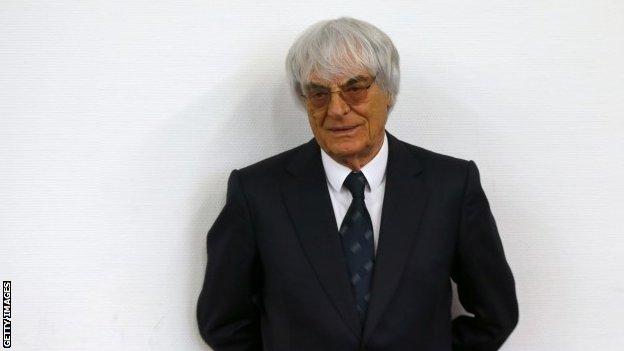 Formula 1 boss Bernie Ecclestone says he was "a bit of an idiot" for paying a £60m settlement to end his bribery case - but is pleased it is over.
The 83-year-old denied any wrongdoing after being accused of paying a German banker £26m to ensure a company he favoured could buy a stake in F1.
His offer was accepted by German prosecutors, with the judge saying the charges "could not be substantiated".
Billionaire Ecclestone said: "They really didn't have a case."
He added: "The judge more or less said I was acquitted... so I was a bit of an idiot to do what I did to settle because it wasn't with the judge, it was with the prosecutors.
"Anyway, it's done and finished, so it's all right. I'm content - it's all fine. This now allows me to do what I do best, which is running F1."
Ecclestone in Formula 1
1957
- Ecclestone buys F1 team Connaught and a year later turns his hand to management, looking after driver Stuart Lewis-Evans.
1958
- Enters two races as a driver but fails to qualify. Quits the sport after Lewis-Evans dies in a crash.
1970
- Returns to the sport to manage Jochen Rindt, but leaves the sport again when Rindt fatally crashes at Monza.
1972
- Buys the Brabham team and turns it into a winning outfit.
1978
- Creates the Formula 1 Constructors Association (Foca) and, with the help of Max Mosley, moves to control the sport's management and finance.
2000
- Becomes the rights holder of the sport and is granted the commercial rights to F1.
2007
- Becomes part-owner of Queens Park Rangers football club, taking over as majority shareholder in 2010 before selling a year later.
2013
- Formally indicted on bribery charges in Germany and steps down from the main F1 board in January 2014.
2014
- Pays £60m to end bribery trial and declares he will return to running F1 full-time.
German law allows defendants to make such a payment, with no presumption of guilt, to a charity or the treasury.
On this occasion, about £59.4m will go directly to the German state, with the remainder to a charity that looks after terminally ill children.
In January, Ecclestone, who has an estimated personal wealth of £2.5bn according to Forbes, stood down from a number of directorial positions on companies relating to F1, including the main board.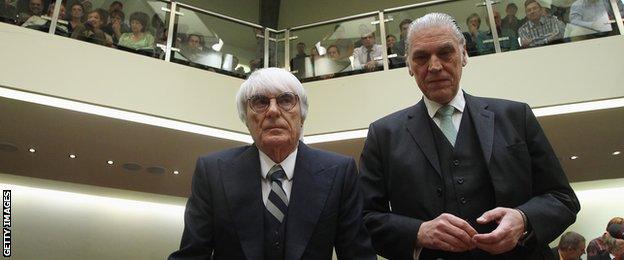 But following the conclusion of the case on Tuesday, he said: "I stood down for obvious reasons, but I'll be back on again now. Everything is back to normal."
The trial ran for two days a week from April and was scheduled to last until October.
"The bottom line is it's been three and a half years of aggravation, travelling, meeting lawyers and God knows what else, so it is good it is out of the way," he added.
Ecclestone's biographer Tom Bower
"As far as he is concerned, he is back in control of Formula 1, business as usual, steaming ahead and controlling people who thought they might have seen the back of him."
"When you're trying to run businesses, it's not easy trying to resolve things when you're dealing with lawyers."
The case against Ecclestone concerned a BayernLB banker, Gerhard Gribkowsky, who was allegedly paid by the Briton to ensure the F1 stake was bought by a company that he favoured, so he would remain in charge of the sport.
Gribkowsky was sentenced to eight and a half years in prison in 2012 for accepting bribes.
Ecclestone says the payment was given to Gribkowsky after the banker threatened to make false claims about the F1 boss's tax status.