Lewis Hamilton and Nico Rosberg: Who will win F1 championship?
Last updated on .From the section Formula 1342
Formula 1 is about to enter one of the most eagerly awaited title-deciding run-ins in the history of the sport.
Just 11 points separate Mercedes team-mates Lewis Hamilton and Nico Rosberg at the top of the drivers' championship and, with eight races remaining, it is a battle that could well go down to the wire.
Who will come out on top? Ahead of this weekend's Belgian Grand Prix, which is live across BBC TV, radio and online, BBC Sport asks 1992 F1 world champion Nigel Mansell and 1979 champion Jody Scheckter who they tip for the title and why.
Methodical Rosberg v swashbuckling Hamilton
Hamilton an out-and-out racer like me - Mansell
Rosberg able to focus better - Scheckter
Lewis Hamilton's daring, heart-on-the-sleeve driving style has helped him to five victories this season and seen him on the podium in nine of the 11 races this season. Nico Rosberg, meanwhile, is often regarded as the more methodical and technically astute driver which has helped him produce a level of consistency on the track this season to keep him at the top of the championship.
2014 Formula 1 season so far

Lewis Hamilton

Nico Rosberg

5

Wins

4

9

Podium

9

4

Poles

6

3

Fastest Laps

4

7

Front Rows

7
Mansell, the winner of 31 grands prix when he raced in F1 between 1980 and 1995, says Hamilton's style is similar to his own.
"Lewis is the out-and-out racer for me. He's very exciting to watch. We know anything can happen with him so he reminds me of me a little bit.
"I witnessed his win at Silverstone and that was superb. His drive in Hungary was fantastic considering what the elements threw at him with the weather, the changes in conditions, the safety car and the accidents.
"I know Nico didn't get the rub of the green with the safety car as his good lead was negated, but I honestly thought he might have gone a bit quicker. For Lewis to pull off the drive that he did and come third was excellent.
"I don't think there is any question that Lewis has got the edge."
Scheckter, who won 10 races in his eight years in Formula 1, agrees that Hamilton is out-and-out the more skilful driver, but feels his tendency to make mistakes could prove his undoing.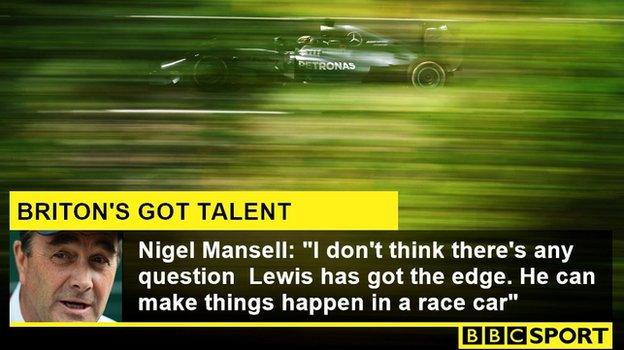 "In out-and-out racing skills, Lewis is better," he said. "He is the better driver in a dogfight, but not always faster.
"In the first years of Lewis' Formula 1 career, I rated him as the best I had ever seen in a dogfight - by that I mean very close quarters battling.
"However, then he went through stages where he was making mistakes. At one point he was making really stupid mistakes and I don't know what was happening, I think his head was somewhere else.
"Nico is more methodical and looks to be better at closing all the outside influences out. He is just getting on with the job. For me, Lewis needs to cut out mistakes if he wants to win the championship."
'Lewis can want to beat his team-mate too much'
Hamilton can put pressure on himself - Mansell
The Briton reminds me of Gilles Villeneuve - Scheckter
While Mansell believes Lewis has the lion's share of the talent, he feels the 29-year-old's main weakness is a propensity for allowing emotion to cloud his mood and affect his judgement.
"His Achilles' heel is when things go wrong a little bit, he doesn't handle it as coolly as perhaps other drivers do. That's not saying we don't like how he handles it because he has to be himself.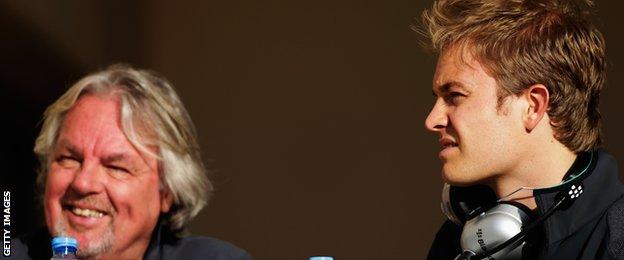 "It's just that he puts himself under more pressure than he needs to. When you're fighting for a world championship, you want to keep all that energy to yourself."
For Scheckter, Rosberg reminds him of himself when he claimed the 1979 championship, with Hamilton displaying similar characteristics to his Ferrari team-mate Gilles Villeneuve.
"I'd say I was more like Rosberg, while Gilles liked what the papers were saying more.
"I think Lewis gets tied up with all sorts of other things away from racing in his mind, rather than keeping his head down.
"Rosberg looks to be better at closing all the outside influences out and I think Lewis focuses too much on trying to beat his team-mate."
'Lewis could be leading by Russia GP'
Next three races suit Hamilton - Mansell
Season results show it is too tough to call - Scheckter
Lewis Hamilton has won races in Malaysia, Bahrain, China, Spain and Britain this season, while Nico Rosberg has triumphed on the tracks in Australia, Monaco, Austria and Germany.
With eight races remaining, starting with Belgium this weekend, both Mansell and Scheckter agree that is difficult to say who will win where.
"I might be completely wrong but - barring reliability, because you can't control lady luck - I think within the next three races (Belgium, Italy and Singapore) Lewis will probably be leading the world championship," Mansell said.
Scheckter added: "We have had races this season where it has been billed as the best one for Lewis in the build-up [such as Canada], but then Nico has gone on to be just as fast, if not faster, on that circuit."
Been there, done that
Title win in 2008 will help Hamilton - Mansell
Chance of first win may spur Rosberg on - Scheckter
The two drivers' records are similar across their time in F1, but despite Rosberg having been competing for one more year than Hamilton (Rosberg joined in 2006 with Williams, Hamilton in 2007 with McLaren), the Briton's relentlessly dramatic 2008 world title victory sees him better placed to close out the 2014 title.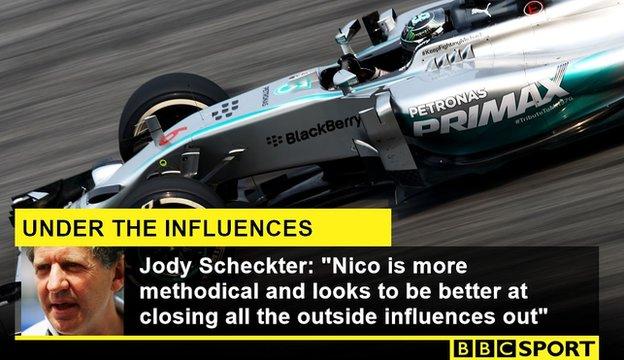 That is the view of Mansell, who adds: "Lewis has been there before, he's won lots of races and he's a very talented, very quick driver.
"He can make things happen in a race car. He is a true racer and can put a number of laps together which are exceedingly quick."
Scheckter, meanwhile, feels Hamilton's 2008 title win could actually work against him in the battle with Rosberg.
"I don't think experience counts for anything and it may even be a negative for Lewis," he added.
"Are you as hungry to win it again as you are when you have the chance to win it a first time? I am not so sure."
Step in or let them fight?
Mercedes handling Rosberg-Hamilton battle well - Mansell
Tension rising between the two - Scheckter
Historically, Formula 1 teams make a decision early on in a season which driver they will help to win the world title to avoid the kind of on-track fighting that saw Ayrton Senna and Alain Prost take each other off in their heyday - jeopardising a team's chance in the constructors' championship, where the prize money lies.
Mansell is impressed with the way Mercedes has handled their fight for the title, despite tension increasing between the two men on a personal level.
"It's for Mercedes to verify but I think Nico and Lewis have equal opportunity because that's why they are letting them race like they are. The team itself is run very, very well," said the 61-year-old.
"They are two outstanding drivers. There is no question that they are both already driving as world champions do. Mercedes has instilled in them that you do not knock one another off."
Scheckter fought with Villeneuve throughout the 1979 season on his way to the title, and believes it is good for the team, and the championship, that both Hamilton and Rosberg are left to race, although believes it is developing a clear sense of tension between the drivers.
"Should they just let them fight? That is a big question. At Ferrari, our team rules were if you were first and second, or third and fourth or sixth and seventh, then you don't fight with each other, unless another car is coming to pass you both."
Conclusion
With Mercedes currently having the best car on the grid and Hamilton keen to extend his contract with the team, Mansell foresees years of success for his fellow Briton after 2014.
"What Lewis has got that is so wonderful and magnificent is that he is in a team now that will probably dominate for a few years coming. Watch all the records - they'll all be tumbling," he said.
For Scheckter, Rosberg is in the driving seat to win the title.
"It does not really depend on driving skills, it is about who keeps their head down and does not make mistakes. For that reason, I would put my money on Nico."
Mansell was talking to BBC Sport's Alan Jewell. Scheckter to Gary Rose