Hamilton & Rosberg relationship 'functioning well' - Toto Wolff
Last updated on .From the section Formula 1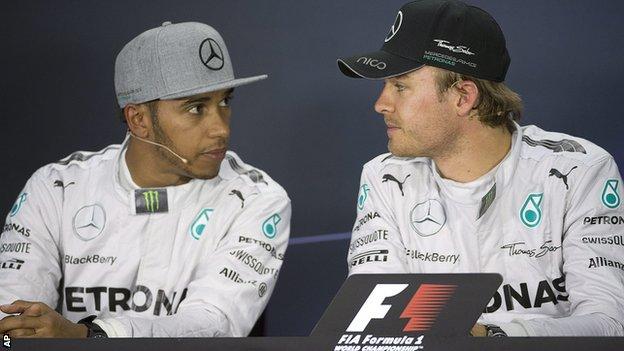 Mercedes F1 co-team boss Toto Wolff says he does not believe the rivalry between drivers Lewis Hamilton and Nico Rosberg will get out of hand.
The pair are vying for the drivers' title with Rosberg leading second-placed Hamilton by 11 points.
"Until now it has functioned really well," said Wolff.
"Could it come to a point where we say it is difficult to manage? It could be, but I don't see it - not with the two of them."
Hamilton refused a team order to move over for Rosberg at the Hungarian Grand Prix because he felt it would hurt his title hopes.
"They push each other to new levels, to new heights, in a way that is not detrimental to the team," added Wolff.
"Yes, potentially it is going to get more heated," he told formula1.com.
"But, if we carry on in performing as we do now, I am still carefully optimistic that it is only up to the two of them in fighting for the World Championship."
Wolff said Mercedes would rethink their approach to races after the team orders controversy but it is not clear what the German outfit have decided.
The next race will be the Belgium Grand Prix on 24 August - live across BBC TV, radio and online.