Fernando Alonso and Kimi Raikkonen staying put, says Ferrari boss
Last updated on .From the section Formula 1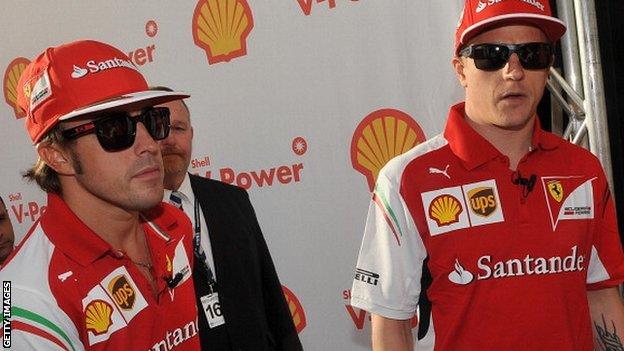 Ferrari president Luca Di Montezemolo has dismissed suggestions Fernando Alonso and Kimi Raikkonen could leave the team at the end of the year.
Alonso has just two podium finishes from 11 races in 2014, while Raikkonen has a best result of sixth place.
The team's failure to produce a winning car led to speculation over both men.
But Di Montezemolo said: "We are lucky to have two great champions, who are working with the whole team to get back to being competitive again."
Raikkonen joined Ferrari for the second time in his career at the end of 2013, having won the world title with the Scuderia in 2007 - but has picked up just 27 points so far, triggering reports that the Finn could retire.
He is, however, under contract at Ferrari until the end of 2015, with an option on his side to extend it to 2016.
Alonso, who is contracted until the end of 2016, is frustrated by Ferrari's continuing inability to provide him with a car which is competitive enough to fight consistently for race victories and the title, and is a target for McLaren.
"Of course, as is the case every summer, there is unfounded gossip about alleged problems with senseless rumours bandied about, such as the ones relating to Alonso's contract," Di Montezemolo said on the Ferrari website.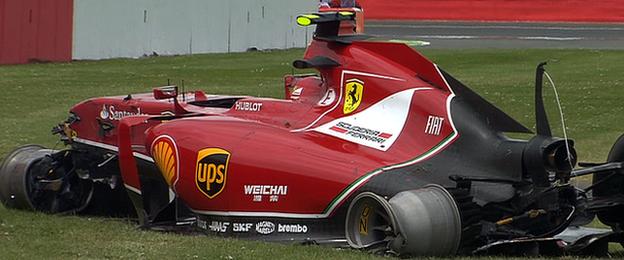 "We know that the summer heat always produces silly stories. Our drivers must now relax in order to return in top form.
"The season is still long and we need Fernando and Kimi to be in great shape."
Alonso has finished in the points at every race so far this season and sits fourth in the drivers' standings - 87 points behind leader Nico Rosberg of Mercedes.
Ferrari have not won the constructors' championship since 2008, with Raikkonen the last driver to win the drivers' title for the team a year earlier.
The team, based in Maranello near Bologna, were hit by the resignation of team principal Stefano Domenicali earlier this year as a consequence of their disappointing performances, while they have previously admitted they cannot compete with Mercedes for this year's title.
But Di Montezemolo believes the right steps are now being taken.
"We are making in-depth changes on both the organisational side, in our approach and culture," he said.
"We have taken important decisions and have made significant progress, even if, at the moment, the results of all this work are not always visible.
"The aim is to get back to being as competitive as we were before in the shortest possible time."