Belgian GP: Nico Rosberg 'has learned' from Hungary controversy

By Andrew Benson
Chief F1 writer
Last updated on .From the section Formula 1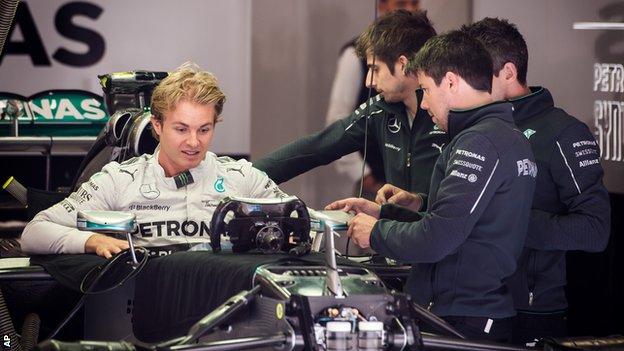 Nico Rosberg said he has "learned" from the controversy over team orders with Mercedes team-mate Lewis Hamilton at the last race.
Rosberg said: "Of course we discussed it after the race, because it's important to review a situation like that and to know how to move forward.
"I've also learned various things which I will try to adapt for the future."
Rosberg said he did not want to expand on behind-the-scenes discussions at the team so as not to inflame the situation.
"I gathered that there was a bit of a mess in the media and so it wouldn't be useful for me to give another extra bit to that at the moment, it's better to let it all calm down," he said.
Rosberg goes into this weekend's Belgian Grand Prix 11 points ahead of Hamilton in the championship, with the two well clear of the field.
Asked if the air had been cleared between the drivers and the management, Hamilton said: "It's clear for me; not sure on the other side.
"But if there is any unclear air, it will be cleared before the weekend starts, that's for sure."
The team asked Hamilton to let Rosberg overtake in Hungary because they were on different strategies and they wanted to give each the best chance to win the race.
Hamilton refused because he realised that letting his team-mate past would mean he would beat him to the chequered flag, and possibly win the race.
He said: "I think it is easy for them to be fair to us. But there can be situations when we are on different strategies and after the race you will have a different opinion on whether that strategy worked out for you.
"They have a tough job but they are fully equipped to be able to handle that."
2014 Formula 1 season so far

Lewis Hamilton

Nico Rosberg

5

Wins

4

9

Podium

9

4

Poles

6

3

Fastest Laps

4

7

Front Rows

7
It is widely expected that Mercedes, who have been dominant this season, will face their toughest challenge yet from the Williams team in Belgium and in the next race in Monza in two weeks' time.
Williams's car has the strongest straight-line speed but not as much downforce as the Mercedes, whose engine Williams use.
But this could be an advantage on the long straights that characterise two-thirds of the lap at Spa.
Hamilton said: "The team are suggesting Williams are going to be close. The media are suggesting it could be their best chance. Maybe this will suit their car. I really don't know."
Williams driver Felipe Massa said: "I hope it can be more than just on the paper. I hope we can show good performance on the track in this race and in Monza.
"But I would say maybe most of the races we can be competitive."
Hamilton said he expected Spa's famous Eau Rouge series of corners to be more demanding than in recent years.
The left-right-left swerves, with a huge compression and then steep rise to a crest, are taken at more than 180mph and were once the most difficult in F1, but advances in car design have meant they could be taken flat-out in top gear in recent years when it was dry.
However, the reduced downforce and increased engine power of this year's cars - caused by rule changes - could change that.
Hamilton said: "We will be going down there quite a bit quicker. I think it would be flat, but maybe it will be more twitchy, which is good, because it's been too easy for a long time.
"You could go through flat, it's no thing, just a little kink in the straight, exciting because of the undulation but generally it's been very easy apart from in the wet.
"If it's harder I like that, because it was very hard to go through there and that's how it should be."