Lewis Hamilton: Nico Rosberg and I will be racing flat out

By Lewis Hamilton
Mercedes driver
Last updated on .From the section Formula 1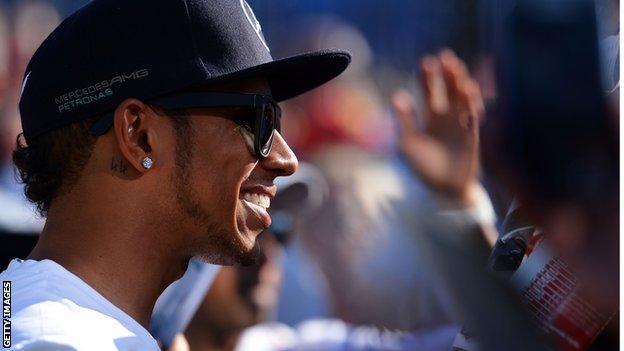 We're back racing this weekend after the summer break and I feel amazing going into the second half of the season.
The break always comes just when you feel you really need it.
I didn't win the last race in Hungary, which I had done four times previously going into the break, but it was a good weekend in the end.
To finish third and come away only 11 points behind my Mercedes team-mate Nico Rosberg in the championship - despite starting the race from the pit lane after my car was destroyed in a huge fire in qualifying - is a real positive.
That's a lot smaller margin than I had after the first race of the season, when I retired and Nico won.
To get through all the problems we had in the first part of the season took a lot of energy, and it was great to go away and reflect on just how positive the first 11 races of the season had been.
To be where I am, considering what I have been through, is fantastic and to know I can come back and be right there in the fight is massively motivating for me.
I feel really energetic going into this weekend, and the track here in Belgium is spectacular. It's a very different setting from an exciting city like Montreal or Monaco, but I am so looking forward to getting out on the Spa circuit and seeing how the car goes.
Putting our problems behind us
Hungary was an interesting grand prix for us as a team.
I was quite confused why the team asked me to let Nico by, even though he was on a different strategy. And I didn't do it because I felt we were both racing for the win.
I was keen to sort it all out before going away so I emailed the team bosses, Toto Wolff and Paddy Lowe, to say I wanted to talk it through.
The great thing is we have a very open relationship. We're very honest with each other and we trust each other, so we know to go straight to each other if there are any issues and just talk it out.

It was good to clear the air.
I asked if they could explain what exactly happened and how we got to that situation, and also for them to let me know if there was anything I could do to improve things, whatever that might be.
I'm determined to win the championship and I wanted to re-emphasise how committed I am and to be sure we could resolve it together.
As always, the team are working diligently to make sure we don't have any problems, whether they are with the car or the drivers or whatever.
It was comforting to have a discussion about it and to not feel there was a wrong or a right side. It was not a black-and-white situation.
They were supportive and in the future we will handle it differently. You learn through experience and in the team nothing has changed.
These sorts of things make us stronger, and the bottom line is Nico and I are still able to race with each other flat out.
Getting away from it all
As I have done for the last few years, I went away to Colorado in the United States for most of the break.
I love the life I lead in F1, but going over there is very refreshing.
Nobody knows me. I can go to the supermarket, do normal things, sleep in my own bed in my own house, which I put my heart into building, and it is very peaceful.

If I went anywhere in Europe it would not be like that, even at home in Monaco, just because I'm more well known. In the US, I can relax completely. It's nice to have that freedom to go back to such a different life.
Too much too young?
What an incredible opportunity it is for Max Verstappen to have been signed by Red Bull to race for Toro Rosso next season, when he will be 17.
It has caught a lot of people by surprise and got everyone talking, and the media are asking us drivers here in Belgian whether it is too soon for him.
I can only comment on my experience. I remember being that age and calling McLaren bosses Ron Dennis and Martin Whitmarsh and begging them to give me the chance. I was like: "When can I get in the car? When can I race in F1?"
F1's youngest drivers

Jaime Alguersuari

19 years, 125 days

2009 Hungarian Grand Prix

Mike Thackwell

19 years, 182 days

1980 Canadian Grand Prix

Ricardo Rodriguez

19 years, 208 days

1961 Italian Grand Prix

Fernando Alonso

19 years, 218 days

2001 Australian Grand Prix

Esteban Tuero

19 years, 320 days

1998 Australian Grand Prix
I was chasing so hard. I wanted to be there and I couldn't wait. It's like Christmas for a kid.
But I'm very fortunate that I had my dad keeping my feet on the ground and holding me back to avoid the pitfalls that were ahead of me.
Ron and Martin did that, too, especially Martin. He guided me in the next steps and made sure I did the work and graft I needed to get to F1 and be ready.
Had you asked me at the time, I might have said: "Yeah, yeah, give me the chance!" But, looking back, at 17 I was nowhere near ready.
I had couple of opportunities to start before I did.
I got offered a race drive at the works BMW F1 team - I think it was when I was in Formula Three - and McLaren turned that down, saying it was too early.
And then at the end of 2006, after Juan Pablo Montoya quit halfway through the season, I remember meeting at Ron's house and discussing doing the last three grands prix that year, which was the season before I made my actual debut in 2007.
I was obviously massively excited but I am so grateful I did not do those races. It's different when you start the season and have time to progress, but just to go straight in…

I had never driven an F1 car. It would have been the biggest disaster for me and I probably wouldn't be here today. They probably would have said I wasn't ready for 2007 and then I wouldn't have got that drive and that could have been it.
F1 is easier physically than it was back then because the cars are slower.
But there are so many things to learn - even things like just driving on the road and having responsibility and being independent. They are all steps you take in life that help you become more mature.
I wish Max all the best and I just hope whoever is around him helps mould him because you can't do it on your own.
Lewis Hamilton was talking to BBC Sport's Andrew Benson.