Belgian Grand Prix: Max Chilton to race as Marussia issues resolved

By Andrew Benson
Chief F1 writer
Last updated on .From the section Formula 1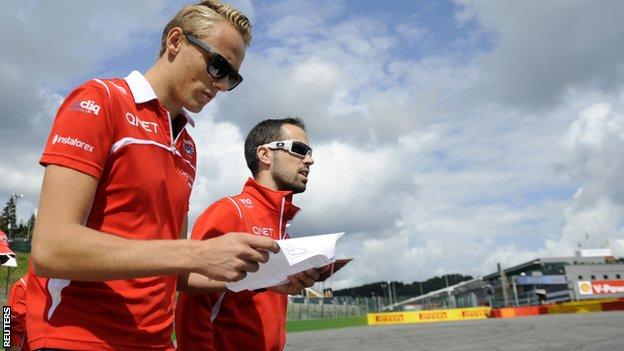 Max Chilton will race at the Belgian Grand Prix after all as a dispute with his Marussia team has been resolved.
The team refused to give details but on Friday morning Marussia said Briton Chilton would be racing in Spa.
Marussia chief executive officer Graeme Lowdon suggested the issue had been related to financial payments.
Lowdon said: "I can't go into too much detail on the individual instances but we are running an F1 team here.
"There are a large number of commercial agreements that are involved and sometimes it just happens we reach a stage where for contractual reasons it's not appropriate for a driver to be in the car and we took that action.
"These things happen. It's the drivers' jobs to be flexible. Both Max and Alex are professional drivers who will take this in their stride.
"This is just a reflection of how the industry has to work sometimes."
Chilton is one of several drivers in F1 who provides funds to a team for his drive.
American Rossi, 22, drove the car in first practice on Friday but will hand the car back to Chilton for second practice on Friday afternoon and the rest of the weekend.
A statement from Chilton's management on Thursday had said he had "volunteered to step out of his race seat to allow the team to attract much needed funds by selling his seat".