Lewis Hamilton and Nico Rosberg needed hard words - Toto Wolff

By Andrew Benson
Chief F1 writer
Last updated on .From the section Formula 1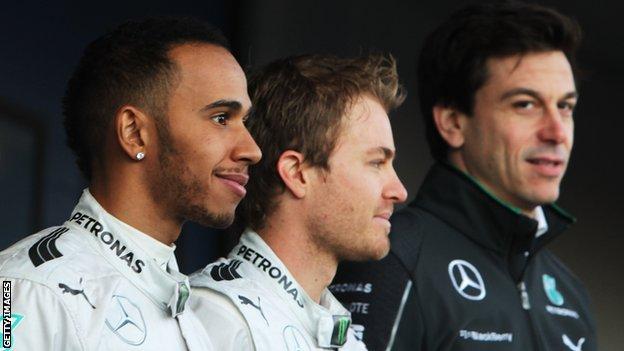 Mercedes admit they have needed to calm the situation between team-mates and rivals Lewis Hamilton and Nico Rosberg in recent weeks.
Tensions between the two title rivals were exacerbated by the last race in Hungary, during which Hamilton refused team orders to let Rosberg through.
Hamilton says the team have since reassured him he did nothing wrong.
Mercedes boss Toto Wolff said the drivers had needed "a bit of mediating, management, caressing, hard words".
Wolff, head of Mercedes motorsport, added that "you cannot expect it to run super-smoothly. They are racing drivers, they are intensely competitive, they are fighting for the world championship".
Hamilton trails Rosberg by 11 points ahead of this weekend's Belgian Grand Prix, where on Friday the Englishman was 0.6secs quicker than his team-mate on their fastest runs in practice.
Wolff admitted, in an interview with BBC Sport, that the team had made some mistakes in the way they handled the situation in Hungary.
Rosberg was on a strategy that required him to do one more stop than Hamilton, and came up behind the Englishman during his penultimate stint.
The team told Hamilton to let Rosberg by, but Hamilton refused because he realised that both were potentially competing for the win and that if Rosberg passed him, he would probably end up beating him.
2014 Formula 1 season so far

Lewis Hamilton

Nico Rosberg

5

Wins

4

9

Podium

9

4

Poles

6

3

Fastest Laps

4

7

Front Rows

7
He added that Rosberg was never close enough to try a passing manoeuvre.
The context for the decision was that Hamilton had suffered problems in qualifying in both Hungary and the preceding race in Germany that ended up with him starting both races from the back of the field.
Hamilton is sensitive to the fact that he has had much worse reliability than Rosberg this season and says it has taken "a lot of energy" to make up the ground lost in points as a result.
Wolff said that Mercedes would "probably do the same in the future" in terms of expecting one driver not to hinder the other if they were on divergent strategies, but that they would handle it differently.
Wolff said: "You don't expect when your team-mate has one more stop to do that you make his life difficult.
"On the other hand we probably shouldn't have said to Nico Lewis was going to let him through, we should have said he won't make your life difficult. And you cannot ruin one's race by expecting him to lose a couple of hundred metres.
"It was a matter of the words used not the principle."