Lewis Hamilton: It's better to start Belgian Grand Prix second

By Andrew Benson
Chief F1 writer
Last updated on .From the section Formula 1
Belgian Grand Prix, Spa
Date:
Sunday, 24 August
Coverage:
Live television coverage on BBC One (12:10 BST) and the BBC Sport website, live live radio commentary on BBC Radio 5 live sports extra, live text commentary on the BBC Sport website
Lewis Hamilton said he was pleased to be starting second at Sunday's Belgian Grand Prix after being beaten to pole by Mercedes team-mate Nico Rosberg.
"I'm not disappointed," said Hamilton, who had brake problems in qualifying.
"If you look at previous years, second is the best place to start here so I feel quite blessed that is the case."
Hamilton used the example of last year's race in Belgium, when he started from pole but was passed by Red Bull's Sebastian Vettel on the first lap.
"I started on pole here last year and Sebastian flew past me down the top straight, so I think it gives you the most opportunity here at the start," Hamilton said.
He added that it was a relief to be at the front after car failures left him starting from the back of the field in the previous two races in Germany and Hungary.
"I'm just happy to be up here," he said. "I was nervous going into qualifying, not knowing if the car was going to make it through and grateful for all the hard work the team put in to make sure we have no problems.
"Who knows, it might be a blessing in disguise."
This weekend's race is the first after F1's four-week summer break and the magnificent Spa track in the Ardennes mountains is a fitting stage for Rosberg and Hamilton's battle.
Hamilton had been nip and tuck with Rosberg earlier in qualifying, slightly slower in the first session and slightly faster in the second, only to hit problems with glazed brakes in the top 10 shoot-out.
Glazing is when the pad surface becomes coated in crystallised retarding material, usually as a result of not being heated up in the correct manner.
"I was struggling with my brakes and [Rosberg] was very fast," Hamilton said.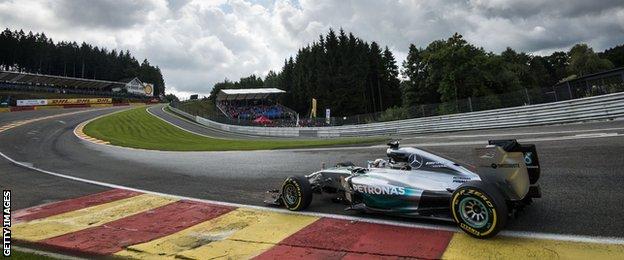 "You saw a couple of times in Q3 when I was just going straight on everywhere because the left brake wasn't working and then for some reason it went into glazing.
"It happens a lot in the wet. It was only in Q3 I seemed to have the brakes not working, which takes your confidence away. But they'll scrub them this evening and they'll be fine for the race."
Hamilton and Rosberg have been reassured they are free to race after the controversy over team orders in Hungary.
There, Hamilton refused an order to let Rosberg by, which was given because the two were on divergent strategies and the team wanted to maximise both drivers' chances.
Hamilton declined to back off because he felt both were competing for the race victory and that if he let Rosberg past it would result in the German beating him.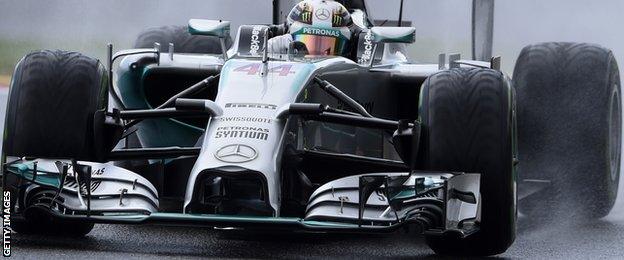 Hamilton says he has been reassured by the team that he did nothing wrong.
Rosberg said he was pleased to have taken pole, his fourth in a row and seventh this season to Hamilton's four. Hamilton has won five races to Rosberg's four, but suffered two retirements to Rosberg's one.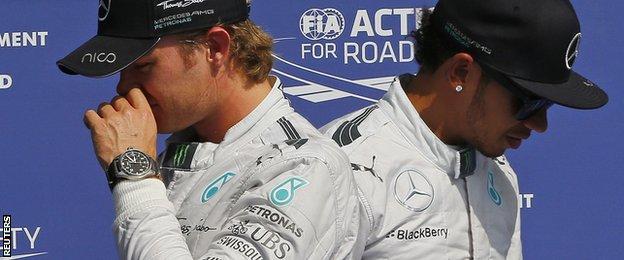 Rosberg said: "I'm just happy to be first - first is the best position for the race.
"I really nailed it in the end, which was nice. Our car was so dominant and that's great to see. Really impressive. But I need to stay calm. It doesn't count today. The important day is Sunday."