Belgian GP: Kevin Magnussen gets penalty after Alonso incident
Last updated on .From the section Formula 1
McLaren's Kevin Magnussen has been penalised for forcing Ferrari's Fernando Alonso off the track during the Belgian Grand Prix.
The decision, following a stewards' inquiry into the incident late in the race, demotes the Dane to 12th place from sixth and Alonso up to seventh.
The stewards decided Magnussen had breached a rule that forbids crowding a car beyond the edge of the track.
Alonso had half of his car off the track at nearly 200mph in the incident.
But the double world champion said he was unconcerned.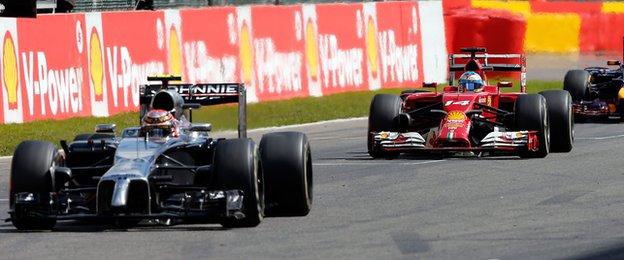 Speaking before the verdict, Alonso said: "When you are fighting for lower positions - sixth, seventh whatever - it is a little bit less of an issue, we just try to have fun.
"He was lapping a Caterham and we were all in the slipstream. I tried to overtake and he closed maybe a little bit too much because half the car was on the grass."
Magnussen said: "Despite being penalised after the race, I had great fun out there.
"Everyone around me had slightly fresher tyres and they're not the easiest guys to keep behind. So I just tried my best to defend my position as well as I could."