Nico Rosberg could be punished by FIA after Lewis Hamilton clash

By Andrew Benson
Chief F1 writer
Last updated on .From the section Formula 1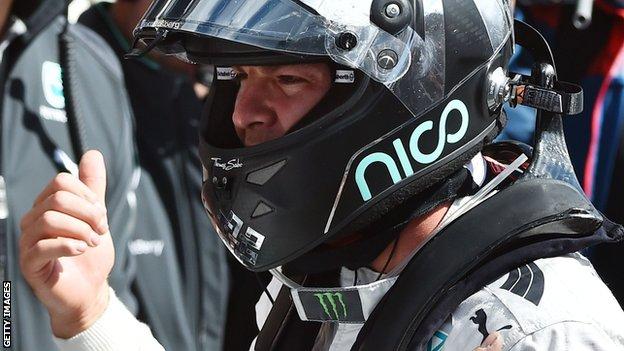 Nico Rosberg could face punishment from Formula 1 bosses after Lewis Hamilton claimed the German admitted to deliberately colliding with him during Sunday's Belgian Grand Prix.
Hamilton alleges that, in a meeting with Mercedes officials, Rosberg "basically said he did it on purpose".
Causing a collision is an offence under F1's sporting regulations.
Had the information come to light before the result was finalised, the stewards would have investigated.
However, motorsport's world governing body, the FIA, has the power to re-open a case if further evidence comes to light.
Mercedes have already conceded that Hamilton's remarks were a "broadly accurate" reflection of the post-race meeting.
The incident that overshadowed a victory for Red Bull's Daniel Ricciardo came very early in the race.
At the start of lap two, Rosberg's front wing hit Hamilton's left rear tyre, causing a puncture and ultimately ending the Englishman's race.
Rosberg, however, recovered to finish second, extending his championship lead over his team-mate to 29 points with seven races left.
"He said he could have avoided it, but he didn't want to," said Hamilton. after meeting with Rosberg and Mercedes bosses Toto Wolff and Paddy Lowe. "He basically said, 'I did it to prove a point.'"
Wolff later claimed Rosberg's remarks had been misinterpreted.
"Nico felt he needed to hold his line," said Wolff. "He needed to make a point. He didn't give in. He thought it was for Lewis to leave him space and that Lewis didn't leave him space.
"For Lewis, it was clearly not him who needed to be aware of Nico.
"So they agreed to disagree in a very heated discussion among ourselves, but it wasn't deliberately crashing. That is nonsense."
Wolff had already blamed Rosberg for the collision and indicated that Mercedes could take internal disciplinary action.
As for any further punishment from F1 bosses, that is down to FIA president Jean Todt.
In contrast to predecessor Max Mosley, Todt has tended to take a non-confrontational approach to disciplinary issues in F1 since becoming president in 2009.
Yet, with so much information in the public domain, he may feel he has to act. If he does, it could set a dangerous precedent.
The FIA would have to establish whether Rosberg admitted to deliberately hitting Hamilton, on which the accounts of Hamilton and Wolff are now at odds.
If not, it would have to decide whether Rosberg's decision not to give way caused the accident.
Race stewards judged the clash as a racing incident and decided to take no further action.
A senior figure in F1 described the clash as "a little incident with fairly profound consequences".
He added that had the FIA known of Rosberg's remarks before the meeting was declared over, the stewards might have "hauled him up" to "reinvestigate".
If the FIA starts an investigation and decides to punish Rosberg, it has a number of options.
It could impose a retrospective penalty, from a grid demotion at a subsequent race to disqualification of his Belgium result.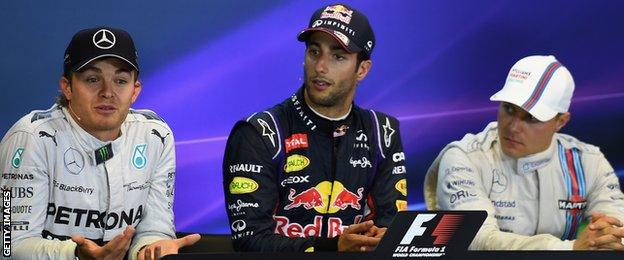 Rosberg currently has a 29-point advantage over Hamilton, with Ricciardo a further 35 points back.
Rosberg issued a statement following the meeting with Mercedes officials but did not make a reference to Hamilton's claims.
He said he "regretted that Lewis and myself touched" but felt it was "a racing incident".
He added: "I was quicker at the time and there was an opportunity, so I gave it a go around the outside as the inside was blocked.
"I didn't see any risk in overtaking, or trying to overtake, so why should I not try? The opportunity was there even without DRS because I was so much quicker, so I gave it a go.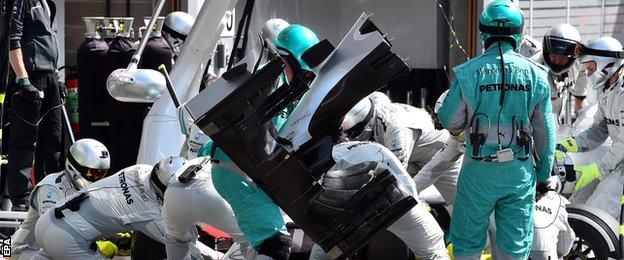 "Inside was not possible, so I tried around the outside. Should I have waited? That is very hypothetical. Who knows what happens afterwards?
"The opportunity was there and, for me, it wasn't a risky situation."
The next race is the Italian Grand Prix at Monza on 7 September.