Nico Rosberg: Mercedes must move forward
Last updated on .From the section Formula 1
Nico Rosberg says Mercedes must move on from the controversial crash between him and team-mate Lewis Hamilton in Sunday's Belgian Grand Prix.
In his latest video blog, the German said: "Everybody gave their opinion and now we must move forward.
"There will be another discussion because we need to work out if we have to change our approach in the future."
The incident, on lap two of the race, gave Hamilton a rear puncture that ultimately caused his retirement.
That meant Rosberg was able to widen the gap between the two at the top of the championship standings to 29 points with seven races left.
Rosberg said: "I've been told what Lewis said in the press and how he stated his version of events. All I can say is that my version of events is very different.
"It is better now that I don't give all the details of my opinion. I hope you respect that. I prefer to keep things internally.
"We had a very good and important discussion after the race. When such things occur we must sit down and review them and that is what we did.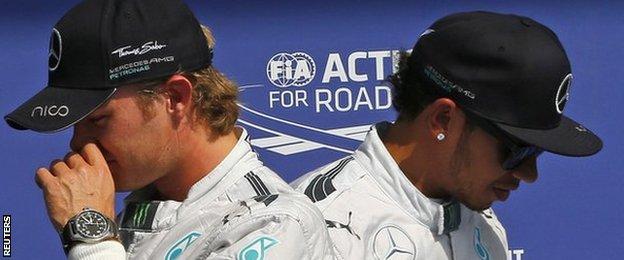 "I'm confident, as always, that we will find a way back to our way and keep on fighting in Monza."
Mercedes F1 boss Toto Wolff says that the team will allow both drivers to calm down before engaging in any discussions about the incident at the race in Belgium, which was won by Red Bull's Daniel Ricciardo.
"We will decide what to do when everybody is in a cooler, calmer frame of mind," he said. "There will be no knee-jerk reaction."
He added he was "very disappointed" with Sunday's events at Spa-Francorchamps and that Rosberg "shouldn't have done" what he did.