Allan McNish column: Mercedes must lay down law to drivers

By Allan McNish
BBC F1 analyst
Last updated on .From the section Formula 1
This is not the first time in history two team-mates battling for the world championship have hit each other in a race, and it won't be the last.
When you talk about current Mercedes drivers Lewis Hamilton and Nico Rosberg, you only have to look at Ayrton Senna and Alain Prost at McLaren in 1989, when their title battle was decided in Prost's favour by a collision at the Japanese Grand Prix.
Hamilton and Rosberg finally came to blows at last Sunday's Belgian Grand Prix, but it has come close to happening several times already this year.
Twice during their titanic scrap in Bahrain in April, they were millimetres away from each other - once when Hamilton chopped across Rosberg's bows in Turn Two early in the race, and once on the exit of Turn Four towards the end.
And then, in the race before Belgium in Hungary, Hamilton forced Rosberg wide on the exit of Turn Two when they were battling for third late on.
It was, in other words, probably only a matter of time.
The fact that the collision seemed almost inevitable does not alter the fact that it puts Mercedes in an awkward position.
The top three (Points gained in brackets)

Rosberg
Hamilton
Ricciardo
Australia

1st (25)

Retired

Disqualified

Malaysia

2nd (18)

1st (25)

Retired

Bahrain

2nd (18)

1st (25)

4th (12)

China

2nd (18)

1st (25)

4th (12)

Spain

2nd (18)

1st (25)

3rd (15)

Monaco

1st (25)

2nd (18)

3rd (15)

Canada

2nd (18)

Retired

1st (25)

Austria

1st (25)

2nd (18)

8th (4)

Britain

Retired

1st (25)

3rd (15)

Germany

1st (25)

3rd (15)

6th (8)

Hungary

4th (12)

3rd (15)

1st (25)

Belgium

2nd (18)

Retired

1st (25)

Total points
220
191
154
They have an enormous pace advantage over the rest of the field, of at least half a second a lap. It was two seconds in qualifying in Spa.
There was a point not that long ago when it appeared that Mercedes might win every race this year.
Yet over the last six races, they have won exactly the same number as Red Bull - three each. And in that time, Red Bull's Daniel Ricciardo has scored more points than either Mercedes driver. The Australian has won the last two races and is now just 35 points behind Hamilton in the championship.
At this stage, Mercedes would still have to throw the year away to lose the title, and one of their drivers will almost certainly win it. But they have to do something to get their season back on track in terms of delivering the results the car should be getting.
It has been very refreshing to see Mercedes make it absolutely clear that they do not want to interfere in the battle between their two drivers.
And it has been great for the sport - and in general - that Mercedes motorsport boss Toto Wolff and the team's non-executive chairman Niki Lauda have been as open as they have.
But by choosing not to do what Ferrari have done in the past and have a defined number one and two driver, they have guaranteed that these sorts of things will happen.
The fact remains that Mercedes, without reliability concerns, have lost the last two grands prix and they have to stop that happening. These situations have a habit of escalating and it would be all too easy for the wheels to come off the wagon.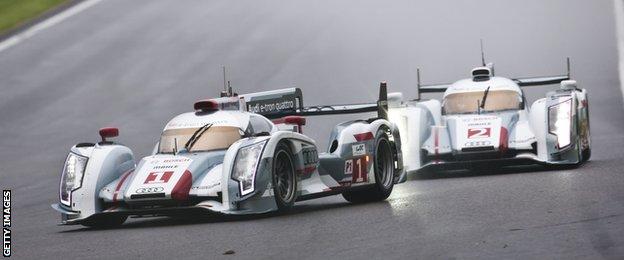 They need to take a little more control over how the drivers conduct themselves in races.
I had a very similar situation to this when I was driving for Audi in endurance racing a few years ago. I was one of four drivers - two in each car - that were fighting for the championship and no other team was involved.
Drivers have their own little goals, and they tend not to have the team in mind. That's why racing drivers are hired - they are self-centred, very determined people who will push every boundary to the limit to win.
During that season, we had not yet collided, but we were starting to get to a point when it began to be detrimental to Audi. And Audi's head of motorsport, Dr Wolfgang Ullrich, put a stop to it.
He has an iron hand, but he wields it with a velvet glove. That hand came down and reminded us very clearly who employed us, and that the first picture Audi wanted was it winning the race.
Teams have lots of ways they can lay down the law to drivers. Ultimately, they can fire them, although that is a last resort. More likely it is a fine.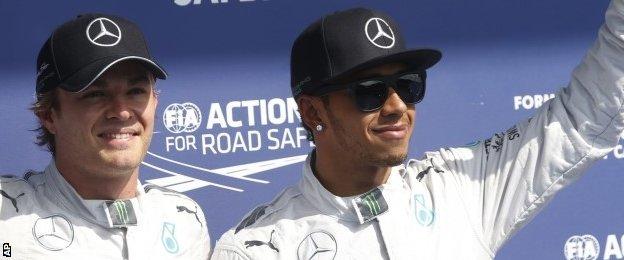 Ullrich did not want to get involved in who won, because he did not care, but he made it very clear that we must not - under any circumstances - hit our sister cars.
You can race them, you can push them, but not to the level of compromise on track that you would a rival from another team.
Under those rules, Rosberg would have had to back off in Spa. Hamilton had won the corner. Rosberg was too far back to make anything of it.
That's not to say we should apportion blame. I have been in both situations - the car in front and the car behind. It was a racing incident.
I don't think Mercedes will stop Hamilton and Rosberg racing, and they will know that there will be tense situations to come.
But I strongly suspect that they will alter the rules of engagement slightly - and perhaps say they can go racing after lap two, after they have a built a bit of a gap, after the point when any incident will lay the race on a plate for their rivals.
The FIA's handling of the situation
Many people consider it odd that F1's governing body, the FIA, has justified its decision not to look further into the incident by saying the information that emerged after the race did not constitute a reason to do so.
Some have argued that it is beholden upon the FIA to ask for that evidence, question the people involved, given all the information that has emerged out of Mercedes since the end of the race in terms of Hamilton's accusations that Rosberg said he did it deliberately. And the team's 'clarification' of what the German had actually meant.
In motor racing, there is a difference between deliberately hitting someone, and deliberately leaving your car in a position where it can be hit if someone does not alter their trajectory.
Hamilton did have the option to give Rosberg more room - but he had no reason to, because he had won the corner. But that does not mean Rosberg could not justifiably do what he did.
So the FIA stewards were right during the race to call it a racing incident.
As for the post-race issue, interpreting what came out about that internal Mercedes meeting is like reading an email. If you read it in a good mood, you interpret it one way; if you read it in a bad mood, you interpret it another.
Likewise, it would be wrong for those on the outside to judge what happened in that meeting, because the tone of the comments at the time is so critical to understanding them.
It will have been a very heated argument. And, ultimately, what happened in Spa was that one of two guys competing for the world championship was drawing a line in the sand.
As for the FIA, they may not have made a public show of it, but I am pretty sure they will have gone to Mercedes and asked what went on.
The FIA will not want to inflame the fire at Mercedes, either internally or with the public, but I'm sure they will be keeping an eye on it and expect they will have a quiet word.
Allan McNish is a former F1 driver and a three-time winner of the Le Mans 24 Hours. He was talking to BBC Sport's Andrew Benson