Lewis Hamilton & Nico Rosberg not a team - Mark Webber

By Andrew Benson
Chief F1 writer
Last updated on .From the section Formula 1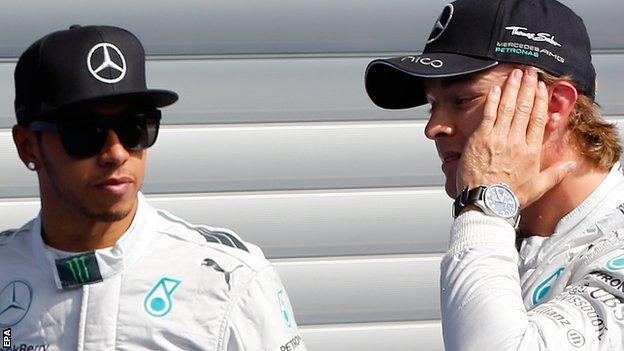 Former Formula 1 driver Mark Webber has questioned whether Lewis Hamilton and Nico Rosberg can remain team-mates at Mercedes.
Webber, who had a bitter intra-team fight with Red Bull's Sebastian Vettel, said: "It's going to be interesting, not just for the rest of the year.
"At the moment it's not a team. Is it OK to have them together in 2015?"
He added: "It looks like the drivers are doing their own thing. Can they drive together in the future?"
Webber, who quit F1 at the end of last season for a career in endurance racing, said Mercedes were in a "very difficult situation where the drivers are not enjoying a good relationship".
Talking to Red Bull sports show Sport und Talk, the Australian added that he was not sure whether Mercedes motorsport boss Toto Wolff and the team's non-executive chairman Niki Lauda would be able to solve the situation.
"The thing is, who is now going to try to put this back together?" Webber said. "Is it the people who pay Niki's and Toto's wages?
"Because at the end of the day, if the drivers are not listening to these guys, do they have to say 'Lewis and Nico, you go chat to the big guys at Mercedes, because they're paying you guys to get the job done in a team environment'?"
Remaining Races

Venue

Date

Italian Grand Prix (Monza)

5-7 September

Singapore Grand Prix

19-21 September

Japanese Grand Prix (Suzuka)

3-5 October

Russian Grand Prix (Sochi)

10-12 October

United States Grand Prix (Austin)

31 October-2 November

Brazilian Grand Prix (Sao Paulo)

7-9 November

Abu Dhabi Grand Prix (Yas Marina)

21-23 November
Webber questioned Rosberg's motivation in the incident, which occurred when the Mercedes drivers were contesting the lead on lap two at Spa-Francorchamps on Sunday.
The collision left Briton Hamilton with a puncture that ultimately ended his race and Rosberg with a damaged front wing from which he fought back to gain second place behind Red Bull's Daniel Ricciardo.
"Well, it's... a passing move," Webber said. "Nico is trying to have a look on the outside, but it's Lewis's corner.
"At this point [just before the contact] Nico knows he has no chance to get the move done. It's strange that he tried to come in so tight behind Lewis.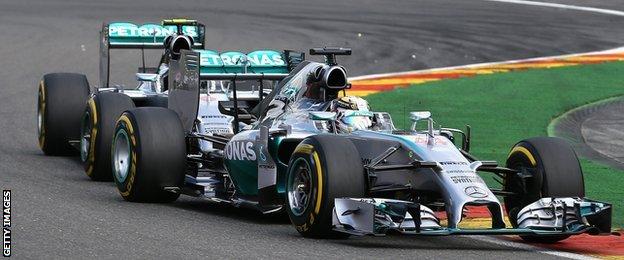 "That was a little bit uncharacteristic of Nico - not normally his style, but he made contact.
"It wouldn't have been a big deal at all. It would have been nothing if there was no puncture, but the puncture changed the whole race. In the end both of their races were in trouble."
The result leaves Rosberg 29 points ahead of Hamilton in the championship with 200 still available in the remaining seven races.
Ricciardo's second win in succession means he is only 36 points behind Hamilton, but Webber played down the chances of the Australian challenging for the title.
"Mercedes will really need to implode for Daniel to take the championship," Webber said.
He added that Rosberg and Hamilton would be focusing only on their own private battle at the next race in Monza on 5-7 September.
"Let me tell you, when they get to the track, they'll only be thinking about each other. There's no-one else really in the race," Webber said.
"They are really only focused on beating each other and that's what happens when you have a car that is so dominant.
"They are going to win the constructors' [title] easy, so the drivers know that the constructors' is done, so all that's left is the drivers' championship."