Formula 1 gossip: Hamilton, Rosberg, Button, Alonso, Ricciardo
Last updated on .From the section Formula 1
SUNDAY, 7 SEPTEMBER
Formula 1 chief executive Bernie Ecclestone has softened his previously hardline stance over whether a deal can be done to retain Monza, home of the Italian Grand Prix, on the race calendar after 2016. Planet F1
Teenage prodigy Max Verstappen, 16, will shake off last week's embarrassing crash at a demo run in the Netherlands by appearing at the Adria circuit in northern Italy on Friday to test drive a two-year-old Toro Rosso. Inautonews
On the morning on the Italian Grand Prix, Red Bull driver Daniel Ricciardo posted a picture of a honey badger, which also features as a logo on his helmet this season, with the message, 'Damn this guys hungry today. Hasn't eaten in weeks...'. Twitter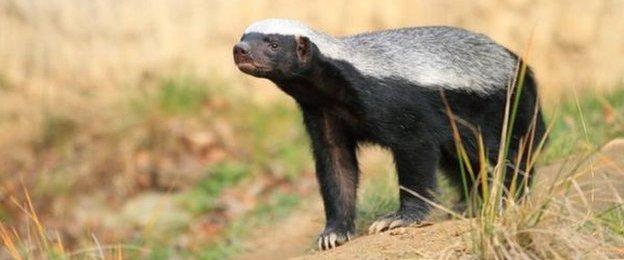 Mercedes boss Toto Wolff is confident there will be no repeat of Nico Rosberg and Lewis Hamilton's acrimonious clash from Spa as the duo lead the grid in today's Italian GP.Sky Sports
Toro Rosso driver Daniil Kvyat will become the first driver of the season to take a grid drop because of an engine change after the Russian had his sixth engine switch of the year at Monza on Friday night. Formula 1
Fernando Alonso insists he extracted the maximum out of his Ferrari at Monza after landing seventh place in qualifying, behind six Mercedes-powered cars. Adam Cooper's F1 Blog
SATURDAY, 6 SEPTEMBER
McLaren could offer Lewis Hamilton a return to the team he raced for until 2012 if the 29-year-old leaves Mercedes. Daily Mail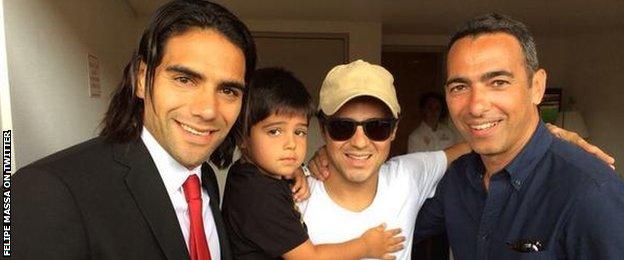 Ferrari could also be interested in the 2008 world champion, with Mercedes set to offer Hamilton reduced terms on a new contract. Guardian
Hamilton claims title rival and Mercedes team-mate Nico Rosberg is totally obsessed by beating him. Sun - subscription only
Teams appear happy to race in Russia next month, despite the venue at Sochi, which hosts the Russian Grand Prix on 12 October, being close to the border with Ukraine. Planet F1
Brazilian driver Felipe Nasr could replace countryman Felipe Massa at Williams in 2015. Inautonews
FRIDAY, 5 SEPTEMBER
Formula 1 drivers Jenson Button and Felipe Massa do not believe the challenge of Monza's Parabolica turn will be diminished by recent changes to the corner's run-off area. (Autosport)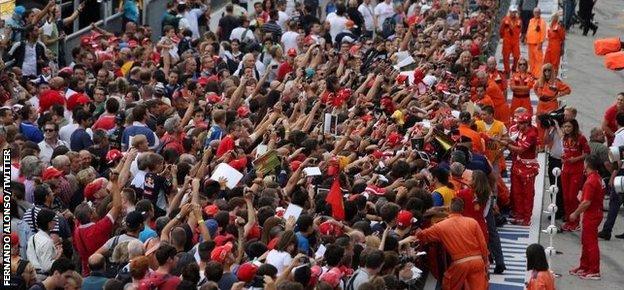 "Autograph session..." tweets Ferrari driver and former world champion Fernando Alonso, pictured with fans at a packed Monza.
Investment to restore the on-track performance at Williams pushed the former F1 world champions into a financial loss in the first six months of the year, says the team's owner Mike O'Driscoll. (Reuters)
Red Bull driver Daniel Ricciardo warns warring Mercedes team-mates Lewis Hamilton and Nico Rosberg that if their feud continues it could allow him to nip in and steal the championship. (Daily Express)
THURSDAY, 4 SEPTEMBER
Ferrari's Fernando Alonso believes Nico Rosberg was not to blame for crashing into Mercedes team-mate Lewis Hamilton at the Belgian Grand Prix, saying "he would have to be a surgeon" to have cut his tyre deliberately. (Daily Star)
Jean Todt has privately expressed concerns about the controversial Russian Grand Prix, a close ally of the FIA president has said. (Daily Telegraph)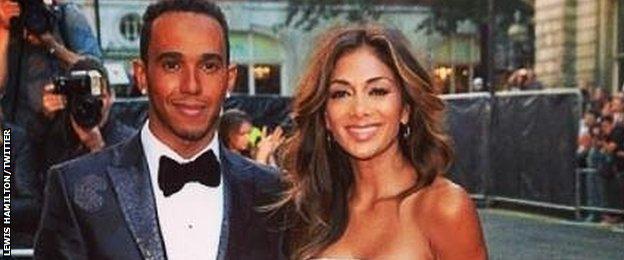 Lewis Hamilton was at the GQ Awards earlier this week, where he was named Sportsman of the Year and tweeted a picture of himself with his girlfriend Nicole Scherzinger.
Kamui Kobayashi is set to return to race duty with Caterham for this weekend's Italian Grand Prix, while Roberto Merhi is set to participate in opening practice. (Autosport)
The Haas F1 team, which plans to make its Formula 1 debut in 2016, will use Ferrari power units and gearboxes. (Reuters)
WEDNESDAY, 3 SEPTEMBER
Lewis Hamilton is remaining unfazed by the 29-point deficit he has to make up on Mercedes team-mate Nico Rosberg in the drivers' title race. (ESPN)
Hamilton took time away from his F1 title challenge to pick up the GQ sportsman of the year gong at an awards ceremony he attended with partner Nicole Scherzinger in London, with Kim Kardashian, Kanye West and Samuel L Jackson also at the event. (Daily Mail)
Ferrari driver Fernando Alonso tweeted a picture on his way back to Italy with the message: "Back in Italy. Simulator and work at the factory tomorrow (Wednesday)."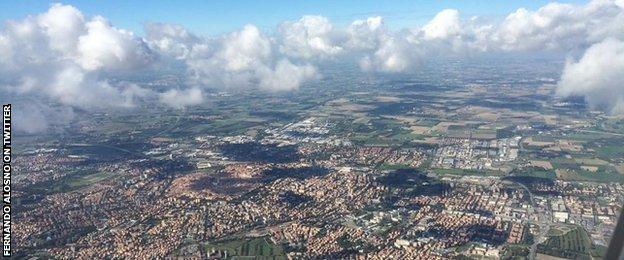 Renault have backed Ferrari's view that the rules regarding engine development should be relaxed as long as the consequences do not result in a spending war. (Autosport)
TUESDAY, 2 SEPTEMBER
Former Formula 1 world champion Jenson Button gave Real Madrid footballer Cristiano Ronaldo a driving lesson in a McLaren supercar on Monday. (Daily Telegraph)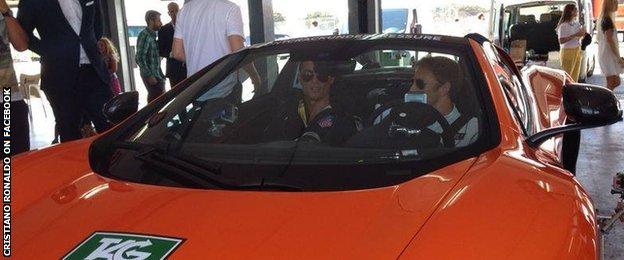 Red Bull driver Daniel Ricciardo has won the prestigious Trofeo Bandini, awarded each year to an outstanding figure from the world of motor racing. (Guardian)
Ferrari's new team principal Marco Mattiacci says he would welcome the return of former technical director Ross Brawn to the team. (CNN)
Fernando Alonso says he will stay at Ferrari for the 2015 season despite interest from McLaren. (Sky Sports)
MONDAY, 1 SEPTEMBER
Former FIA president Max Mosley believes Mercedes were wrong to publicise their fine of driver Nico Rosberg for crashing into team-mate Lewis Hamilton at the Belgian Grand Prix. (Daily Mail)
Red Bull's Helmut Marko, head of the team's driver development programme, insists an offer by Mercedes to Max Verstappen did not play a part in the decision to give the 16-year-old a seat at their junior team Toro Rosso. (Autosport)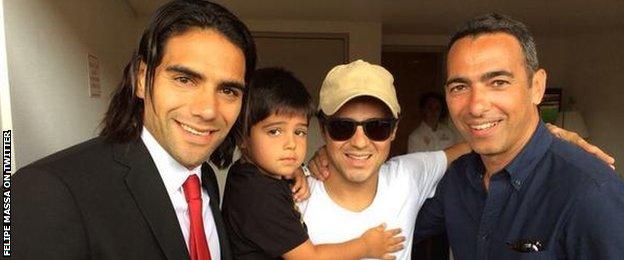 Williams driver Felipe Massa tweeted a picture of himself with Monaco striker Radamel Falcao and former France international Youri Djorkaeff on transfer deadline day after bumping into the pair on Sunday at the Stade Louis II.
Ferrari chief Marco Mattiacci says the team are fully behind driver Kimi Raikkonen despite the 34-year-old Finn's struggles this season. (Formula 1)
F1 supremo Bernie Ecclestone says the issue of financial backing means it is unlikely there will be a race in New Jersey. (speedtv.com)