Lewis Hamilton: 'I have a thick skin to recover a bit faster'

By Lewis Hamilton
Mercedes driver
Last updated on .From the section Formula 1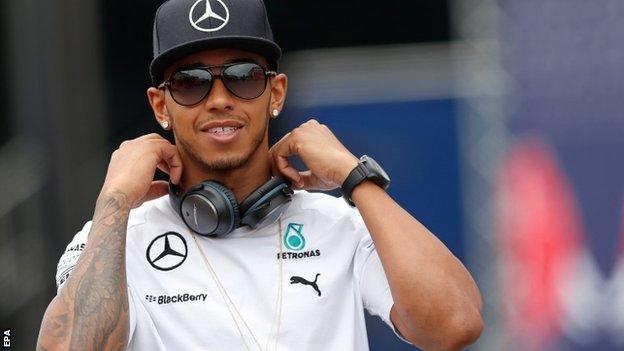 It has been an interesting couple of weeks between the last race in Belgium and arriving in Monza for the Italian Grand Prix this weekend.
The first couple of days after I retired in Spa following the collision between myself and my Mercedes team-mate Nico Rosberg were tough.
I struggled with sleep a bit on Sunday night after the race, just thinking about what had happened, realising I had gone at least a win on points behind Nico for the third time this season.
Formula 1 is my job, but it's not just a job. It's my life, my passion. This is what I was born to do. Those weekends are not that easy to come back from.
What happened at Spa
Hamilton's Belgian Grand Prix last month was effectively ended on the second lap when he suffered a puncture at Spa after a collision with Rosberg.The German's front wing had to be changed before he fought back to second, extending his lead in the championship to 29 points with seven races left. Mercedes blamed Rosberg for the incident.
Read more
But over all the difficult times I've had, I really feel like I have created a thick skin and an ability to at least recover from those situations a bit faster.
Getting away with friends
I decided to go away for a couple of days with my friends.
We had two and a half days together in Sardinia and I can't remember the last time I laughed so much, literally to the point that by the end of it I had no voice left - I've only just got it back properly now. My throat was so sore for a couple of days.
Those priceless moments filled me up with so much energy - and the same goes for all the messages and letters I get from my fans. That is so uplifting.
You know how in the film Monsters Inc, they get their energy from scaring children, and then at the end realise that there is so much more from people being happy and laughing? That's how I feel - the support I get from my fans and my friends is what fills my tank up.
I had just booked that holiday when I got a message from the team that they wanted Nico and me to go to the factory for a meeting to talk through what had happened in Spa.
We already had a team day planned for Sunday and I was like: 'Can't we do it then? Let's do it by video call, or something.'
But they said: 'No it has to be Friday.' So I flew over to the UK for the meeting, went back to Sardinia afterwards and then went back two days later for the team day on Sunday.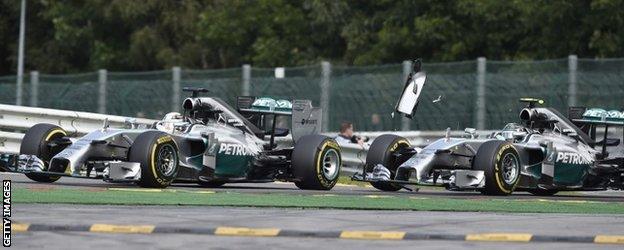 The collision debrief
I have been through lots of situations like that, and this has to be one of the first times I was not the one being blamed!
That doesn't make it better, really. But it was good to have the meeting, to deal with whatever issues arose out of Spa and move forwards.
Nothing has really changed in terms of how Nico and I will race together. We had the meeting, and it was blown up into this big thing, but we have meetings every weekend, generally.
We sit down. Sometimes it's heated. Sometimes it's relaxed. Sometimes the bosses do all the talking. Sometimes it's me and Nico. But the good thing is the bosses always manage it really well.
Paddy Lowe, our executive technical director, and Toto Wolff, head of Mercedes Motorsport, are real passionate racers, so they understand the human side to it.
What I got from the meeting was their emphasis that it was not about us as drivers, it was about Mercedes-Benz. There was a reconfirmation that we both have to finish the races, which I already knew.
I am hired to race hard for the team, to win races, wear the silver star proudly and really shine a light on Mercedes. And that's what I'm going to do.
Out of the hundreds of manoeuvres you do every year, you can't get every one right, not when you're travelling at the speeds we're doing. But I intend to make as few mistakes as possible and I'm going to race as hard as I always have.
I race with my heart. That's what I have done all my life, and what has got me to where I am. I'm hungry for it. I want to win and that's never going to change.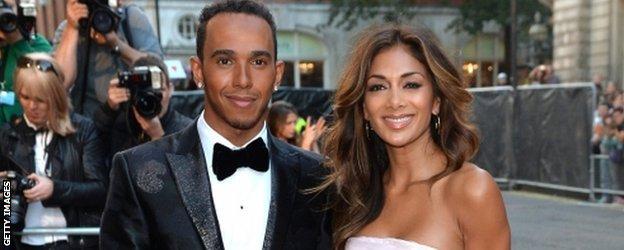 A night out at the GQ Awards
After the weekend with the team, I went to the GQ Awards on Tuesday night. I've been before - in 2007 - and it was very cool to be invited back.
I'm not a big fan of awards evenings in general. I get a lot of invitations to that sort of thing, or to be on TV shows, and I generally turn them down because I want to focus on my racing. But when it's something positive like that, I make an exception. Out of all the awards evenings it is the most fun, the coolest one.
It was also an excuse for my girlfriend Nicole to dress up, which she loves doing. She looked incredible. And to then get the award for the Sportsman of the Year was great.
Moving on to Monza
I need every positive I can take going forwards because it's been a pretty hard season so far.
Twenty-nine points is quite a big margin to make up, but there are still seven races to go, still 200 points available.
I'm feeling great coming into Monza, but there have been so many races in a row now that I have come to feeling positive, knowing I need a good weekend, and then something has happened. The brakes have gone, or the car has set on fire. Then there was the last race, when I got taken out.
It has been tough, and I don't know how I have still got so much energy, but I have. Some of it has come from the fans, for sure.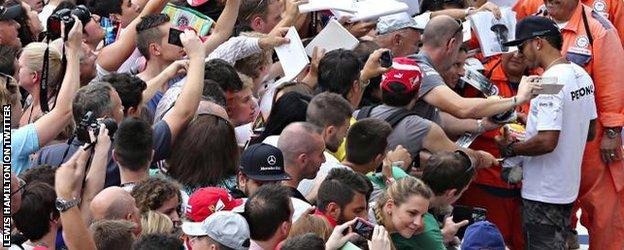 Nico and I haven't spoken about the fact that in terms of the championship he can afford a collision and I can't.
But to be honest it has been the same all year, ever since I retired from the first race and he won it.
He had a cushion, I had to pull it back. Then he got another, and I pulled it back. Now I've got to do it again.
Sure, he can go into this weekend a lot more relaxed in the sense that he can afford a non-finish and I can't really. But there is only so much I can control.
Yes, it's scary; you don't know what lies ahead of you.
But I feel equipped to be able to handle the majority of what lies ahead. And I am going to do everything I can to make sure I avoid any more problems.
Lewis Hamilton was talking to BBC Sport's Andrew Benson