Lewis Hamilton suffers problem as Nico Rosberg is top in Italy

By Andrew Benson
Chief F1 writer at Monza
Last updated on .From the section Formula 1
Nico Rosberg was fastest in second practice at the Italian Grand Prix as team-mate Lewis Hamilton took second despite reliability problems.
Hamilton, who was quickest by more than half a second in first practice, missed an hour of the 90-minute session with an electrical problem.
The lost time is a blow to Hamilton, who is 29 points behind his Mercedes team-mate in the championship.
But he still set a time just 0.061secs behind Rosberg.
That was an impressive performance in the context of his lost preparation time and the fact that he was slightly delayed by a slower car on his fastest lap.
Hamilton's problems came amid continuing fall-out from the clash between the two Mercedes drivers at the last race.
On the eve of practice, Mercedes F1 boss Toto Wolff warned his drivers to behave or risk being sacked.
Wolff told BBC Sport on Thursday: "If we are not able to manage the two of them following the Mercedes-Benz spirit then we need to admit that.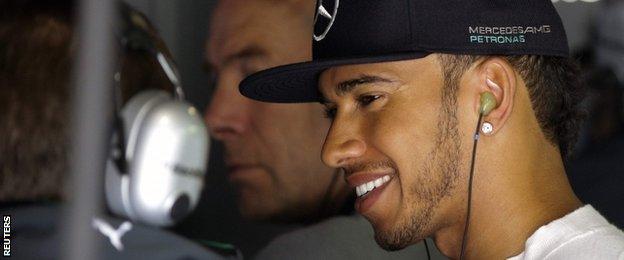 "[We would have to] take decisions and take the consequences of having a different line-up, probably."
His ultimatum comes in the aftermath of the drivers' collision at the Belgian Grand Prix two weeks ago. A failed overtaking move by Rosberg led to the two colliding, effectively ending Hamilton's race while Rosberg went on to finish second and open a 29-point championship lead.
Mercedes have taken disciplinary action against Rosberg, who has taken responsibility for the incident and apologised.
Hamilton has arrived in Monza in a positive, almost buoyant, mood, determined to close the gap to Rosberg after falling more than a win's worth of points behind for the third time this season.
Hamilton had looked imperious on track in the first session, comfortably clear of his rivals, but he spent the second session, when the teams do both qualifying and race preparation, watching from the garage.
The team could not fire the car up at the start of the session and finally got him out on track with half an hour to go.
But he may take some encouragement from his pace despite his problems, and the fact that Rosberg's fastest time on the quicker 'medium' tyre was still 0.1secs slower than Hamilton's best on the slower 'hard' in the morning.
"I felt really good after the practice session this morning and we have definitely got a competitive car this weekend," said Hamilton.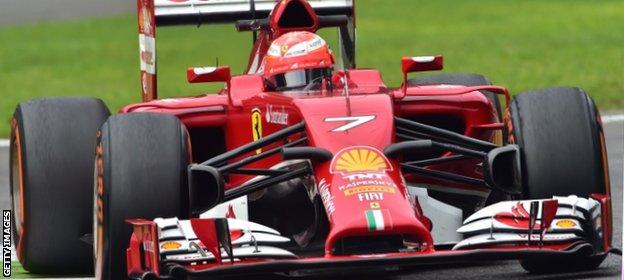 Rosberg was only 0.106 seconds quicker than Ferrari's Kimi Raikkonen in third, with the second Ferrari of Fernando Alonso in fourth a couple of tenths further back after making a mistake braking for the first chicane on his best lap.
"It seems that we are quick on one lap but on the long run the others were very fast," said Rosberg. "I didn't feel 100% confident in the car, so I have a lot of work to do tonight with the boys."
Williams' Valtteri Bottas was fifth, ahead of McLaren's Jenson Button and Red Bull's Sebastian Vettel.
Monza's famous old autodrome just outside Milan is F1's oldest venue, and a strong favourite with all participants for its unique demands, character and atmosphere.
However, it is unlikely to be as packed with the boisterous Italian Ferrari fans - known as the tifosi - as normal, with organisers reporting that ticket sales are down.
This is the consequence of a difficult year for Ferrari, who are having their least competitive season for 20 years.
The Williams cars are expected to be Mercedes' closest challengers this weekend, underlined by Bottas's pace despite the fact that Williams tend to run their cars heavier on fuel on Fridays as they focus on the race, and then become more competitive on Saturday and Sunday.
On the race-simulation runs late in the session, when the teams run on heavy fuel to try out the car in the specification in which they will start the race, Williams appeared to be a match for Mercedes, with Red Bull and Ferrari closely matched a little behind them.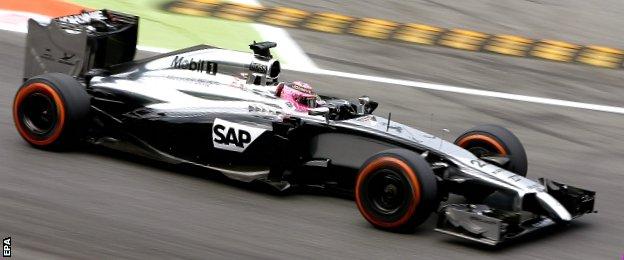 And, just as in qualifying trim, Hamilton appeared at least a match for Rosberg, despite his truncated session.