Hamilton v Rosberg: Toto Wolff knows strength of Mercedes' hand

By Andrew Benson
Chief F1 writer in Monza
Last updated on .From the section Formula 1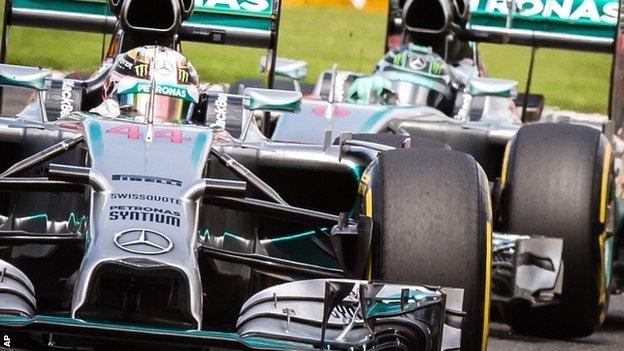 As warning shots go, it was a big one. Work together in the way we demand, Mercedes Formula 1 boss Toto Wolff told drivers Lewis Hamilton and Nico Rosberg, or you are out.
The ultimatum, delivered on BBC Radio 5 live on Thursday as the team prepared for this weekend's Italian Grand Prix, comes in the context of the drivers' collision at the preceding race in Belgium, where a botched overtaking move by Rosberg ended in contact between the cars.
Both their races were damaged: Hamilton's terminally as a result of damage caused by the puncture he suffered when Rosberg's front wing hit his rear tyre; Rosberg's to the extent that he could only finish second to Red Bull's Daniel Ricciardo after pitting for repairs.
The incident has ignited an already highly combustible situation, added an extra edge to an already tense battle, and raised the stakes still higher in their battle for the ultimate prize in motorsport, the F1 World Championship.
Wolff's comments, though, have made such an impact for another reason - they are unusually candid for a sport whose participants normally prefer to keep such things behind the closed doors of their multi-million pound motorhomes.
And they seem all the more remarkable coming from a company as apparently conventional as Mercedes-Benz, one of the world's biggest car makers.
What did Wolff say - and why now?
Wolff has left his drivers in no doubt whatsoever what is expected of them. They have been told they can race together freely - the team wants them to do so. But colliding with each other, harming Mercedes' chances of winning the drivers' and constructors' titles, is beyond the pale.
"We have made it very clear this is an unacceptable scenario for us, for both of them," Wolff said. "We don't want this to happen ever again.
"The consequences are very easy. If we are not able to manage the two of them following the Mercedes-Benz racing spirit, then we need to admit that and take decisions and take consequences of having a different line-up probably."
Of course, Wolff could have chosen to say this privately to Hamilton and Rosberg; indeed, you can be sure he has. But announcing it in public increases the impact.
It's a reminder to Hamilton and Rosberg that every driver on the grid would sell their grandmother to get into a Mercedes right now, given the team's dominance. And that there are options - Ferrari's Fernando Alonso, for example - whom he could plug in if he wanted with no loss of performance; in fact potentially the opposite.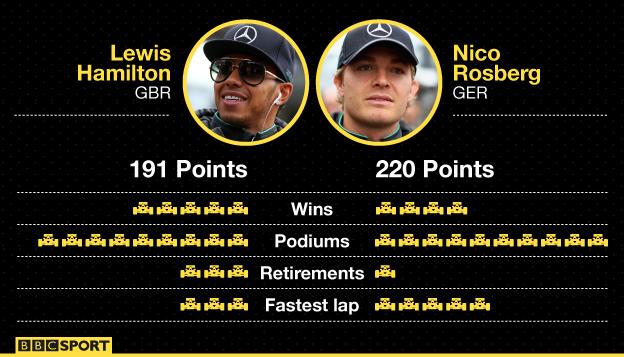 But that is not what Wolff wants. The Hamilton-Rosberg partnership is perfect for Mercedes on every level.
Hamilton is the fastest and most high-profile man in the sport, doing wonders for Mercedes' brand awareness in markets it has traditionally struggled to access; Rosberg is the multilingual, good-looking German. Both are a dream for their promotional campaign in F1, their sponsors, their global reach.
Mercedes simply want to ensure that the partnership can be sustained, and this is a good way of keeping them in their place.
What is the Mercedes-Benz way?
Mercedes have a simple approach to going racing. They want a fair competition between their drivers, with Mercedes winning in the end.
They are in F1 to make the brand appear more sporting and their decision to allow Hamilton and Rosberg to go at it has ensured that a season that could have been monotonous and dull, given their dominant performance, has been anything but.
Mercedes' decision to be open and honest publicly in their management of their drivers in situations such as this has surprised many within the sport.
But this is Wolff's style. He is of a new generation of managers in F1, a successful businessman in his own right and a 30% shareholder in the team.
The Austrian has a no-nonsense approach, and the same goes for non-executive chairman Niki Lauda, whose role is advisory but whose famous frankness has been adopted by Mercedes as a company in their new approach to F1.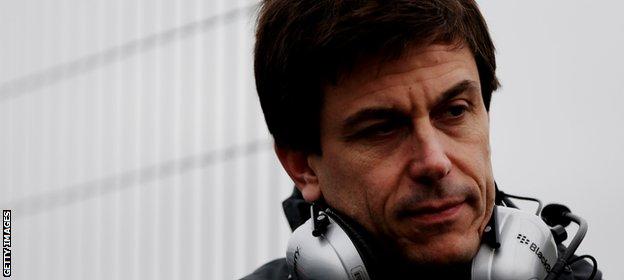 In both style and performance this is a very different team from the one run from 2010-12 by former team principal Ross Brawn and ex-Mercedes sports chief Norbert Haug, and then last year by Brawn alone, with Wolff in the background preparing to take over.
But the aim remains the same - to win. No F1 team has had a car this good relative to the opposition and two drivers battling for the championship since McLaren-Honda with Ayrton Senna and Alain Prost in 1988.
Mercedes therefore feel it is their duty - a requirement, in fact - to win both titles, but they want their path to that goal to be interesting for the public and therefore reflect positively on Mercedes.
They want there to be needle and emotion between Hamilton and Rosberg but not to the point where it becomes negative - a point that was reached in Spa.
So the drivers have been reminded that, as Hamilton put it in his BBC Sport column this week, they are there to "race hard for the team, to win races, wear the silver star proudly and really shine a light on Mercedes".
What effect will it have on the drivers?
It is highly unlikely that two such hard-nosed professionals as Hamilton and Rosberg will be affected or unsettled by Wolff's remarks.
The ground rules emphasised in the wake of Spa - that they can race freely but must not hit each other - are the same as those established at the start of the season.
Undoubtedly, though, the pressure will increase as they close on the prize.
"It's their business not ours," Red Bull team principal Christian Horner says, "but it's amazing how much fuss can be generated over what looked like a pretty innocent racing incident.
"But tensions are running high as the championship gets closer and probably what the team says the drivers are not going to listen to anyway."
Which driver is more likely to leave?
There is no doubt Wolff's warning was serious, but the chances of things going that far are remote.
Just as there are 20 other drivers who would like a shot in a Mercedes, both Hamilton and Rosberg want to stay with the team for the foreseeable future.
Wolff's remarks do not mean that if they have another crash, one of them will be sacked. That scenario is several highly improbable steps away and should be seen in the context of the team's ultimate goal, and the detail of Wolff's comments, which focused on the situation remaining manageable.
Nor is the length of their respective contracts relevant. Rosberg has just extended his for a further two years, with an option for more; Hamilton has another year on his to run and is keen to extend it.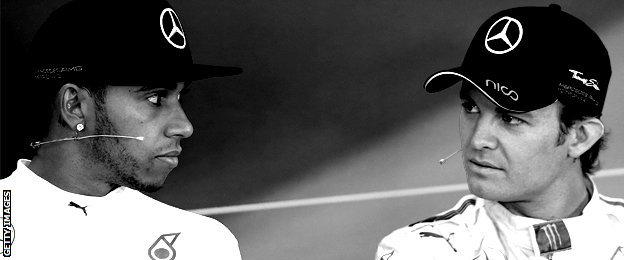 Neither is more vulnerable than the other, but they both know now that they cannot afford to let their own personal ambition get in the way of the wider aims of the team without it having consequences - which in the worst-case scenario could be severe.
The rivalry in context
There are parallels for Hamilton and Rosberg's rivalry throughout the history of F1.
The one cited most often is that between Senna and Prost, which grew into the most bitter in the history of the sport, only for the two men to become friends following the Frenchman's retirement in the months before the Brazilian's death.
Hamilton and Rosberg are nowhere near that level of acrimony but it is interesting, at least, that it has taken less time for them to have their first on-track collision than it did Senna and Prost.
This is Hamilton and Rosberg's second season as Mercedes team-mates and first as title rivals. Senna and Prost went through a whole season battling for the title in 1988 without colliding - although they came close - and their first crash came almost at the very end of 1989, by which time Prost had already decided to leave McLaren.
Neither Hamilton nor Rosberg have the same intensity of character as Senna or Prost, but their battle has revealed some truths that were not necessarily that clear publicly before.
In the main, these are about Rosberg. His had been a career largely under the radar until this season, and the true nature of his character was unclear.
But Mercedes have always been aware of how tough he is.
As team-mate to Michael Schumacher for three years, after all, it's hard to imagine a man as bright as Rosberg did not learn some lessons about ruthlessness and how to go about maximising his own situation - something Schumacher will have done at Mercedes, regardless of his underwhelming performances for the team.
That ruthlessness, whatever its origin, has surfaced this season.
As for Hamilton and Rosberg and where their relationship goes from here, Alonso, as a former team-mate of Hamilton, had this to say.
"I'm sure these guys will move forward," Alonso said. "They both have a clear target, which is winning the World Championship. They are in a privileged position, which is to fight for that goal.
"From the outside we will try to enjoy this beautiful battle to the full. The sport is made of these kinds of things. It is a good problem."