Italian GP: Lewis Hamilton takes pole ahead of Nico Rosberg

By Andrew Benson
Chief F1 writer in Monza
Last updated on .From the section Formula 1
Lewis Hamilton beat Mercedes team-mate Nico Rosberg at the Italian GP to take his first pole position in four months.
Hamilton, seeking to close Rosberg's 29-point championship lead, had not qualified at the front of the grid since the Spanish Grand Prix in May, seven races ago.
The tension between the two Mercedes drivers following their collision at the Belgian Grand Prix two weeks ago was palpable - they did not shake each other's hand as they emerged from their cars at the end of the session.
And asked in the post-qualifying news conference whether the team's demand that they do not crash again would be "ringing in their ears" as they race down to the first corner on Sunday, Hamilton replied with a cutting: "It won't be ringing in my ears."
Williams drivers Valtteri Bottas and Felipe Massa were third and fourth ahead of McLaren's Kevin Magnussen and Jenson Button.
Hamilton and Rosberg's crash in Spa has dominated the agenda this weekend at one of the sport's iconic circuits, after Rosberg was forced to take responsibility for the incident and was reprimanded by the team, including internal disciplinary action.
Hamilton's race was effectively ended in Spa when he suffered a puncture on lap two after Rosberg collided with him. The German went on to finish second in that race.
Hamilton needed a clean weekend, his first since Spain and, apart from an engine electronics problem that cost him an hour of Friday's second practice session, he got one.
Hamilton put pole out of reach with a stunning first lap in the top-10 shoot-out, 0.443 seconds quicker than Rosberg's effort.
The German closed in on his second lap but was still 0.274 seconds behind Hamilton.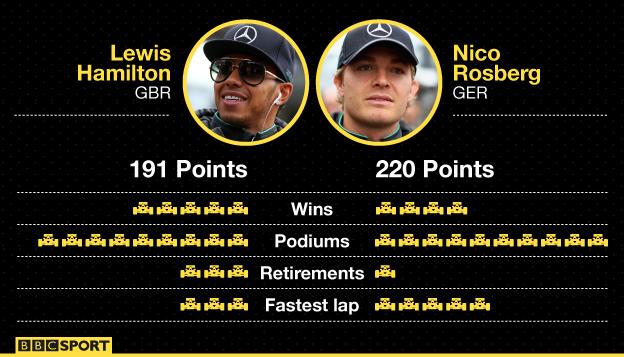 The result was a relief for the Briton, 29, who has seen a catalogue of problems in previous races prevent him beating Rosberg to pole, some his own mistakes, but many car failures or other incidents out of his control.
"I feel excited about tomorrow," Hamilton said. "My guys in the garage have also been through the difficult time with me. We have done this as a team and it is great to have another one-two. I'm really proud to be up here."
Ferrari's Fernando Alonso was seventh quickest, while Sebastian Vettel out-qualified Red Bull team-mate Daniel Ricciardo for the fourth time in six races and Force India's Sergio Perez completed the top 10.
Bottas was more than 0.5 seconds slower than Hamilton but the Williams showed strong race pace on Friday and could challenge in the grand prix on Sunday.
The Finn said: "We expected we could be a little bit closer to them today but we had solid race pace and it depends how much they had left on Friday."
McLaren showed encouraging form, although Button admitted that their race pace was a concern.
And in the Ferrari, Alonso's team-mate Kimi Raikkonen could manage only 12th fastest, 0.585 seconds slower than the Spaniard.
Alonso had been fractionally behind Vettel after the first runs in the final session, but saved his best until last to beat the man who has beaten him to the world championship three times in the last four years by 0.006 seconds.
Raikkonen made mistakes at the second chicane on both of his final laps in second qualifying as he tried to get into the top 10 shoot-out, failing to improve and was knocked out of the top 10 by McLaren's Kevin Magnussen before Toro Rosso's Daniil Kvyat also pipped the Finn.
Kvyat, though, has a 10-place grid penalty for using a sixth engine - one more than the maximum five - and will be dropped to 21st, promoting Raikkonen to 11th.