Lewis Hamilton: Nico Rosberg does not seem to like pressure

By Andrew Benson
Chief F1 writer in Monza
Last updated on .From the section Formula 1
Lewis Hamilton says he intends to exploit what he believes is team-mate Nico Rosberg's vulnerability to pressure in the title run-in.
Hamilton, 29, said: "I knew that was the best time to put pressure on him.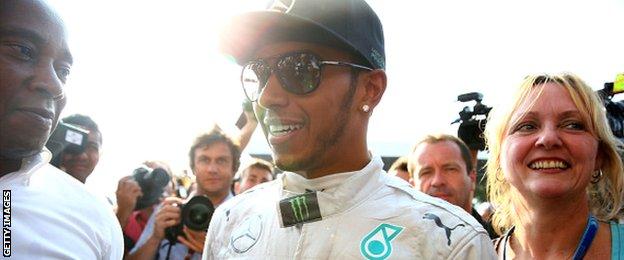 "I did it a couple of races ago and he doesn't seem to like it so I'll try it a bit more."
Hamilton's victory came at the end of a turbulent two weeks for the Mercedes team following the drivers' collision in the preceding Belgian Grand Prix, for which Rosberg was reprimanded by the team and forced to apologise.
It was Hamilton's sixth win of the year to Rosberg's four, but the Englishman's higher count of reliability problems at crucial times means he is still 22 points behind Rosberg in the championship with six races and a maximum of 175 points remaining.
"We've got a long way to go, but one step at a time," said Hamilton. "The support I've had from the fans and family has been incredible. I'm going to take that energy and try and move forwards. I'm still looking for that weekend where you don't have any problems."
Hamilton had to fight back at Monza after losing the lead at the start because of a glitch in his car's electronic systems.
He was into second place by lap 10 and pressured Rosberg through the first part of the race, the pit stops and up to the German's fateful mistake on lap 29.
"Today was another hard day, but I loved every minute of it," said Hamilton. "When you have those issues, you think 'I'm never going to be able to catch up, but you can't let it slip too deep into your thoughts."
Mercedes F1 boss Toto Wolff lauded Hamilton's ability to bounce back after a series of disappointments.
Wolff, 42, said: "I am impressed with Lewis in many races because he had some dreadful weekends, dreadful Saturdays, dreadful Sundays and he has always come back with a smile to the next race. He was always in good spirits and a good mood and that is something that is impressive in general."
Rosberg, 29, said his Mercedes team-mate Hamilton deserved to win the Italian Grand Prix.
The German said: "It's a terrible feeling to lose the lead like that but in the end Lewis was really quick in the whole race. He came like a rocket and I had to push and I made the mistake. He drove really well and deserved it."