Lewis Hamilton v Nico Rosberg: German driver under pressure

By Andrew Benson
Chief F1 writer
Last updated on .From the section Formula 1370
This one felt really good for Lewis Hamilton, for lots of different reasons.
So to win the Italian Grand Prix was not just desirable - it was compulsory for the Briton.
More than that, though, it was the manner of his defeat of Rosberg that will have pumped belief into Hamilton's veins, and drained some conviction from his rival - however much the championship leader tried to insist afterwards that he was still "very optimistic".
David Coulthard on Hamilton's win
"The mental strength from Lewis to come back and take the win was unbelievable. In the end two mistakes from Nico have cost him. He put on a brave face but when he goes home and reflects on this he will know he has been well beaten."
The victory was founded on Hamilton's searing pace around Monza all weekend.
Rosberg knew he had no answer to Hamilton's speed.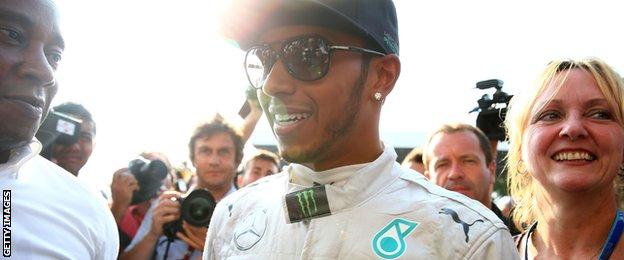 He had seen the telemetry traces - he makes it his business to forensically analyse them, in order to learn anything he can turn to his advantage.
But they bore no good news this weekend.
Rosberg had a slight edge in the first sector of the lap, but Hamilton was untouchable in the second, particularly at the two demanding Lesmo corners. So much so that Williams's head of performance Rob Smedley was moved to describe his pole lap as "quite stunning".
"The real difference was in the two Lesmos," Mercedes F1 boss Toto Wolff said. "The minimum speed through the two apexes in the Lesmos was very high."
In fact, Hamilton's minimum speed at the first Lesmo in qualifying was an eye-opening 15km/h faster than Rosberg's. There was no answer to that.
So Rosberg knew before the race started that if Hamilton got away well from pole position, he would be gone. But he didn't. A glitch in his start-control system meant he had to get off the line manually, and he dropped to fourth.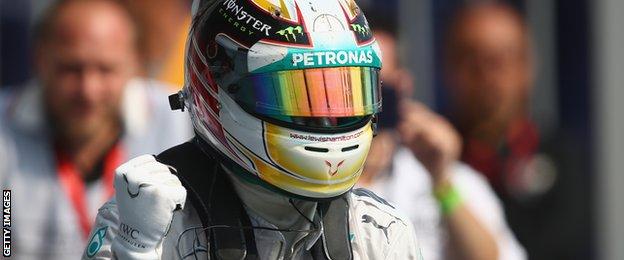 The race, it seemed, and perhaps even the title, had been gifted to Rosberg. But Hamilton was not to be denied.
Rosberg will have known that Hamilton had passed McLaren's Kevin Magnussen quickly, and within a few laps he was looking for a way around Williams's Felipe Massa.
David Coulthard on Hamilton's overtake of Felipe Massa
"That was mega by Hamilton, how controlled was that? He positioned his car brilliantly there, you didn't think he could get past him and he did."
The pressure of Hamilton's pace provoked Rosberg's first mistake - going too deep into the first chicane and taking to the escape road on lap nine.
Once past Massa, Hamilton inched closer to Rosberg. Then, after the pit stops, ignoring his engineer's advice to save his tyres for an attack at the end of the race, he made his move.
Again, Rosberg buckled, making the same mistake again, this time handing Hamilton the lead. After that, there was only going to be one result.
"That wasn't a gift. That was pressure," said BBC F1 co-commentator David Coulthard, adding after the race. "That one is going to hurt."
Mercedes on Twitter
DRAMA! @nico_rosberg brakes too late into turn 1 and is forced to take the exit road. @LewisHamilton takes full advantage and goes P1! #F1
Hamilton, for whom the start glitch was simply the latest in a series of reliability problems this season, said: "Today was another hard day, but I loved every minute of it. When you have those issues, you think: 'I'm never going to be able to catch up.' But you can't let it slip too deep into your thoughts."
Forget the conspiracy theories, denied out of hand by Rosberg and Wolff, that the German's mistakes were in fact some form of deliberately team-orchestrated payback for his clumsy ending of Hamilton's race at Spa.
They were honest mistakes, influenced by pressure. Much of that pressure was applied by Hamilton in the race, undoubtedly. But how great, too, was the influence of the preceding two weeks?
Mercedes came down hard on Rosberg after Spa, calling his actions "unacceptable" and forcing him into an apology.
The team were very angry with him for his behaviour. And within F1 - as more information creeps out with the passing of time from conversations between team members - more and more people are coming to the conclusion that his 'mistake' in qualifying in Monaco, when Rosberg went down the escape road and cost Hamilton a chance to beat him to pole, was anything but.
It was in this context, and that of Spa - where Rosberg left his nose in despite having lost the corner, knowing Hamilton would likely hit it - that the Briton's remark over the weekend about wanting to win "in the right way" should be judged.
Sources close to Rosberg admit he has had to do some soul-searching in the time since Spa, and there seems little doubt that his standing within Mercedes has been affected by these incidents.
David Coulthard
"Lewis has beaten Nico psychologically after what happened at Spa, when Nico was chastised for what he did. Now, every time they're in a wheel-to-wheel situation, he has Nico beaten. He knows he is the better racer."
So, too, his relationship with Hamilton. Asked by former Ferrari driver Jean Alesi during the podium interviews whether he and Rosberg were "still friends", Hamilton said: "Of course. We're team-mates. We always will be."
They may be again, one day. But right now he's kidding no-one, least of all those within his team, one of whom described the drivers' relationship as "frosty" in Monza.
All of this will have been on Rosberg's mind over the weekend, and it cannot have failed to affect him one way or another.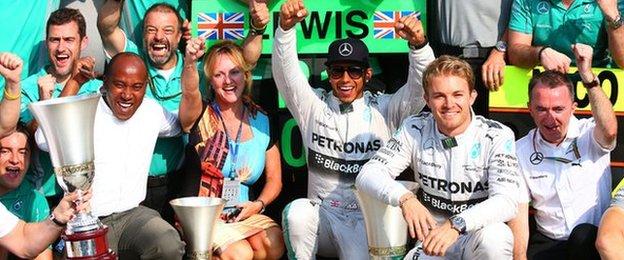 This is one of the most fascinating aspects of F1. It is such a high-pressure environment that it brutally exposes its participants' characters, the good and the bad, for the world to see. There is nowhere to hide.
The drivers have to accept that, and deal with the consequences - in Rosberg's case, the shift in perceptions of him, illustrated by the boos on the podium that he received again after the race.
Wolff admitted this will have been "pretty tough" on Rosberg. "I don't even want to think about it," Wolff said. "Maybe it is something you need to survive to get to the top."
Wolff added: "Mentally he is very strong and if you want to be a world champion you have to go through lows and highs.
"Lewis has many of them and he came back and we have seen Nico come back and I guess he has the mental strength to recover. You need extreme mental strength to make it to the end and win the championship and I think both of them have it in them to bounce back after bad weekends."
Undoubtedly, though, Rosberg will have to dig deep to come back from this.
The internal battle at Mercedes dominated the entire weekend in Monza. But the race was about more than them. There was some absolutely fantastic racing down the field.
It started with Ferrari's Fernando Alonso's move around the outside of Force India's Sergio Perez at the first Lesmo on lap one, continued through Hamilton's pass on Massa, and then a thrill-a-minute battle for lap after lap between Williams' Valtteri Bottas, the McLarens of Jenson Button and Kevin Magnussen, Perez and the Red Bulls of Sebastian Vettel and Daniel Ricciardo.
Mercedes on Twitter post-race
"We've seen some epic battles and passing moves today! #Monza treating everyone to a taste of pure #F1 action #NoSPArring #ItalianGP"
Bottas eventually came out on top, fighting through the field clinically after a poor start. But the star was Ricciardo, with a brilliant last third of the race, including two breathtaking moves on Perez and Vettel, dummying both into the second chicane.
All in all, it was the latest in a series of great races thrown up by this fascinating season.
With the pressure building ever higher, the remaining six should be something to behold.