Lewis Hamilton: Nico Rosberg not ordered to gift race - Toto Wolff

By Andrew Benson
Chief F1 writer at Monza
Last updated on .From the section Formula 1
Mercedes have rejected claims they engineered the mistake by Nico Rosberg that led to Lewis Hamilton winning the Italian Grand Prix.
The claims arose after Rosberg twice ran wide at Monza's first chicane, the second time gifting Hamilton the lead.
"It was a bit too easy," said three-time world champion Sir Jackie Stewart. "I thought, 'What's going on here?'"
"Only a paranoid mind could come up with such an idea," said Mercedes F1 boss Toto Wolff, 42.
There were suggestions Rosberg had been ordered to atone for causing Hamilton's retirement at the Belgian Grand Prix after a collision.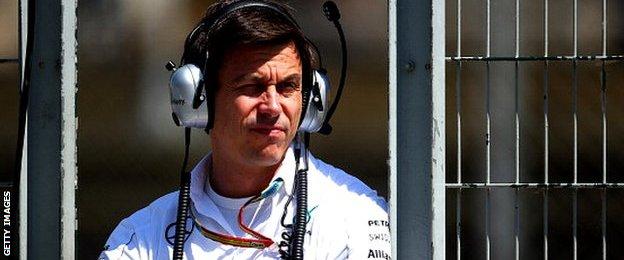 Stewart, 75, appeared to suggest that the German's error might have been deliberate.
"I thought [Rosberg] could have at least made an effort to get round the corner," said the Scot.
"I first thought, 'That's wise', because he knew it wasn't a difficult thing to believe; the second time I thought: 'Hello, what's going on here?'"
Wolff denied the suggestions of a deliberate mistake. "You mean whether we told him to miss the braking, go through the chicane and let Lewis past?" he said.
"No. This is for the drivers' world championship. He was under pressure and that was why it happened."
On Monday morning Mercedes tweeted a picture of flying pigs alongside the caption: "Breaking news: Dramatic scenes in the skies over Brackley as #NR6 hands #ItalianGP victory to #F1 WDC rival #LH44...", using the official hashtags of both drivers.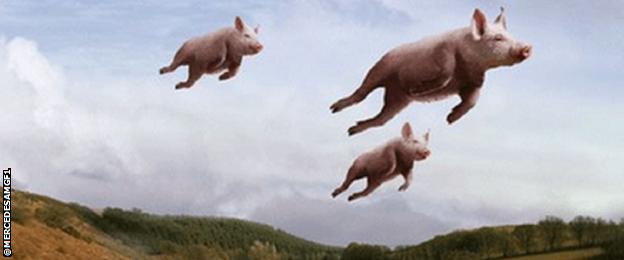 Wolff admitted it was "unusual" and "bizarre" for a driver to make such a mistake twice in the same race - Rosberg did it on lap nine as Hamilton was fighting to pass Williams's Felipe Massa for second place and again on lap 29, the decisive incident.
"It's not like other races we have seen from Nico," Wolff said. "He rarely makes mistakes. Two today and in the same place."
Rosberg said the incident was a simple error made under pressure from Hamilton.
"I just messed up," he said. "I've heard about the theory, but what would be the reason for me to do something like that deliberately?
"There is no reason why the team would ask me to change position, or something like that.
"The only thing in people's minds could be Spa, but Spa was a mistake which I've apologised for. It's not something where I have to give back something."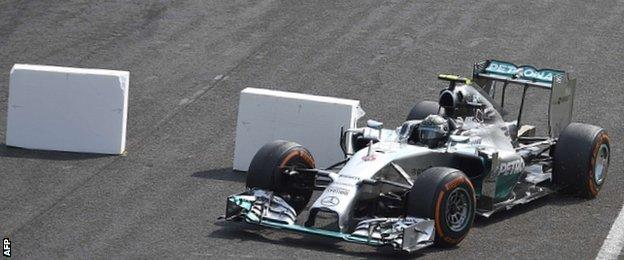 Wolff said the first incident may have been influenced by the fact that Rosberg had just moved his brake bias forwards to protect the rear brakes.
That puts more emphasis on the front brakes, which may have caught Rosberg out.
And he would have chosen not to try to turn in because the drivers had been warned not to lock the tyres and risk 'flat-spotting' them - when one section is worn more than the rest of the tyre - because it would mean they had to make an extra pit stop.
"To be fair, we haven't properly analysed it," Wolff said. "We went forward with the brakes and that is the moment he locked up the first time and one of the main messages was don't flat spot the tyres because if you do we need to pit you."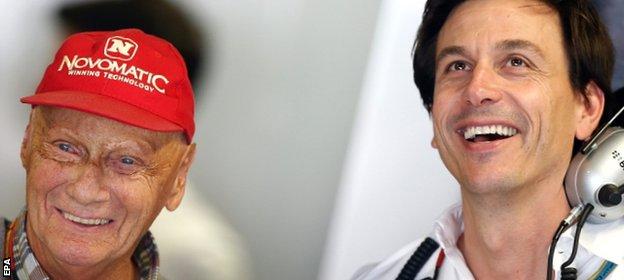 Wolff also said that a television image showing him smiling after Hamilton took the lead was misleading.
He said: "First of all, it's not live. So whenever the camera's with you, the signal comes later. So it wasn't synchronised with the picture.
"And I feel like Big Brother is watching you, I will hide in the engineering office next time! No, there was a smile, it was when the two were closing on each other and it was a smile that said: 'Here we go again in a close battle.'"