Nico Rosberg: Booing from fans 'not nice', says F1 title leader
Last updated on .From the section Formula 1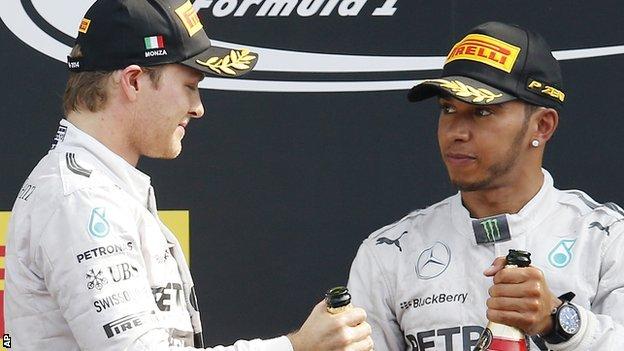 Mercedes driver Nico Rosberg hopes Formula 1 fans "forgive" him after he was booed at the last two grands prix.
Rosberg was given a hostile reception on the podium after colliding with team-mate Lewis Hamilton at the Belgian GP and following Sunday's Italian race.
"It's obviously not nice, but what can I say?" said the 29-year-old German.
"I hope that with time they forgive and forget. That would be great. I have apologised. I can't really do anything more than that."
Briton Hamilton had to retire in Belgium after the incident with title rival Rosberg, who went on to finish second.
Rosberg, who was later disciplined by Mercedes for the collision, dismissed booing when he was on the podium at Spa by suggesting it was "the British people".
But the German was again heckled when collecting his trophy for second at Monza, where Hamilton won the race, reducing his deficit to Rosberg to 22 points.
Hamilton said the booing made him feel "awkward", while Mercedes motorsport boss Toto Wolff believes it is unfair.
"First of all, there shouldn't be any booing on the podium," said Wolff.
"That's for the top three guys who have had a mega-race and, whoever it is, there shouldn't be booing. We're a sport, sport should unite.
"I don't even want to think about being booed. Maybe it's something you need to survive if you want to make it to the top."