Ferrari chairman Luca Di Montezemolo to quit after 23 years
Last updated on .From the section Formula 1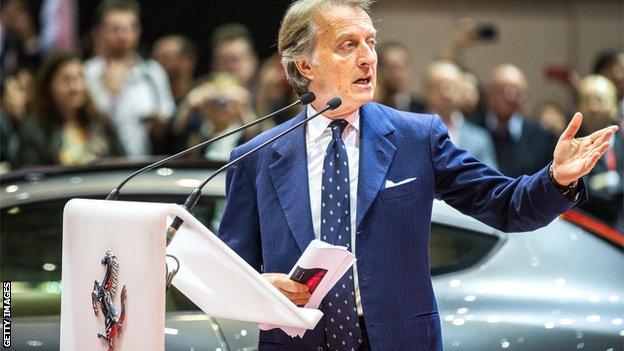 Ferrari's Luca Di Montezemolo is to step down as long-time chairman of the Formula 1 team.
"This is the end of an era after almost 23 marvellous and unforgettable years," said Di Montezemolo, 67. "It has been a great privilege."
Marchionne will replace Di Montezemolo, who leaves the role on 13 October.
Ferrari have not won a drivers' or constructors' title since 2008 and are in the midst of their least competitive season for 20 years.
The team had their worst result of the year at the Italian Grand Prix on Sunday when Fernando Alonso retired with a hybrid system failure and team-mate Kimi Raikkonen finished ninth.
It is in stark contrast to their dominance of F1 in the late 1990s and early 2000s when seven-time world champion Michael Schumacher led the team to six consecutive constructors' championships.
Analysis from BBC Radio 5 live F1 commentator James Allen
"Di Montezemolo has turned the whole business around and made Ferrari into one of the most profitable car manufacturers in the world. With Michael Schumacher at the helm, they were unbeatable.
"But he has had a difference of opinion with Sergio Marchionne, who wants to expand the company. Marchionne has basically wanted Di Montezemolo out and he will be the new chairman.
"It is a big upheaval and will have a big impact on the Ferrari F1 team, but exactly what that impact that will be remains to be seen. Fernando Alonso will keep a close eye on it - he wants a good car, not upheaval."
Read more on
Di Montezemolo from chief F1 writer Andrew Benson
Di Montezemolo had insisted at the weekend that reports he was to step down later this year were premature, adding that he had a contract for three years and he would be the one to say when he was leaving.
But he was immediately contradicted by Marchionne, who said: "We are good friends but his statements... these are things I wouldn't have said myself."
Marchionne also described the recent disappointing performance of Ferrari's Formula 1 racing team as "unacceptable" and said it was "absolutely non-negotiable" that Ferrari should win Formula 1 races.
In his statement, Di Montezemolo - who has been Ferrari chairman since 1991 - added: "It is the most wonderful company in the world and it has been an honour to have been its leader.
"I devoted all of my enthusiasm and commitment to it over the years. Together with my family, it was, and continues to be, the most important thing in my life."
Under Di Montezemolo's tenure, Ferrari increased revenues 10-fold and tripled sales volumes as the Italian family business grew into one of the world's most powerful brands.
F1 supremo Bernie Ecclestone, 83, said: "I first met Luca in 1973. So yeah, it's a pity. We're going to miss him.
"His leaving is for me the same as Mr Enzo dying. He has become Ferrari. You see him, you see Ferrari. You don't see anything else. You don't see Luca."
| Ferrari under Di Montezemolo | | | |
| --- | --- | --- | --- |
| Year | Constructors' championships | Total team race wins | Drivers' championships |
| 1991 | Third | 0 | |
| 1992 | Fourth | 0 | |
| 1993 | Fourth | 0 | |
| 1994 | Third | 1 | |
| 1995 | Third | 1 | |
| 1996 | Second | 3 | |
| 1997 | Second | 5 | |
| 1998 | Second | 6 | |
| 1999 | First | 6 | |
| 2000 | First | 10 | Michael Schumacher |
| 2001 | First | 9 | Michael Schumacher |
| 2002 | First | 15 | Michael Schumacher |
| 2003 | First | 8 | Michael Schumacher |
| 2004 | First | 15 | Michael Schumacher |
| 2005 | Third | 1 | |
| 2006 | Second | 9 | |
| 2007 | First | 9 | Kimi Raikkonen |
| 2008 | First | 8 | |
| 2009 | Fourth | 1 | |
| 2010 | Third | 5 | |
| 2011 | Third | 1 | |
| 2012 | Second | 3 | |
| 2013 | Third | 2 | |
| 2014 (as it stands) | Fourth | 0 | |