Lewis Hamilton v Nico Rosberg: Toto Wolff tries to keep the peace

By Andrew Benson
Chief F1 writer
Last updated on .From the section Formula 1328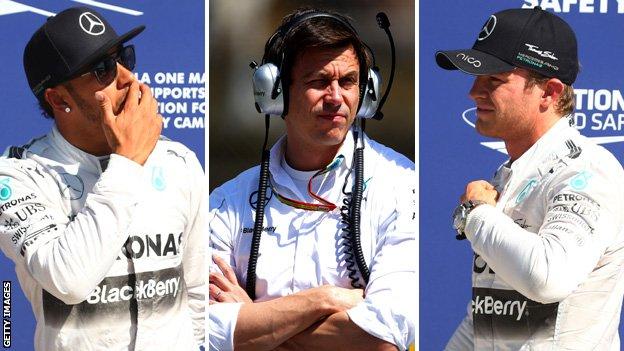 Toto Wolff is the man who somehow has to keep Lewis Hamilton and Nico Rosberg apart - and together - in the midst of the most fractious intra-team Formula 1 title battle in years.
Not since Ayrton Senna and Alain Prost 25 years ago have two team-mates been locked in such a tense fight, with only themselves as each other's focus.
The Mercedes drivers have found the close bonds they forged as teenagers racing together in karts tested to the limit as the pressures of competing for one of the biggest prizes in sport have taken their toll.
Wolff, as Mercedes' motorsport director and team boss, has watched this from the inside.
He says: "It has changed from, let's say, an almost amicable relationship at the beginning of the season to a very intense moment, where it was almost like realising these two are enemies competing for the world title."
This, Wolff admits, has been a shock for his drivers.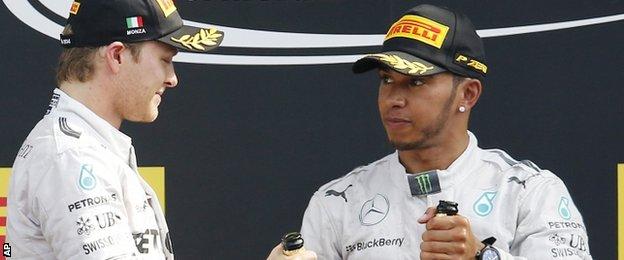 "It's also a learning process," he says. "These boys have been calibrated their whole life that their main priority is to win the drivers' championship in F1. And here they go - they are in the same car, competing against each other for that trophy and one is going to win and one is going to fail.
"This is a new experience for them - a difficult experience maybe."
For everyone involved, in fact. Suspecting the season might develop in the way it has, Mercedes imposed some written 'rules of engagement' on the drivers at the beginning of the season.
The document's detail has not yet been made public, but its essence was clear - you can race freely, but in doing so you must never put the team's interests at risk, and crashing into each other is forbidden.
It worked fine for a while and then, Wolff says, "the more we got into the season, the more intense it got, the more the flexibility of that document was being tested. And then it came to Spa".
The controversy of Belgium
The Belgian Grand Prix last month was when what many thought was the inevitable consequence of Mercedes' situation came to pass - Hamilton and Rosberg collided on track.
So far, so predictable. What was unusual was the way the team responded.
Straight after the race, both Wolff and non-executive chairman Niki Lauda went on television to say the incident was "unacceptable" and squarely laid the blame on Rosberg.
In the controversy-shy, corporate, modern F1 this was a highly unusual approach. But for Wolff it is an extension of the personalities of the three men in the most senior positions in the team - himself, Lauda and executive director (technical) Paddy Lowe.
"One lesson I have learned this year is that you will never make it right for everybody," Wolff says.
"The decisions we are taking are the ones we believe are right for the team, and the most neutral and fair decisions for both drivers.
"You can do it like it's been done in the past, in a very corporate way, politician's talk, try to sort it out behind closed doors.
"Or you can do it the way we do it, and this is the way each of us has managed his companies or his investments in the past.
"We wear our heart on our sleeves, as they often say about Lewis. Emotion is an integral part of the success of the team.
"Having our guys going the extra mile, working 24/7, spending weekends in the office, is only possible because they are emotionally engaged in the company. To get that motivation out of our great people, you need emotion. We spend a lot of time on that topic.
2014 Grand Prix results

Nico Rosberg
Lewis Hamilton
Australia

1st

Retired

Malaysia

2nd

1st

Bahrain

2nd

1st

China

2nd

1st

Spain

2nd

1st

Monaco

1st

2nd

Canada

2nd

Retired

Austria

1st

2nd

Britain

Retired

1st

Germany

1st

3rd

Hungary

4th

3rd

Belgium

2nd

Retired

Italy

2nd

1st

Total points
238
216
"And sometimes, when you have a difficult day, like that was, when within a fraction of a second, all the effort of all those people is thrown away on lap two, all the frustration bursts out."
Part of what caused Mercedes' outburst was their disappointment at Rosberg, who left his nose in despite knowing he had lost the corner, because he wanted to try to prove to Hamilton that he could not be intimidated in wheel-to-wheel racing.
Hamilton caused something of a storm when he came out of the private team meeting that evening and revealed that Rosberg had "basically said he did it on purpose. He said he could have avoided it, but he didn't want to. He basically said: 'I did it to prove a point.'"
That day, trying to calm the situation down, Wolff drew a distinction between Rosberg deliberately hitting Hamilton and "deliberately taking into account that if Lewis moves it could end in a crash".
I say to Wolff that Rosberg effectively caused a collision, and he says: "Absolutely," adding: "In Spa, he wanted to make a point. And that was an error of judgement. He shouldn't have done it. Not there. Not on lap two. Not with the effort that went into that weekend.
"I was more than surprised. It wasn't what I would have expected from our two drivers."
Rosberg's reputation under fire
For Rosberg, it has had consequences. Not only has he been disciplined internally by the team, but he has been booed by fans in both podium ceremonies since.
Equally, it is hard to imagine that all this was not an influence in him buckling under pressure from Hamilton at the last race in Italy, gifting him the lead by running wide at the first chicane.
"He was shocked about what happened," Wolff says. "He was shocked about his own error of judgement and the reaction of the fans on the podium.
"He realised he had made an error. Coming out with it publicly is not only a strength of character but also tough to do.
Remaining races

Singapore

21 September

Japan

5 October

Russia

12 October

United States

2 November

Brazil

9 November

Abu Dhabi

23 November
"But I can tell you one thing - in a couple of years he is going to look back at that incident and say: 'That made me stronger.'"
Rosberg's strength of character is not in doubt, but only this year are the lengths to which he is prepared to go to win the title becoming clear.
There was the Spa incident, and before that the one in Monaco qualifying, when in going into the escape road at Mirabeau on his final lap he scuppered Hamilton's chances of beating him to pole position.
Many in F1 - including most drivers privately - believe Rosberg's actions in Monaco were deliberate.
Wolff does not want to go back over that day, but does say this: "There are 22 guys out there and all of them are ruthless. They know what they want and they will try to take it.
"Nico has always been like this. I don't know why anyone had the perception of him being Mr Nice Guy."
Hamilton: 'Drama and glory'
Rosberg's approach to this season has been fascinating - and very effective. He realises he is not as fast as Hamilton, but knows that he has tools he can use to his advantage.
He has concentrated on staying calm and consistent, on not over-stretching. He knows he has the best car, that as long as he does a good job, he will be on the front row and finish first or second, and that, if Hamilton makes a mistake, pole and - by extension - likely victory are his.
Up and down the F1 paddock, there are those who believe that Hamilton's shaky form in the summer - he made mistakes in three consecutive qualifying sessions, and in four out of six in total - was caused by Rosberg getting into Hamilton's head.
Wolff rejects this but when asked for his reaction to that theory, he says: "If you look at Lewis's career - and this is not the answer; it is just thinking out loud - drama and glory were always very near each other. I don't know why that is. But when you describe this year - drama and glory; very much beside each other."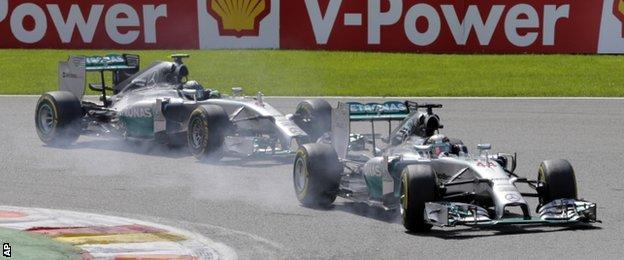 Wolff says he sees no need to try to smooth off Hamilton's peaks and troughs.
"He has found his own way and developed extremely impressively and he doesn't need so much management," Wolff says.
"We need to understand what kind of background and environment we need to provide so he functions best. And it makes no sense to try to change a personality and say: 'You know what, you need to have the Niki Lauda, or the Nico Rosberg, or the Fernando Alonso approach, and you don't need your dogs and you don't need your LA and you don't need your music.'
"That's not the case. Lewis needs all that. It is his personality and it makes him function well."
The Hungary controversy
Hamilton has demonstrated his determination to win the title just as stridently as Rosberg, whether it be in his robust defence of his lead from his team-mate in Bahrain, or his refusal to simply back off and let him by when asked in Hungary.
In stark contrast to Rosberg and Spa, Wolff backs Hamilton's decision to question what appeared to be a team order.
"It was the perfect storm," he says. "It was a very difficult situation, the two of them fighting for the championship, Lewis suffering from a disastrous qualifying session, starting from the pits, making his way to the front; Nico equally having a disastrous race because the safety car screwed his whole strategy.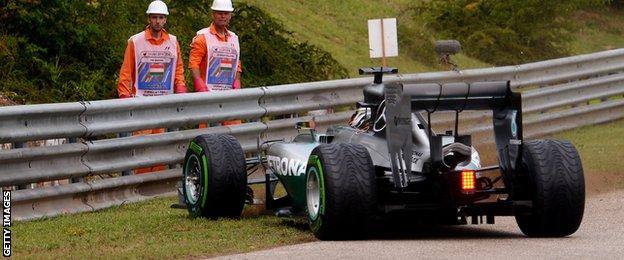 "The outcome was probably right, but the way we communicated we could probably have optimised."
The situation arose from another aspect of the 'rules of engagement' document - that if the drivers were on different strategies and came across each other on the track, they would not interfere with each other, so each could maximise his own race.
Wolff now accepts that expecting one driver to move over for the other, when they are competing for race win and title, is unrealistic.
"We wouldn't do it again," he says. "Splitting the strategies is probably not feasible in the last six races of the championship, because the consequences could be so controversial that it could harm us as a team."
Preventing the unthinkable
Way back in Australia at the start of the season, I asked Wolff if he thought the drivers would stick to their 'rules of engagement'.
"No," he laughed. "But at least we discussed it. If they don't, we discuss it again."
Just over five months later, at Spa, that is exactly what transpired.
Since their collision, the two drivers have been warned that if they cannot behave, Wolff would have to consider getting rid of at least one of them.
In the luxurious situation of having no other major threats for the title, Mercedes can afford to let the drivers race freely - but the bottom line is that they must ensure Mercedes win both championships.
"It is so intense and we are breaking new ground in letting the boys race in the way we do. So we are bound to make mistakes," Wolff says.
"I think that's the way it should be.
"You can be a politician or you can express your frustration.
"I don't know which one is right or wrong, but as a matter of fact it doesn't matter because if we lose the two championships with the cars we have, we have failed. We would be a laughing stock - and rightly so.
"And if we win, people are going to remember we had difficult situations and we managed them probably in the right way."