Formula 1 gossip and rumours from international media
Last updated on .From the section Formula 1
SUNDAY, 21 SEPTEMBER
Coded messages will be difficult to police when Formula 1's radio ban - restricting talk between a driver and his team in the pits - comes into force, according to the sport's technical boss Charlie Whiting. (ESPN)
McLaren have missed out on a sponsorship deal which could have been worth about £155m, with the prospective client instead opting to sign a contract with F1 supremo Bernie Ecclestone. (Sun - subscription required)
SATURDAY, 20 SEPTEMBER
Lewis Hamilton says Mercedes team-mate Nico Rosberg has shown his true colours after the German spoke in Italian to criticise the British driver behind his back. (Sun - subscription)
Former driver David Coulthard says Hamilton has the upper hand on Nico Rosberg in the title race. (Daily Mirror)
F1 teams have been told they can talk to drivers by governing body FIA just 24 hours after Formula 1 chief Bernie Ecclestone backed a radio ban at the Singapore Grand Prix. (Daily Mail)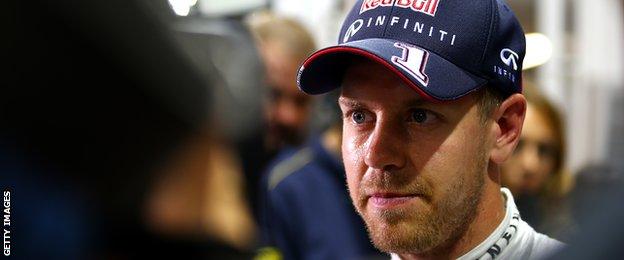 Red Bull's Sebastien Vettel has cast doubt on his future with Red Bull, saying: "It's impossible to predict which team I'll drive for." (Marca - English version)
Meanwhile, Vettel has been told it is inevitable he will get an engine penalty this season after suffering a problem in Friday's practice session at the Singapore Grand Prix. (Eurosport)
Toro Rosso are hoping to give 16-year-old Dutch driver Max Verstappen his F1 practice debut at the Japanese Grand Prix in October. (Formula1.com)
FRIDAY, 19 SEPTEMBER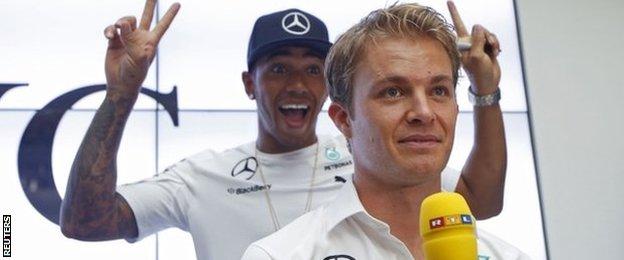 Nico Rosberg admits it is not nice to be booed when he stands on the podium, but says he accepts it because of the "misjudgement" he made in Belgium when he collided with team-mate Lewis Hamilton. (Daily Mail)
Formula 1 chief Bernie Ecclestone says the future of the sport will be built around just eight teams running three cars each. (The Guardian)
Williams driver Felipe Massa warns that there will be a drivers revolt if the ban on radio messages goes ahead as planned. (Daily Mirror)
Ferrari driver Fernando Alonso hits out at speculation in the Italian press that he is set to swap seats with Red Bull's Sebastian Vettel in 2015. (Pitpass)
Australian Daniel Ricciardo believes he can still win this year's Formula 1 world title, but says he has to attack at every opportunity to have a chance. (Agence France Presse)
THURSDAY, 18 SEPTEMBER
Mercedes' Nico Rosberg has welcomed the stewards' crackdown on teams giving instructions over the radio, praising the "purer" racing it should produce in this weekend's Singapore Grand Prix. (Daily Telegraph)
Five drivers, including Fernando Alonso and Sebastian Vettel, have used their allocation of five engines for the season already. If they take a sixth this weekend, they will incur a 10-place grid penalty. (James Allen on F1)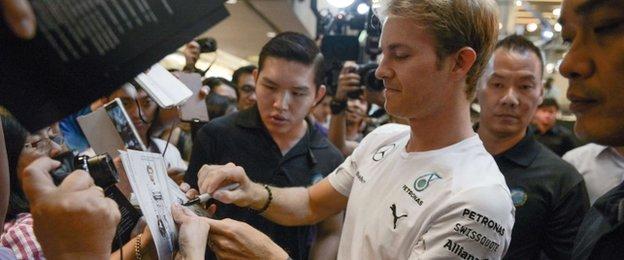 McLaren chief Ron Dennis says it may be the end of 2015 before his Formula 1 team can judge whether its restructuring - which includes an overhaul of their design staff - has succeeded. (Autosport)
Kamui Kobayashi will retain his seat at Caterham for the Singapore Grand Prix. (Motorsport)
Formula Renault 3.5 championship leader Carlos Sainz Jr says he could still have a future with Red Bull, despite being overlooked for promotion to Formula 1 for 2015. (Autosport)
GP2, the feeder series to Formula 1, will use the Drag Reduction System (DRS) from next season. (ESPN F1)
WEDNESDAY, 17 SEPTEMBER
Governing body the FIA has told Formula 1 teams the ban on advice being given to drivers will also extend to pit boards from this weekend's Singapore Grand Prix. (Autosport)
Fernando Alonso could be set to join Red Bull, with Sebastian Vettel replacing the Spaniard at Ferrari. (Marca)
Caterham's Marcus Ericsson is hoping this year marks the start of a long career in Formula 1. (Planet-F1)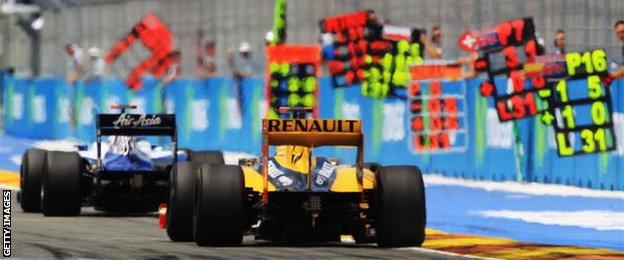 Ferrari boss Marco Mattiacci says his team's performance at the Italian Grand Prix showed exactly how far they are behind Mercedes this season. (Autosport)
Valtteri Bottas admits Williams are likely to find Singapore more difficult than the Italian Grand Prix, but hopes new parts help. (Crash.net)
TUESDAY, 16 SEPTEMBER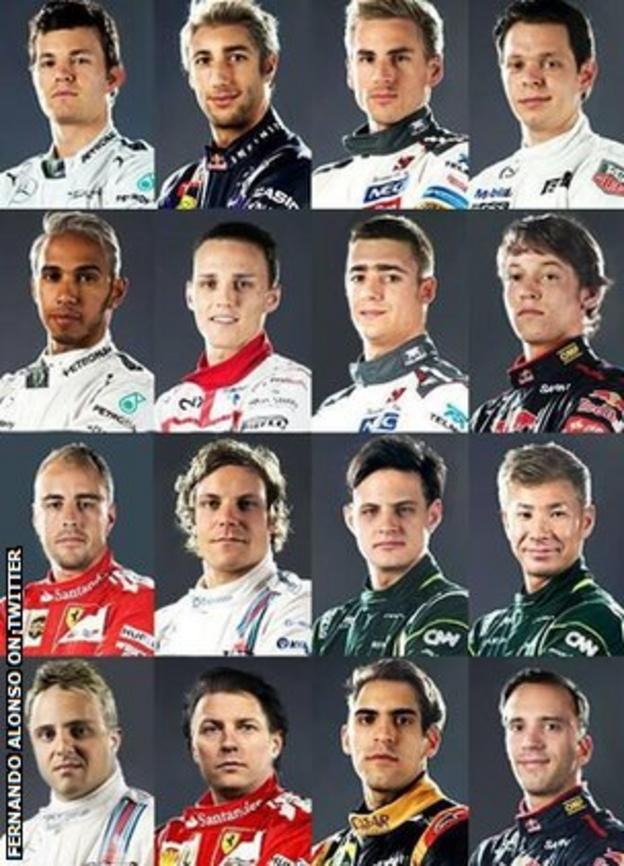 Lewis Hamilton is aiming for a strong finish to the season as he looks to close the 22-point gap on Mercedes team-mate Nico Rosberg, who leads the drivers' standings. (Sun - subscription needed)
Teams have raised the issue of ticket prices for races being too high with Formula 1 boss Bernie Ecclestone. (Autosport)
McLaren hope bringing back Peter Prodromou as their new chief engineer will help the team return to title-winning ways. (Formula 1)
Jean-Eric Vergne, who will be replaced by Max Verstappen at Toro Rosso next season, says he can be as good as Red Bull driver Daniel Ricciardo if given the chance. (ESPN)
Ferrari driver Fernando Alonso tweeted a picture featuring manipulated photos of his rivals looking older, alongside the message: "We should make it happen." Red Bull driver Daniel Ricciardo responded "I hope to be retired by then guys."
MONDAY, 15 SEPTEMBER
Nico Rosberg believes Mercedes team-mate Lewis Hamilton's experience of challenging for the drivers' title will help the Briton but will not be the key factor in their duel. (Autosport)
Hamilton took a break from the pressure of the title race to take in Arsenal's 2-2 draw with Manchester City in the Premier League on Saturday. He tweeted: "Today went to my first game EVER my team since Ian Wright days. Great day."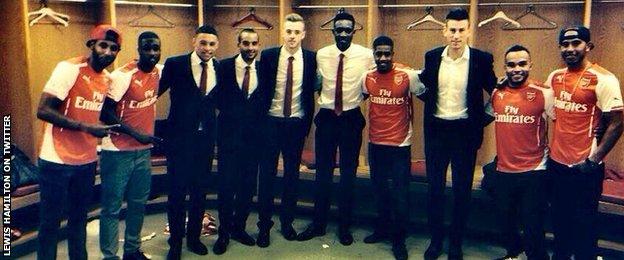 Struggling Ferrari driver Kimi Raikkonen believes the Italian team need to improve their Energy Recovery System (ERS) to help them close the gap on their rivals. (ESPN)
Meanwhile, Ferrari could become the first Formula 1 team to own a stake in the series by getting about £15m of options which were held by former chairman Luca Di Montezemolo, who resigned last week. (Daily Telegraph)
Formula 1's governing body is to review the procedure of drivers qualifying for a super licence from 2016. (Speedtv)