Lewis Hamilton: Singapore GP - the race where you stay up to 4am

By Lewis Hamilton
Mercedes driver
Last updated on .From the section Formula 1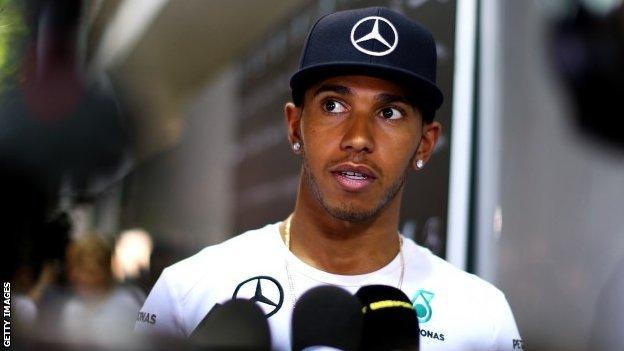 Singapore this weekend is the first of six races in nine weeks that will decide the World Championship but I'm not approaching them any differently from any other grands prix.
It is an intense situation between myself and my Mercedes team-mate Nico Rosberg, but that feels good. I wouldn't want it any other way.
Obviously, a lot rests on these races. I want that second title so much. But I don't do anything special in terms of preparations.
I don't change things. I go about the race weekends pretty much the same - I make sure I've covered all the ground with the car; I still listen to music to get myself in the right mindset.
Over time, you just learn to handle what comes at you.
If I'm getting in the car and someone comes and shakes my hand - doesn't matter. If someone grabs me and pulls me, it's OK; I'll be cool.
You have to find the right balance in life, and through an F1 season.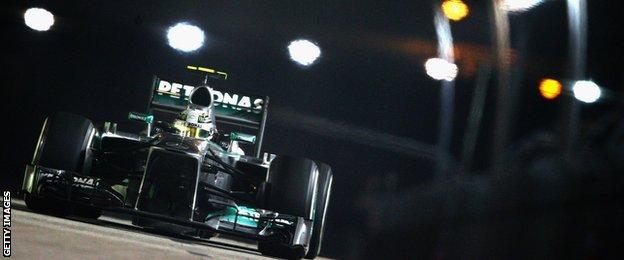 It's never perfect all the way through. Sometimes you have dips and Singapore provides its own unique challenges.
Apart from it being probably the toughest race of the year physically and mentally - because of the heat, the bumps, the long lap and the fact the race is nearly two hours long - there's also the strangeness of it being a night race and everyone staying on European time.
Singapore is seven hours ahead of the UK. So we get up at lunchtime and go to bed at dawn. So for me this weekend there will be times when it's 4am - which is effectively 9pm - and I'm just sat in my hotel room waiting to go to bed.
Some of the engineers and journalists might be out having a beer or something, but I obviously can't go to a bar. There's nothing I can do. Nothing is open. I can't even go to the gym.
It's OK, though. I spent some nice time with my mum and my sister in London coming out here, and that was great. After that I felt like I was set for the weekend.
A weight lifted from my shoulders
It helps that I feel so comfortable within the Mercedes team. They let me be who I am.
Things have changed a lot on that front since I made my debut in F1 seven years ago. Musicians arrive and they are who they are from the beginning. Their image is what it is. But when I first came to F1, I felt I had to be a certain way to be able to do it, to please everyone.
Now I've been in the sport longer I feel I'm able to be myself. I've always wanted to have tattoos, and now I have them. I'll probably get more. That's just me.
It's been nice to be able to be more open and be who I am, dress the way I want to dress, which I found very hard to do when I came into the business.
It feels like a weight has been lifted from my shoulders. The feel-good aspects of that are great - positivity is important in life, and especially in sport.
F1 sometimes feels like quite a shielded sport, in that it's hard to see people as they really are. But that's how I want people to see me. I'm really enjoying being able to express myself in the way I want to.
A psychological game
I'm trying to take it as it comes but, being 22 points behind in the championship, I am aware that I do want to maximise these races and really grab the opportunity each new weekend brings.
The last race was obviously very positive for me, coming back to win after dropping to fourth at the start. I loved getting the points. I felt like I really perfected the weekend and there is no doubt that this is a psychological game.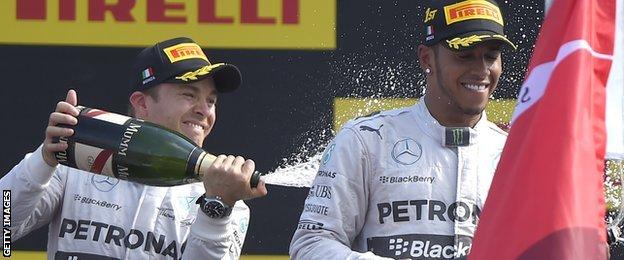 And it was great to be cheered by the Italian fans on the podium.
When you go out on to the podium at Monza, you know there is such a huge love of Ferrari that you're not quite sure what you're going to get. In the past, when I was with McLaren against Ferrari, I got booed.
But over the last four years I've really noticed a growth in the support I have there and this year was the most it's ever been. So to be able to come on to the podium and have that roar was amazing, especially because the majority of the crowd are all in red.
When I meet the Ferrari fans, they're always like: 'Come to Ferrari, when are you coming to Ferrari?' That's quite awesome as well, because they are very particular about the drivers they like.
I've definitely noticed positivity towards me this season and that's no bad thing.
My team-mate Nico Rosberg has had to deal with some negativity but I don't put two and two together and say: 'OK, that means I'm the favourite', or anything like that. It just feels great to know that I've got people happy with the performances I'm putting in.
But, as a driver, you have to be careful how much you take from something like that.
Drivers are able to reset from those sorts of weekends pretty well; Nico will come out this weekend and be really quick again.
As soon as that race finished, my mindset was: "OK, that's one step. I have another six to take and they all need to be forwards."
I know that, personally, I can take six steps forward but you never know if you're going to have issues with the car. So that is constantly in my mind.
I've had three retirements this year, and Nico's only had one. I've also had to start from the back of the grid twice. I managed to come back to third each time, but it could easily have been eighth or 10th or whatever.
I have no idea what's going to come up, but I do feel that with all the experiences I've been through in the last seven years have equipped me to deal with whatever comes up in the next few weeks.
You can follow Hamilton on Twitter @lewishamilton and you can see exclusive content on his website www.lewishamilton.com
Lewis Hamilton was talking to BBC Sport's Andrew Benson