Fernando Alonso top in Singapore, with Lewis Hamilton sixth

By Andrew Benson
Chief F1 writer in Singapore
Last updated on .From the section Formula 1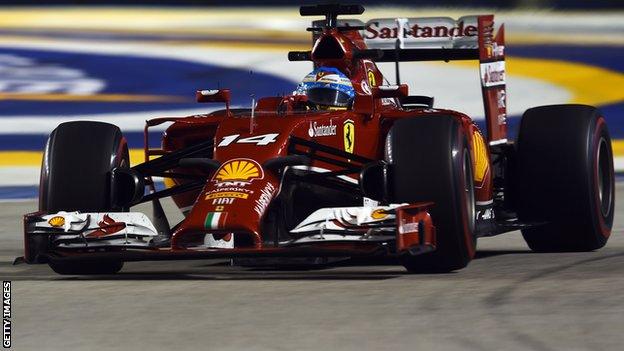 Ferrari's Fernando Alonso beat Red Bull's Daniel Ricciardo in final practice at the Singapore Grand Prix as Mercedes appeared to hide their pace.
Nico Rosberg was third fastest, 0.189 seconds behind Alonso with team-mate and title rival Lewis Hamilton only sixth - not a true reflection of their competitiveness.
Hamilton survived a spin in his Mercedes car during an eventful session as the drivers prepare for one of the most important qualifying sessions of the year.
With overtaking so difficult at Marina Bay, pole position is more important than usual.
Mercedes are favourites for pole but Red Bull are hopeful they can put pressure on the silver cars, and Alonso feels he can mix it with the Red Bulls.
Mercedes appeared to have an advantage of at least 0.3 seconds a lap on Friday, and Rosberg was a second clear of the field after the teams finished their runs on the harder 'soft' tyre earlier in the final session.
But the German's lap on the super-soft tyre at the end of the session was not convincing - he was slow in the first sector, bounced over the kerbs at Turn 11 in the second and he appeared not to be pushing right to the edge in the third.
Hamilton's lap was even less effective, 0.439secs off the ultimate pace, but it is believed Mercedes were 'sand-bagging', as it is known in F1 when a team hides their true potential.
The question, though, is why they would do that here when they have not done so all year.
The team suspected neither driver wanted to reveal his hand to the other ahead of such a crucial session - had either driven to their maximum, the other would be able to look at their data to see how they compared and where to improve.
Hamilton is 22 points behind Rosberg in the championship with six races to go, and the intensity and pressure on the two Mercedes drivers is as great as ever this weekend.
Alonso was clearly on the ragged edge on his lap and will not expect to maintain his position at the front come qualifying.
Adding to the impression that final practice did not provide a true picture of the front of the field, Jean-Eric Vergne was fourth fastest in the Toro Rosso ahead of world champion Sebastian Vettel's Red Bull.
Williams's Felipe Massa and Valtteri Bottas were seventh and eighth, ahead of Ferrari's Kimi Raikkonen, a second slower than team-mate Alonso.
The McLarens of Kevin Magnussen and Jenson Button were only 12th and 13th despite a major upgrade package for this race, behind Sauber's Esteban Gutierrez and Force India's Nico Hulkenberg.